Since shocking the market a few weeks ago by cutting its dividend, Hercules Technology Growth Capital (NASDAQ:HTGC) has been adding new investment assets at a rapid clip. Over the past month, HTGC has issued 5 press releases. The Company has certainly not been shy about telling investors about both new investments, as well as developments at existing portfolio companies. No other company we track has been so active with their announcements. Here is a potted summary, with links to the press releases for those who want to read more.
That all adds up to nearly $100mn in new commitments (which is not the same thing as actual funds drawn). This suggests that HTGC has been successful in closing a good portion of the $50mn in signed Term Sheets and $160mn in deals in "active negotiation" announced at the time of the earnings release on February 11, 2010.
Nor does it sound like the Company is out of new business prospects, based on the language in the March 18 press release attributed to HTGC's CEO:
We continue to increase new originations and expect to accelerate the process of building our portfolio in the coming quarters by providing capital to high-quality companies that occupy a unique space in their respective markets.
Hercules needs to get the word out to investors that the Company is adding substantial amount of assets after the shrinkage in total investments that occurred in the IVQ of 2009 and led to the reduced dividend. That created a brief crisis of confidence in the Company. The Company has a substantial cash treasure trove sitting on its balance sheet, as well as access to two Revolver and SBIC monies so liquidity is not an issue in the short term.
Certainly the market today seems to believe Hercules can expand its asset base and increase earnings. The stock price, which dipped sharply after the earnings announcement to nearly $9 a share is at $10.9 today, almost back to its pre-earning announcement high of $11.15.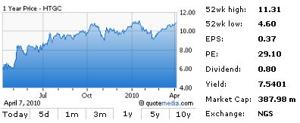 In our February 14th article ("Hercules Technology: Down But Not Out") we suggested the Company would need to book $120mn in NET new assets, principally funded from its cash pile to bring earnings back to the $0.30 per share a quarter. The news items HTGC are feeding us suggests that we could get there in 2010.
Of course, what we don't know is how many existing investments are being repaid and what is happening with credit quality. This is the problem with these press releases in between earnings reports. HTGC is not doing anything different that other public companies and all the other Business Development Companies (BDC).
However, if the IQ 2010 SEC filings come out and report that there were huge investment repayments during this period and/or a deterioration in credit quality (which was already a concern at year end) these press releases may look more like public relation ploys to boost the stock price rather than financial transparency.
We'd like to see some key interim data included with all these reports of new deals: simple data like cash available, outstanding borrowings or repayments of assets since the last quarter. This would allow for a more judicious analysis of where HTGC is going.
Still, we're giving Hercules Technology the benefit of the doubt and expect that next time we get the full picture we'll see slightly higher assets (because many of these deals may not fund till the second quarter) and higher earnings. By the third quarter results we should see a meaningful improvement in total assets and earnings.
Disclosure: Author long HTGC