Time Warner Cable (NYSE:TWC) has entered the high-speed broadband internet market with the launch of DOCSIS 3.0 wideband service in select US locations. We estimate broadband internet to constitute 35% of the $37 Trefis price estimate for TWC's stock. In comparison, digital cable constitutes 36% of TWC's stock while digital phone service accounts for less than 12% of the company's stock.
DOCSIS 3.0 offers download speeds of up to 50 Mbps, which is higher than Time Warner's existing broadband internet download speeds. Time Warner Cable however, lags its competitors, Comcast (NASDAQ:CMCSA), AT&T (NYSE:T) and Verizon (NYSE:VZ) because of: 1) TWC's late entry into the high-speed broadband service 2) Relatively higher price of DOCSIS 3.0 wideband service compared to competitors.
Below we discuss how late entry into the high-speed broadband internet service and higher broadband pricing can limit market share gains for Time Warner Cable.
Broadband Internet is 35% of TWC's Stock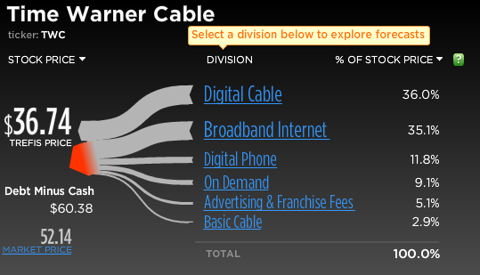 TWC's Late Entry Into 50 Mbps Broadband Market
TWC is one of the last of the major US cable providers to launch a DOCSIS 3.0-based wideband internet service. While Time Warner Cable is in its launch phase, Comcast is expected to cover 100% of its footprint by the end of 2010. Moreover, Verizon and AT&T have already moved toward high-speed broadband by deploying fiber optic-based services.
The late entry can be viewed as an attempt by TWC to catch up with the fast-moving broadband Internet industry. TWC has deployed this service to keep options available for its subscribers.
TWC Lacks Competitive Pricing on Its New Wideband Offering
TWC's wideband service for business customers is priced at more than $300 for 50 Mbps download, while Comcast's similar package is priced much less at about $190.
In addition, it appears that TWC's bundling service for the new wideband offering is available only for business customers. Residential customers have to pay $100 to enjoy the 50 Mbps broadband service.
Although TWC's standalone broadband service is cheaper than Verizon's 50 Mbps FiOS service priced at around $140, with bundling, Verizon beats TWC's pricing. Verizon bundles its competitive 35 Mbps internet offering with phone and TV at a price of about $120 per month. In comparison, internet options available in TWC's bundles have much lower speeds of up to 7 Mbps.
We believe that Time Warner Cable needs to be more competitive in its wideband pricing in order to continue to gain broadband market share.
You can modify the forecast above to see how TWC's stock price would be impacted if more competitive wideband pricing led to broadband market share instead of a decline that we forecast.
For additional analysis and forecasts, here is our complete model for Time Warner Cable's stock.
Disclosure: No positions