This is a practical book that is a very good book. Do you want to write things that people want to read? This book will help you do it.
Coming out of U.S. public schools, not everyone is prepared to write for a broad audience because:
They aren't good with spelling and grammar.
They can't make it interesting.
They don't know what to write about.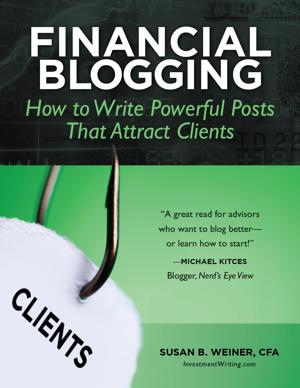 This book can help with many of the deficiencies, aiding writers, to write and rewrite tight prose. This book will help you source ideas. It will help you refine ideas, as you write and rewrite ideas. It will help you map out ideas before you write, so that you have a visual outline of what you want to say, which will aid you in expressing your ideas.
Now if you read this book does it mean that it will guarantee that you write great stuff? No. You have to have some edge that you want to express. Most investment commentary is garbage. Those that have a differential insight might be able to create value. But that is not generally true, unless we are at Lake Wobegon, where all of the children are above average. Lake Wobegon is fictitious, easy excess returns are hard.
The main idea is start blogging, and start improving. Start with a good idea that would have broad interest. Then write, revise, revise, revise. Writing gets better with effort and editing. Beyond that, you will have to think of compliance. Disclose all relevant interests that you the writer might have. If you own or short a stock that you write about, disclose it.
This book will improve your blogging. It will sharpen what you write about, the frequency at which you write, and how you write. This is a great book for financial bloggers.
Quibbles
None
Who would benefit from this book: Almost all financial bloggers could benefit from the book. Though I am experienced, there are many places where I learned more.
Full disclosure: I asked the author for a review copy, because I respect her to a high degree.