Arrow Electronics, Inc. (NYSE:ARW) entered into an agreement to acquire reverse logistics services provider Converge and parts catalog retailer Verical Inc.
Converge is a leading provider of reverse logistics services employing over 350 employees. Based in Peabody, Massachusetts, Converge has offices in Singapore and Amsterdam, including support centers throughout Europe, Asia and the Americas.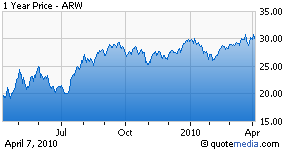 Reverse logistics engulfs all operations related to the re-use of products and materials. In other words, reverse logistics is the process of moving goods from their typical final destination for the purpose of capturing value, or proper disposal.
For most technology companies, customer returns, damaged goods, service depot returns or simply excess service parts inventory are returned through reverse logistics.
There has been continued focus on process refinement and cost controls by companies in the technological sector making the forward supply chain an efficient and effective asset to their operations. However, reverse supply chain remains an untapped process that offers many opportunities to further reduce operational overhead and realize efficiencies that can dramatically affect the bottom line.
Converge offers a full suite of reverse supply chain solutions that are adopted by top-tier OEMs. Management stated that reverse logistics is developing rapidly and this acquisition builds on Arrow's global capabilities as a supply chain and logistics expert.
Based in San Francisco, Verical runs an ecommerce marketplace facilitating the purchase and sale of electronic components and the addition of Verical will strengthen Arrow's ecommerce capabilities.
The acquisitions are expected to be accretive to earnings by 5 to 10 cents per share on an annual basis once the Converge deal is closed. The Converge deal is subject to regulatory approvals and is anticipated to close in May while the Verical acquisition has been completed.
New York-based Arrow Electronics is one of the world's largest distributors of electronic components and computing products. The company sources products from about 800 suppliers and distributes them to over 130,000 customers (original equipment manufacturers, contract manufactures and commercial customers).