On January 13, 2013 I published an article estimating Apple (NASDAQ:AAPL) iPhone production at 50.7 million units for Q1 and suggested that if it sold everything it could make unit sales would be just over 50 million units plus any sales from inventory. Apple in fact sold 51 million iPhones. A chart from that article is reproduced below.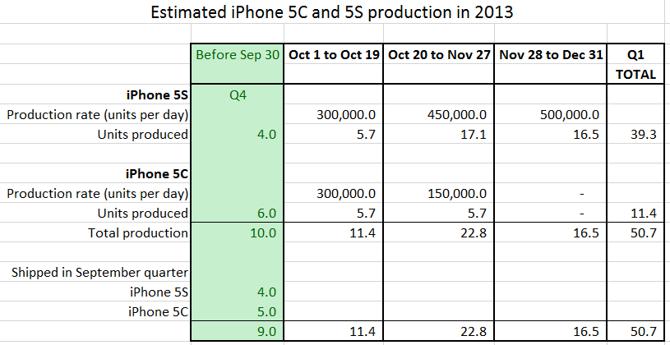 My financial forecast for Q1 included sales from inventory and was a bit more aggressive at 53 million iPhones, 25 million iPads and 4 million Macs. Apple Q1 actual results were 51 million iPhones, 26 million iPads and 4.8 million Macs. My estimate was for net income of $14.04 a share while Apple reported $14.50. Net income dollars were virtually equal to Q1 2013 at $13.1 billion with the earnings per share beat resulting from fewer shares outstanding.
Apple stock tanked on the news of its Q1 results, down $44 points or 8%.
It is worth a moment to reflect on the quarter. Apple introduced two iPhones and revamped its line of iPad's with the iPad mini retina and the iPad Air. The iPhone 5S was a blockbuster success by all accounts. The company launched both phones and iPads worldwide and in early January 2014 cut a long awaited deal with China Mobile (NYSE:CHL). When the dust settled, earnings were equal to the prior year. Despite the China Mobile deal, guidance is a bit less than most watchers expected.
Investors should pay attention. This massive company is very widely held and doing everything it can do to harvest profits from the "premium" end of the smartphone market. Despite that effort, earnings are flat to last year. It is not likely to get better from here.
The climb up is more fun than the slide down. The smartphone market is mature. The tablet market is maturing. Competition is rising. Margins will come under pressure. Apple is losing share. While average selling prices were strong in Q1, those prices are going to come down over time, in my opinion.
Apple is one of the most creative companies in existence with some 73,000 employees including hundreds if not thousands of engineers working on new ideas as we speak. One or more of those ideas might create a massive new market for Apple. But even if it does, that will take time to show up in sales and earnings and no one can value what they can't measure.
In the meantime, Apple sales and earnings are likely to drift lower and the decline may accelerate if the economy slows, competitors introduce new products that capture the imagination of consumers, or the shift to newer form factors such as "phablets" accelerates before Apple can launch a product into that space.
While the stock looks cheap, it may get a lot cheaper. The pressure for dividend increases and large stock buybacks may increase materially as investors like Carl Icahn and David Einhorn try to find a way to skate their investments on side when the tide of sentiment turns against them. That sort of balance sheet re-arrangement is dangerous in tech since it presumes sustained earnings at levels that at a minimum are in doubt and distracts management from its real job of advancing its technology.
The history books will very likely record this as Apple's best quarter for a considerable period of time, at least as I see it. Smart money steps aside and moves to safer ground. Apple is more vulnerable than most to a general market sell-off since it is so widely held and so liquid. When things turn down, money managers sell what they can versus what they might like to, and Apple is leading candidate for raising cash in a hurry. The turmoil in emerging markets could trigger such a sell-off in a nanosecond.
I promised SA Author Bret Jensen a beer if Apple hit $650 before it went below $450. Bret is one of the smartest investors and best authors on the site. However, at this point, I am feeling pretty safe.
I am long puts, a short position on AAPL.

My puts doubled after the earnings release and I sold half the position giving me a "free ride" on the remaining 5 contracts. It remains a good short as I see it and I will add to the short holding on any short term strength.
Disclosure: I am short AAPL. I wrote this article myself, and it expresses my own opinions. I am not receiving compensation for it (other than from Seeking Alpha). I have no business relationship with any company whose stock is mentioned in this article.