Lockheed Martin (NYSE:LMT) reported a solid set of fourth-quarter results last week, but the weaker revenue guidance for 2014 and further market correction resulted in some significant profit taking by investors.
Strong payouts to investors and a focus on operational efficiency boosted shares over the past year, despite continued pressure on defense budgets. The strong payouts to investors have boosted the appeal to dividend-oriented investors. After the strong returns, I remain on the sidelines.
Fourth Quarter Highlights
Lockheed Martin reported fourth-quarter revenues of $11.53 billion, down 4.5% compared to last year, but ahead of consensus estimates at $11.3 billion.
Net earnings fell by 14.2% to $488 million, with GAAP earnings coming in at $1.50 per share on a diluted basis. Earnings missed consensus estimates at $1.95 per share badly on the back of "one-time" charges including severance and goodwill impairment charges. Backing out these effects, and profitability came in ahead of expectations.
Looking Into The Earnings Report
The decline in sales for the fourth quarter does not come unexpected after sales have been under pressure for a while with the US military and defense budget facing continued pressure.
All 5 major segments of the business reported a decline in revenues. Aeronautics revenues were down by 5.9% to $3.90 billion on the back of fewer airplane deliveries. Despite the drop in revenues, margin pressure was modest with operating margins falling by just 10 basis points to 10.6% of total revenues.
Information systems sales fell by 4.5% to $2.10 billion as margins dropped by 20 basis points to 9.0% of total revenues.
Missile and fire control revenues are down by 9.2% to $1.72 billion on the back of increased competition and a strained defense budget. Yet the business saw very strong margin gains with operating margins improving by nearly 6 percent points to 20.3% of total sales.
Mission systems and training sales fared relatively the best, falling by just 0.3% to $1.86 billion. The business managed to grow operating earnings by 140 basis points to 11.5% of total sales
Finally, the space systems business reported revenues of $1.96 billion which is down by 2.2% on the year before. Here, margins improved by 140 basis points as well to 13.0% of total sales.
Despite solid margin improvements across the business, reported earnings were down. During the final quarter, Lockheed Martin cleaned up some of its affairs taking $195 million in goodwill impairment charges and another $171 million in severance charges.
While Lockheed is still very much tied to defense and military spending, it has some diversified operations, at least in terms of revenue diversification as can be seen below. Unfortunately many of these end markets are positively correlated, at least to some extent.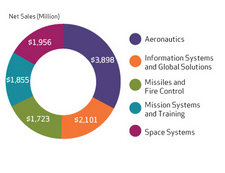 2013 In Review
The past year has not been a great one for Lockheed with revenues falling by 3.9% to $45.4 billion. Despite the fall in top line revenues, earnings inched up by 8.6% just shy of $3 billion, with earnings totaling $9.13 per diluted share.
Note that most of the special charges related to goodwill impairment and severance payments were limited to the fourth quarter results of last year.
Looking Into 2014
For the current year, Lockheed Martin anticipates orders of $41.5 to $43.0 billion. Combined with the current sales outlook of revenues between $44 and $45.5 billion, which assumes that sales could come in between flat and minus 3% compared to 2013, this implies an order-to-sales ratio of 0.94.
Despite the softer than expected order intake, the backlog remains solid at $82.6 billion, increasing by some $300 million on the year before. At the current pace of revenues, the backlog represents 1.8 year's worth of sales.
Despite the continued pressure on the top line numbers, Lockheed Martin sees operating earnings between $5.175 and $5.325 billion. This should translate into earnings per share of $10.25 to $10.55 per share.
Strong Price Action
Lockheed Martin has posted revenues of around $45 billion in recent years, but is facing some pressure on the top line in 2013 and 2014, on the back of defense spending cuts. The US still makes up roughly 80% of total revenues.
Yet the company made great achievements in boosting operational efficiency in recent times. Earnings came in between $2.5 and $3 billion in recent years which was combined with solid payouts to investors.
Lockheed recently hiked its quarterly dividend to $1.33 per share, providing investors with a great 3.6% dividend yield after paying out more than 55% of total earnings. On top of these sizable share repurchases, the company retired more than 10% of its shares outstanding in the past three years.
The pressure of all these payments on the balance sheet remains limited. Cash and equivalents stands at $2.6 billion, while Lockheed has $6.2 billion in debt outstanding. One thing to notice, Lockheed holds nearly $10 billion in pension liabilities on its balance sheet.
At $147 per share, the market values Lockheed at $47 billion, or about 15-16 times past year's earnings, a ratio expected to come down to 14 times this year.
These greater payouts and focus on profit improvements, boosted and fueled the share price despite spending cuts. After shares traded in a $70-$90 trading range in recent years, shares have witnessed a 60% return over the past year.
Takeaway For Investors
Lockheed's past returns have made the stock historically pricey as the valuation has been driven by earnings improvements rather than topline growth. After the strong recent performance, the valuation is not rich in absolute terms, but is a bit steeper in historical terms.
Besides earnings improvements, higher payouts have boosted appeal to investors as well as the company pays out a cool 3.6% yield, accompanied by further share repurchases.
The outlook for modest declines in revenues, shows the environment will be tough going forward even as defense spending is stabilizing.
As such, investors could use sell-offs like these to pick up shares for the very long term to pick up the appealing dividends. Yet don't buy shares for compelling upside in the coming periods, but rather as a long-term dividend paying investment.
Disclosure: I have no positions in any stocks mentioned, and no plans to initiate any positions within the next 72 hours. I wrote this article myself, and it expresses my own opinions. I am not receiving compensation for it (other than from Seeking Alpha). I have no business relationship with any company whose stock is mentioned in this article.