EV Energy Partners (NASDAQ:EVEP) is a company that is situated for growth and increasing shareholder value in the future. EVEP is a relatively small company with a market cap of only $890 million, and has been actively acquiring natural gas and oil assets during the economic downturn of the recent past.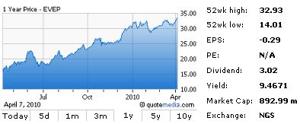 Click to enlarge
Since going public in the fall of 2006, EVEP has returned 65% to shareholders not including their distributions. The company has steadily increased it's distribution from $0.40 to $0.75 per quarter, and the CEO has stated previously that he is committed to maintaining the current distribution. At $0.75 per quarter, this issue currently yields north of 9% and offers a fantastic opportunity for growth in both share price and distribution as a long-term holding.
According to Google Finance:
EV Energy Partners, L.P. is engaged in the exploration, development and production of oil and natural gas properties. During the year ended December 31, 2008, the Company's properties were located in the Appalachian Basin (in Ohio and West Virginia), Michigan, the Monroe Field in Northern Louisiana, Central and East Texas (which includes the Austin Chalk area), the Permian Basin, the San Juan Basin and the Mid-Continent areas in Oklahoma, Texas, Kansas and Louisiana. In 2008, the Company had estimated net proved reserves of 5.9 million barrels (MMBbls) of oil, 266 billion cubic feet (Bcf) of natural gas and 9.6 MMBbls of natural gas liquids, or 359.2 billion cubic feet equivalent (Bcfe).

In May 2008, the Company acquired oil properties in South Central Texas. In August 2008, the Company acquired oil and natural gas properties in Michigan, Central and East Texas, the Mid-Continent area (Oklahoma, Texas Panhandle and Kansas) and Eastland County, Texas.
John Walker, Chairman and CEO said:
We are very pleased with our results for 2009. We completed one Appalachian Basin and two Austin Chalk add-on acquisitions, as well as two successful equity offerings to finance the acquisitions and increase liquidity. During the year, we reduced our debt by $165 million.

To date in 2010 we have announced a sizeable Appalachian Basin acquisition, which we expect to close by the end of March, and completed a 3.45 million common unit offering to finance the acquisition and provide capacity for additional acquisitions.
Jon Walker has been a prudent and efficient CEO in his time with EVEP. He is a significant individual shareholder in the company and has taken many actions to increase shareholder value over the years. Among these are strategic acquisitions of valuable assets at good prices and conducting timely equity offerings to satisfy liquidity, growth and cash needs. Mr. Walker still appears to be confident in the future prospects for EVEP, as he just recently bought 10,000 shares to bring his total up to 113,000.
Some excerpts of the most recent financial statement:
Full Year 2009 Results
Adjusted EBITDA and distributable cash flow for 2009 were $132.2 million and $75.5 million, increases of 11% and 20%, respectively, over 2008 primarily due to acquisitions made during the second half of 2008 and in 2009, partially offset by lower realized natural gas prices. Adjusted EBITDA and distributable cash flow are described in the attached table under "Non-GAAP Measures."

Production for 2009 was 16.5 Bcf of natural gas, 514 MBbls of crude oil and 768 MBbls of natural gas liquids, or 24.2 Bcfe. This was an 18% increase over 2008 production of 20.5 Bcfe, primarily due to acquisitions made during the second half of 2008 and in 2009.
Year-End 2009 Estimated Net Proved Reserves
EVEP's year-end 2009 estimated net proved reserves were 365.6 billion cubic feet equivalents (Bcfe), a 2% increase over year-end 2008 estimated net proved reserves. Approximately 70% were natural gas, 18% were natural gas liquids and 12% were crude oil. In addition, 93% were categorized as proved developed. At December 31, 2009 the present value of future net pre-tax cash flows discounted at 10% was $352.8 million and the standardized measure of our estimated net proved reserves was $351.5 million.
In summary, EV Energy Partners is a company that is heavily weighted in one of the asset classes I think is undervalued right now (Nat.Gas), as well as having exposure to oil which is valued with a higher premium. This should allow the company to maintain their currently solid earnings and distributions as well as increase revenues when natural gas prices rise.
Being a smaller company, there is plenty of room for future acquisitions to increase production, assets, and proven reserves in the future. The CEO John Walker has proven to be a very capable manager of the company who has shown he is dedicated to increasing shareholder value ever since the shares first traded publicly. Mr. Walker puts his money where his mouth is and shows the utmost confidence in the future of EVEP by placing a significant portion of his personal wealth into company stock.
EVEP clearly stands to benefit from the increased needs of the world's populations' increasingly insatiable appetite for energy. With the prudent management in place, strong fundamentals and proven reserves, and a very solid distribution yield, EVEP is a stock you can buy and hold for many, many years to come.
Disclosure: No positions