In Part 1 of this series entitled, "3 Strategies and Aligned Stock Picks for Your 2014 Portfolio," I offered readers general strategies for 2014 equity investments:
Understand the current phase of the business cycle and overweight stock sectors that historically outperform;
Identify and seek contrarian stock values; "the most hated names of 2013"
Maintain discipline when evaluating securities in a market that's run up 30%; don't chase hot tickets
In addition, I included eight specific stocks that I believe are aligned with these strategies: Eaton Corp, PLC (NYSE:ETN), Union Pacific Corp (NYSE:UNP), International Paper (NYSE:IP), Apple Inc (NASDAQ:AAPL), Energy Transfer Equity (NYSE:ETE), Intel Corp (NASDAQ:INTC), Caterpillar (NYSE:CAT), and Annaly Capital Management (NYSE:NLY).
In Part 2 and Part 3, respectively, we took a deeper dive into Industrial sector stock Eaton Corporation PLC, and next reviewed contrarian stock pick Intel Corp.
In Part 4, we will review Union Pacific Corp, the best-of-breed U.S. railroad operator and another Industrial sector stock selection. Industrial sector stocks often outperform the general market during early and mid-cycle phases of an economic business cycle. Last Thursday, UP released record 4Q and full-year 2013 earnings results.
Over the past year, UNP shares rose over 27% sans dividends, comfortably outpacing the S&P 500.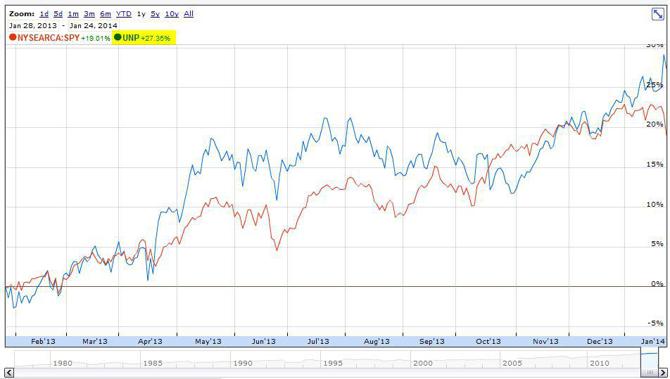 courtesy of google.com/finance
Investment Thesis
In general, the railroad business is an oligopoly. Carriers enjoy good returns on capital, see profits in cash, and have strong franchises thus freedom to price. I believe Union Pacific is the best-of-breed U.S.-based rail company based upon multiple railroad operational and financial measures.
The company operates primarily throughout the western two-thirds of the United States, offering superior span, scale, and future growth. Multiple west-coast and Mexican interchanges provide unique international opportunities.
In 2013, Union Pacific experienced strong revenue growth via the transportation of automobiles, industrial products, and chemicals. Historically, such lines of freight do well in an expanding economy. In 2014, UP expects these segments to continue to drive record volumes and revenues. Premising the U.S. economy has yet to transition from an early-cycle to mid-cycle expansion, there is plenty of runway ahead.
Coal volumes remain a concern for all major rail carriers. However, Union Pacific management expects shipments to stabilize or increase slightly after a difficult 2013 campaign.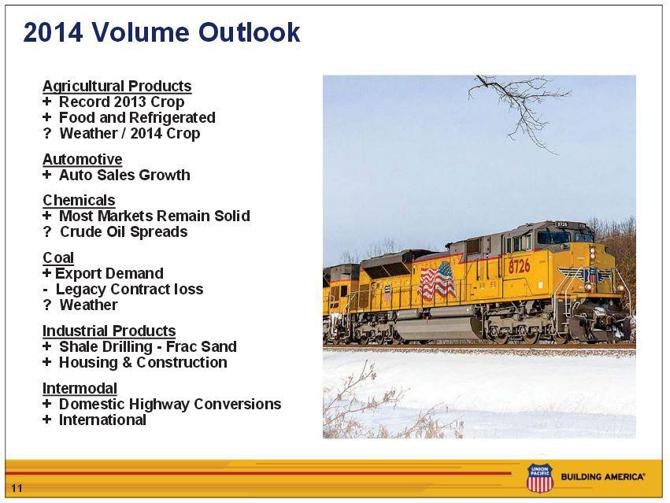 source: Union Pacific 4Q earnings release
UNP management is shareholder-friendly. The 5-year dividend growth rate has been 24%. Since the end of 2006, the company has reduced the number of diluted shares outstanding by 15% via share repurchase plans.
Union Pacific by the Numbers
In Part 1 of this series, a number of financial metrics were offered to help identify whether or not a company is fairly valued.
Permit me to begin by stating that the numbers tell a story, but the numbers are not THE story. I point this out because it can become easy to get dogmatic about "the numbers." Let's review the metrics openly, but pragmatically; in light of the underlying corporate narrative and the investment thesis:
Price/Cash Flow: 2013 operating cash flow per share was $14.80. Based upon a recent closing price, this indicates ~11.6x Price-to-Cash Flow ratio. While somewhat above my general P/CF valuation target of 10x, the differential is mitigated by the fact that last year, Union Pacific booked record operating income, operating cash flow, and free cash flow.
2-Year PEG ratio: Over the past 12 years, Union Pacific has grown EPS by an annualized 14% rate. Current forecasts for the next two years project more of the same: about 16% this year, and 15% thereafter. Given the current 18x P/E, the 2-year PEG ratio may be estimated at 1.2; considerably better than my <1.5x target. UP earnings have shown long-term, ratable growth.
Return-on-Equity: Premier companies sport RoE of 15% or greater. Union Pacific finished 2013 with a 21% return-on-equity. Within the railroad business, Return-on-Invested Capital (NASDAQ:ROIC) is another benchmark return figure. UNP completed 2013 with a record 14.7% ROIC. Here's a FAST graph plotting RoE and ROIC over the past 12 years.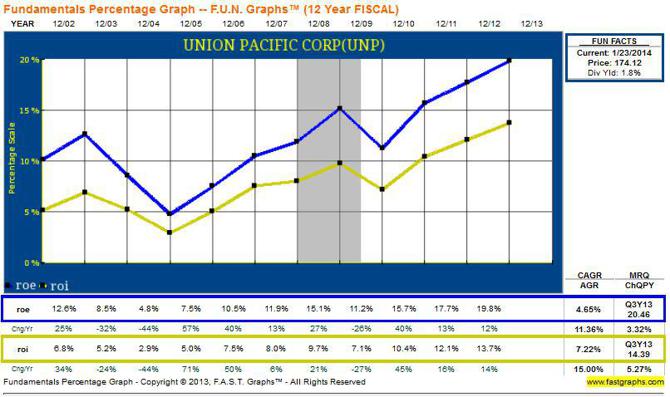 courtesy of fastgraphs.com
Revenue Growth: Since 2009, annual sales have increased on average by 12% per year. Meanwhile, net income has rocketed 23% per annum. Investors can't ask for much more than that. Indeed, in 2013 Union Pacific had a 155% Cash Conversion Rate (Pending:CCR). This means for every dollar of net income, $1.55 was converted into operating cash flow.
Debt-to-Equity: Union Pacific has a debt-to-equity ratio of 60%. This is magnitudes better than the Rail and Road industry average of ~124%. As a practical matter, UNP management reports Adjusted Debt-to-Capital and Debt-to-EBITDA to monitor debt as a function of capitalization or cash. These figures are 38% and 1.4x, respectively. Both marks are somewhat below management's target range, indicating a desire to increase debt/leverage. On the 4Q 2013 conference call, CFO Robert Knight commented,
Continued growth in earnings and cash flow has improved our 2013 year-end debt-to-cap ratio to roughly 38% and our debt-to-EBITDA to just under 1.4x, even with the addition of nearly $600 million of balance sheet debt since last year. As we've said, these metrics are a little lower than where we believe they need to be. We are targeting about 1.5x and around a 40% for year-end 2014, which is closer to the low 40s target range that we've previously discussed.
Margins: Railroads favor tracking what's called the Operating Ratio. It is calculated by dividing total expenses by total revenue. Expressed a percentage, lower is better. For 2013, Union Pacific registered an 66.1% OR, a record low. The figure improved 170 basis points from a year earlier. The ratio is the best in the business, outpacing other major American railroads.
Earnings and Price
The correlation between corporate earnings and price is indisputable. Over time, investors price stocks based upon earnings and cash flow.
Found below, I've utilized two F.A.S.T. graphs, created by fellow S.A. contributor Chuck Carnevale. to help illustrate this point. Please find a 12-year look-back graph, followed by a 7-year prospective chart.
courtesy of fastgraphs.com
On both charts, the black line indicates price. On the first graph, the blue line highlights the 12-year historic, normalized PE ratio of 16.8x. The purple line on the second chart prospectively carries forward this same 16.8 PE ratio.
We can see that Union Pacific boasts an impressive, long-term price / earnings relationship. With the exception of the Great Recession, the alignment and trajectory of UNP earnings as a function of what investors will pay for the stock is clear. As depicted on the second chart, the realization of future EPS growth, if similar to the past, should translate into consistent investor capital appreciation. I believe it's likely the most recent history of strong shareholder return of capital (via dividends and stock repurchases) will help continue to fuel the upside.
Indeed, by several key railroad metrics, UNP is arguably the best-of-breed U.S. carrier. The table below compares Union Pacific with CSX Corp (NYSE:CSX) and Norfolk Southern (NYSE:NSC).
These data points indicate that while all railroads are performing well in today's economic environment, Union Pacific stands above its peers. UP management has racked up better returns built upon more efficient use of capital, better expense management, and greater revenue growth. It may be pointed out that CSX recently reported its operating ratio went up in 2013. On the other hand, Norfolk Southern improved it's OR via particular emphasis on cost containment.
Summary
Industrial sector stock Union Pacific plays to the wheelhouse of a continued American economic growth story. Despite coming off record 2013 operational and financial performance, this transportation company has plenty of upside potential. Historically, Industrial-sector stocks do best during the early-to-mid cycle phases of an economic expansion.
On a valuation basis, the company is well-financed, generates outstanding operating cash flows, and is priced at fair value. The relatively modest dividend yield is offset by an excellent five-year dividend growth record. Earnings and cash flow have demonstrated consistent growth for years, and barring recession, are likely to continue to do so.
When compared with large railroad peers CSX Corp and Norfolk Southern, Union Pacific stands atop the field.
Please do your own careful due diligence before making any investment. This article should be used for information purposes only. It is not a recommendation to buy or sell any stock. Good luck with all your 2014 investments.
Disclosure: I am long UNP. I wrote this article myself, and it expresses my own opinions. I am not receiving compensation for it (other than from Seeking Alpha). I have no business relationship with any company whose stock is mentioned in this article.