24/7 Wall Street reported January 28, 2013 that short interest on Chesapeake Energy Corp. (NYSE:CHK) had increased 0.9% to 53.8 million shares in the two week period to January 15, 2014. This represents 9.4% of the float. 24/7 Wall Street also reported that EPS were expected to be $0.42 per share, "down from $0.53 a year ago". This sounded strange to me. CHK has been growing EPS lately. According to both Yahoo Finance and TD Ameritrade EPS for Q4 2012 were $0.26 per share, not $0.52/share. However, both Yahoo Finance and TD Ameritrade have the analysts' estimate for Q4 2013 EPS at $0.42. This figure is a substantial improvement on the $0.26/share figure of Q4 2012. It agrees with my belief that EPS have been growing. The negative news reported along with the short interest information appears to be false. This is the first indication that a short squeeze may be in the offing.
CHK says it expects to deliver good results for FY2013. This is another indication of a likely short squeeze. The FY2013 results include an increase in adjusted net income from $456 million for FY 2012 to $1.14B in FY2013. This is a 150% gain year over year. CHK also expects oil production to grow from 31.3 million barrels in FY2012 to 41.0 million barrels in FY2013 (about 31% year over year). During the same period it decreased its Capex expenditures by 48% from $13.4B in FY2012 to $6.9B in FY2013. I'd say these were all great statistics.
CHK did announce a plan to reduce its workforce by 20%. I am sure this will impact Q4 2013 results. However, the negative impact will likely be seen as a one time charge. Therefore it will not be counted against adjusted earnings.
On top of this CHK should see huge gains in proved reserves. For FY2012 it wrote down 5.414 Tcfe in proved reserves (4.009 Tcfe of this was from proved undeveloped reserves) due to the fall in natural gas prices. To cause that write down, the rolling twelve month average that the SEC requires CHK to use fell only from $3.19/mmbtu for FY2011 to $2.76/mmbtu for FY2013. I don't know exactly what this figure will be for FY2013 for CHK, but Magnum Hunter Resources (MHR) used the figure of $3.67/mmbtu when they reported their 2013E reserves figures on January 15, 2014. Since they had used a figure of $2.75/mmbtu for FY2012 (close to CHK's $2.76/mmbtu), I am expecting CHK's FY2013 figure to be very near MHR's. These figures can vary from company to company based on hedging, etc. However, it seems likely CHK's will be within $0.10 of MHR's. This means it will likely be at least $3.57/mmbtu. MHR saw an approximate 33% gain in average natural gas price. This is very good news for CHK; and it should translate into a more than 5 Tcfe (perhaps much more) write up of its natural gas proved reserves due to increase natural gas prices. I note some of this has to do with more of its reserves being economical to produce with higher natural gas prices. This write-up of proved resources should provide further fodder for a move upward in CHK's stock price. Since CHK only reported 15.690 Tcfe in proved reserves at the end of FY2012, a 5-10 Tcfe pop in proved reserves should put investors in a very good mood. A short squeeze could be in the offing.
If investors then look at likely write-ups for FY2014, investors have to be even more excited. The price 12-month rolling average natural gas price for FY2013 was likely near the $3.67/mmbtu used by MHR. The Nymex price of natural gas on January 2, 2014 was $4.306/mmbtu at the close. It is at the time of this writing on January 29, 2014 hovering at about $5.045/mmbtu; and it is promising to go higher before the end of the winter. A significant pop in the 12-month rolling average price for natural gas for FY2014 would virtually ensure another good pop in CHK's proved reserves. This is another reason for a short squeeze.
A pop in the average price for natural gas for FY2014 would also ensure much higher earnings for FY2014. For FY2013 total production was estimated by CHK at 1,440-1,468 Bcfe. Of that 1,080 - 1,090 Bcf was natural gas. The natural gas amounts to almost 75% of production. If you raise the average price obtained for 75% of production by say 25%, which may be conservative, you should get a nice pop in EPS and in revenues. This would add into the already impressive growth in revenues and EPS that CHK is garnering through growth in its oil and NGLS production. For instance if CHK sold its natural gas for a realized price of $4.40/mmbtu in FY2014, instead of the approximately $3.67/mmbtu CHK is estimating for FY2013, this would amount to $0.73/mmbtu * 1,000 Bcf (or 1B Mcf or 1B mmbtu) is approximately an extra $730 million in revenues (not including the effects of hedges). Since the company would have to expend virtually no more effort to attain this extra revenue, a large portion of it would filter down to the bottom line. Given that the current Nymex price of natural gas is roughly $5/mmbtu, it seems likely it will reach $5.50/mmbtu or higher by mid-April due to the cold winter weather. With that in mind, an average price of $4.40/mmbtu for FY2014 seems very plausible; and the above example may turn out to be very close to reality.
As of November 5, 2013 the tables below show CHK's natural gas hedges.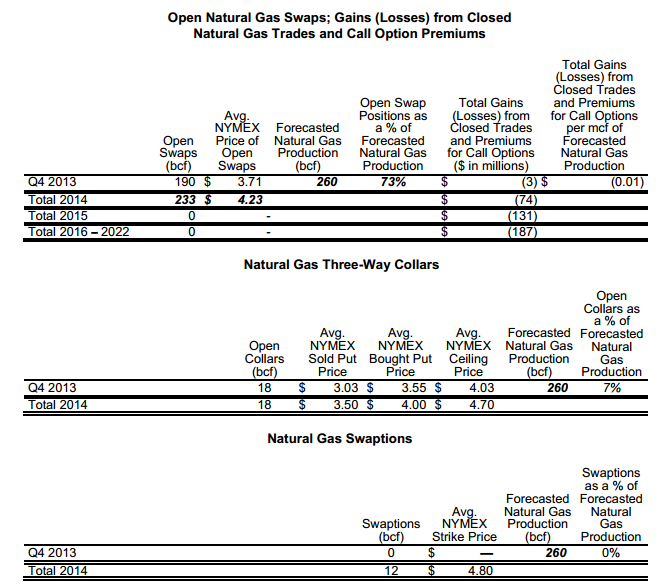 It appears that only about 263 Bcf of natural gas production were hedged for FY 2014 as of November 5, 2013. 233 Bcf of those 263 Bcf of natural gas were hedged at $4.23/mmbtu. Therefore they would drag the $4.40/mmbtu figure in the above example down very little. CHK could really see $700 million extra in revenues from its natural gas production in FY2014. A thought like this has to cheer investors. Further if natural gas prices keep rising throughout the winter, CHK may decide to hedge much of the rest of FY2014 at prices above $4.50/mmbtu. This could insure the company even more profits than the example above indicated. Keep in mind also that CHK's oil production is expected to keep climbing. Revenues due to that extra production should add more to profits. Current analyst estimates do not begin to incorporate these ever more probable increases in natural gas profits. This should translate into upside surprise. It means a short squeeze is likely.
Further Moody's upped CHK's debt rating of Ba2 from negative to stable on June 4, 2013. This means the company is becoming more stable -- less risky. It is another sign that the short sellers are likely wrong. Too many seem to keep remembering the fast and loose days of Aubrey McClendon. They seem to be shorting CHK on past memories. Those days are long gone. CHK is becoming a very stable power house.
In sum the above factors make CHK a big buy. The fact that some more people have decided to short it only makes it more likely to rise further on a short squeeze. The fundamentals I have cited above indicate that a short squeeze may come very soon, especially if the overall market keeps going up. CHK does have a Beta of 1.54; and that means it would likely move down faster than the market on an overall market downturn. Perhaps those expecting an overall market downturn are part of the explanation for the recent increase in short interest. No matter the explanation CHK looks like a great long term buy with a PE of 19.69 and an FPE (2014) of 12.39. Plus don't forget that the FPE year will change to FY2015 on the Q4 earnings report, so the FPE will soon be much lower. Plus the average analysts' 5 year EPS growth estimate per annum is 53.69%, which is an astounding number. Plus that number is likely without the benefits of the increases in natural gas prices I have cited above. Don't forget CHK pays a non-negligible 1.3% annual dividend.
The two year chart of CHK provides some technical direction for the trade.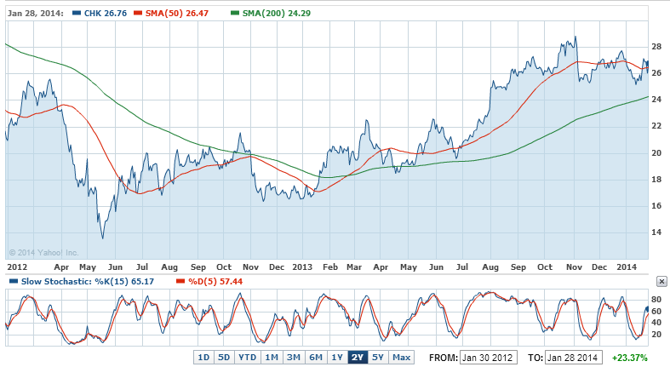 The slow stochastic sub chart shows that CHK is neither overbought nor oversold. The main chart shows that CHK is in a weakening uptrend. For the last six months it has been in a sideways channel pattern. On positive natural gas price news and a big positive proved reserve pop on the Q4 2013 earnings report, CHK could take off again to the upside. Absent a significant overall market downturn, this seems the most likely near term scenario. CAPS seems to agree with me with a four star rating (a buy) on CHK. CHK reports Q4 2013 earnings on February 6, 2014 before the market opens.
NOTE: Some of the above fundamental financial information is from Yahoo Finance and TD Ameritrade.
Good Luck Trading
Disclosure: I have no positions in any stocks mentioned, but may initiate a long position in CHK over the next 72 hours. I wrote this article myself, and it expresses my own opinions. I am not receiving compensation for it (other than from Seeking Alpha). I have no business relationship with any company whose stock is mentioned in this article.