More than a Survivor
We feel that Mark Parker, President & CEO of Nike (NYSE:NKE) provided a succinct assessment of the Nike franchise in his opening remarks during their 3rd quarter conference call:
NIKE is more than a survivor in these tough economic times. We're able to manage up and through the recession to expand separation for our brands and our businesses.

We've returned to top-line and bottom-line growth in our third quarter, both on a real and constant dollar basis. With few exceptions we're seeing improving trends across all NIKE Brand product types, categories and geographies, as seen in our strong acceleration of global futures orders.

Our other businesses continue to deliver brand heat, while increasing revenue and profits. And we're delivering record cash flows, driven by clean inventory positions and the tightest supply chain we've ever had.
The Nike legacy aligns with one of my wife's favorite teachings. She often points out to our children that in life you cannot defy the natural order. Never forget that everything in nature is either growing or dying, so strive for growth and therefore life. Mark Carpenter corroborated Nike's understanding of these principles during the end of his prepared remarks:
In short, we have continued to lead the industry by challenging ourselves to become better at every turn.

It all points to one word – Momentum. While others froze or retrenched over the past two years, we never stopped moving. We never stop designing better products. We never stopped making deep connections to consumer communities. We never stopped increasing the strength of our balance sheet or building a stronger company for our shareholders.

And because we never stopped, it's easier for us to gain speed and momentum. That to me is the story of Q3. While some companies are still trying to decide what to do and when to do it, Nike is accelerating.

In just the next three months alone, we will see March Madness and the Final Four, The Masters, NBA Playoffs, the French Open and Wimbledon, the London and Boston Marathons, the Champions League and of course, the World Cup.

These are the moments that we rally around at Nike. And they go on for as far as the eye can see. On to London in 2012 and Brazil in 2014 and 2016 and beyond. For Nike, it's a future defined by two things: A wealth of opportunity and our ability to invest surgically and aggressively to maximize growth.
Just Do It
Of course, saying it and doing it are often two different things. Since Nike says "Just do it" let's review how well they have lived up to these words: We will utilize our Fundamentals Analyzer Software Tool (FAST) to analyze Nike's history as a growth company.
With Figure 1 below we look at Nike's earnings growth since 1991 (green line with white triangles) and correlate monthly closing stock prices (black line) to earnings. The light blue shaded area indicates dividends paid out of the green area (earnings) and the blue line with asterisks represents a mathematical calculation of the historical normal PE ratio afforded their stock.
As you review Figure 1 note that data is only provided for every other year due to space constraints. The important take-aways from Figure 1 are first and foremost, the consistent growth of earnings averaging 11.7%. Next, see how this long-term perspective illuminates two important price movement realities. In the long run price has clearly followed long-term earnings. Shorter term (one year or less) volatility is extreme as price and earnings can disconnect. Inevitably, however, price returns to earnings.
Figure 1. 20yr EPS Growth Correlated to Price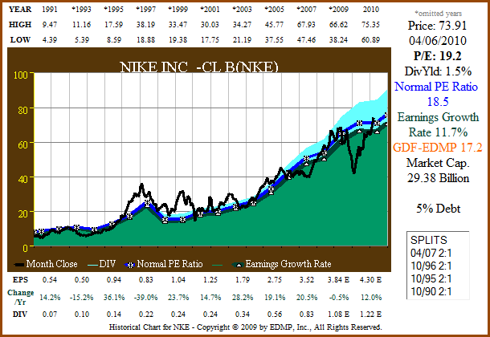 (Click to enlarge)
Figure 2 below calculates the performance associated with Figure 1 including dividends and capital appreciation. Notice that appreciation exceeds earnings growth due to price starting below the earnings line in 1991 and ending above the earnings line currently. Given this adjustment for valuation, there remains a high correlation to shareholder returns and earnings growth and a low correlation to what the market has done (S&P 500). Figure 2 also illustrates a strong record of dividend growth where dividends were never reduced even through the recession.
Figure 2. 20yr Dividend and Price Performance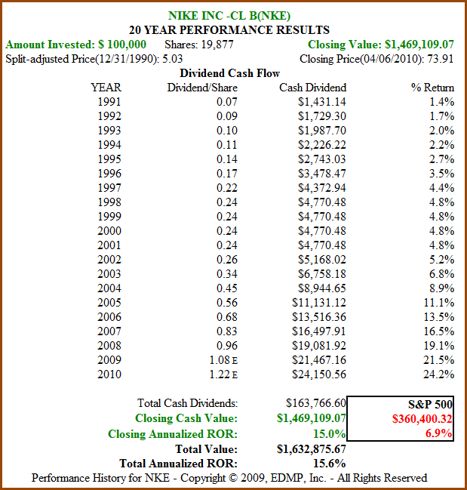 (Click to enlarge)
Valuation vs. Growth
At EDMP we believe that valuation and growth are critical metrics that investors need consider when contemplating investments. More specifically, we believe that earnings growth is the major driver of capital appreciation and total dividend income.
On the other hand, valuation will have a major impact on both return and the risk you take to achieve a given return. Most importantly, risk is greater when valuations are high and potential future returns conversely will be lower. This is the major reason why the first rule of investing success is; buy low, sell high.
Historical Lessons in Valuation
Once again utilizing our FAST Graphs we would like to illuminate the effects of valuation on long-term investor success. Figure 3 below looks at Nike since the beginning of calendar year 2000, a period starting with high valuation. On 12/31/1999 Nike's stock price was $24.78 with a PE ratio just under 23 (see flag with red arrow). Therefore, price was significantly above earnings growth of 13.9% and above its period normal PE ratio of 19.1.
Figure 3. 11yr EPS Growth Correlated to Price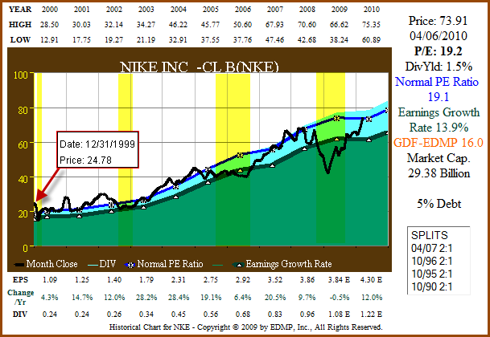 (Click to enlarge)
Figure 4 below calculates the performance for Nike associated with Figure 3. The important take-away here is that although high valuation reduced returns below the earnings growth rate, above average earnings growth rewarded shareholders much better than the general market (S&P 500) would have.
Figure 4. 11yr Dividend and Price Performance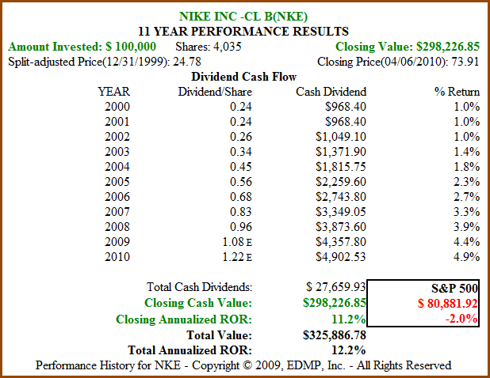 (Click to enlarge)
Our final set of F.A.S.T.™ Graphs clearly illustrates the benefit of discipline with valuation. From Figure 3 above you will see that Nike's price comes to value (the green earnings line with white triangles) four times spanning short periods (yellow shading). First was February 2000, then again in August of 2002, again in August of 2005 and finally in October of 2008. Figure 5 below looks at Nike based on its price being in fair value at the beginning of 2006. Note that this is the only period discussed where Nike's earnings growth rate fell below double digits.
Figure 5. 5yr EPS Growth Correlated to Price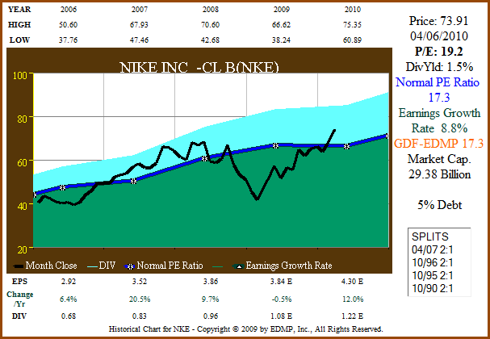 (Click to enlarge)
In Figure 6 below we calculate performance that correlates to Figure 5. During this period we experienced the worst recession since the big one in the 20's, yet Nike still managed to grow earnings 8.8% per annum. In contrast, the earnings growth rate of the S&P 500 only averaged 2% over this same period. However, the most important take-away here is that thanks to low valuation shareholder returns were the highest for any of the periods we reviewed. Sound valuation and lower growth beat high valuation and higher growth.
Figure 6. 5yr Dividend and Price Performance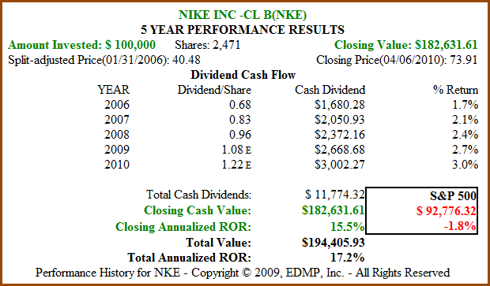 (Click to enlarge)
Conclusion
In the beginning of the article we provided information from management that implies a return to double-digit growth for Nike. Our Graphs show that Nike has recovered from the low price and valuation set in February 2009. However, they also show that Nike is currently priced at full historical valuation. The current consensus forecast by analysts reporting to FirstCall and Zack's set Nike's 5-year forecast growth rate between 10-15%. We agree with consensus; for a more detailed analysis of our thesis for growth we refer you to our Seeking Alpha article published on October 20, 2009: Nike: Growing Earnings and Increasing Dividends.
Therefore, we rate this industry-leading franchise with its powerful branding strategy a solid hold for long-term investors seeking growth and an increasing dividend. If Nike's stock price would retrench back into the 60's, then we would be aggressive accumulators based on valuation relative to growth.
Disclosure: Author long NKE