In my opinion, crystal ball investors need to assess the trends in mobile with developers. iOS was a smash hit not because the devices were breakthroughs in technology - they were really assemblies of third party components by and large although beautifully designed - but because the iOS operating system was tightly integrated into a rich ecosystem comprising not only a vast library of applications but also a huge array of accessories building on the earlier success of the iPod in the distribution of music content. At least that is how I see it.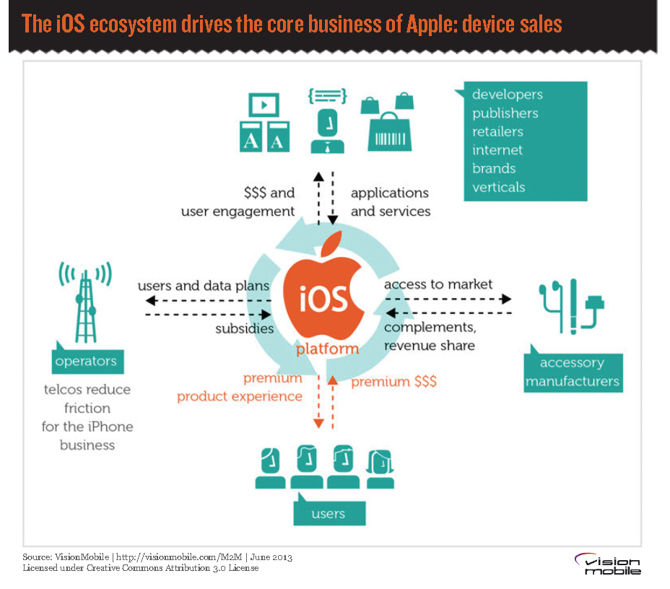 As the smart connected devices markets have grown and matured, the "app economy" is becoming more and more important. Revenues from applications already make up 21% of the combined revenues from handsets and applications according to Porto Research and Vision Mobile data, and that share is expected to grow to 33% by 2016.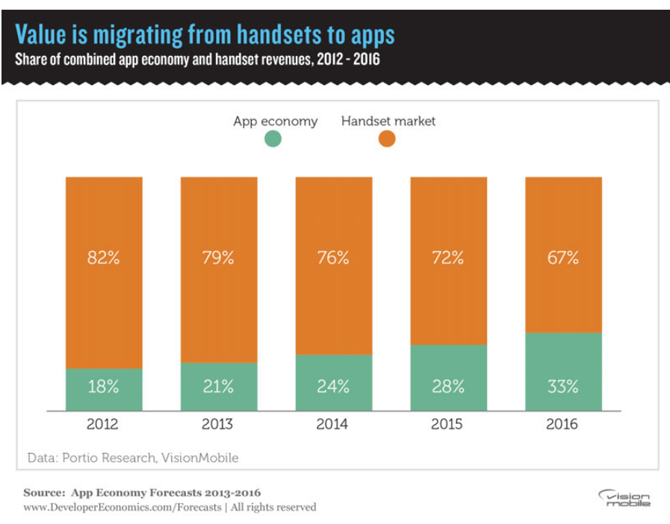 North America has produced the lion's share of the revenue from applications but that is changing with growth in emerging markets and in particular in Asia.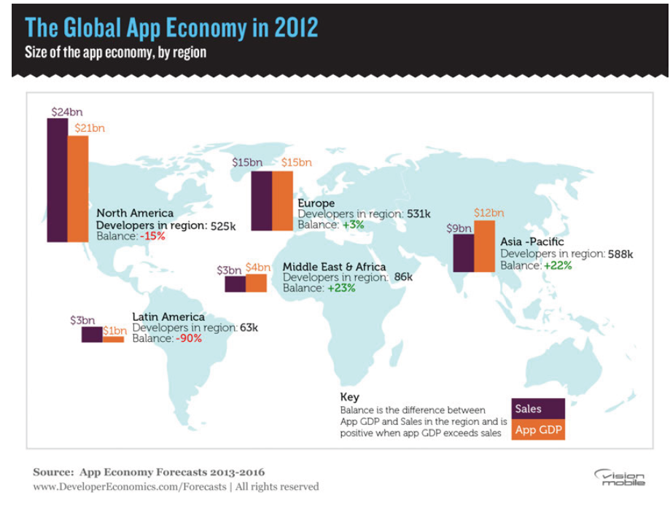 A recent forecast by Developer Economics projects the "App" economy to grow from $53 billion in 2012 to $143 billion in 2016, a growth rate of 28%. The report, a summary of which is reproduced below, notes that iOS is the most valuable platform but that Android OS is growing at twice the rate of iOS and will surpass it by 2016.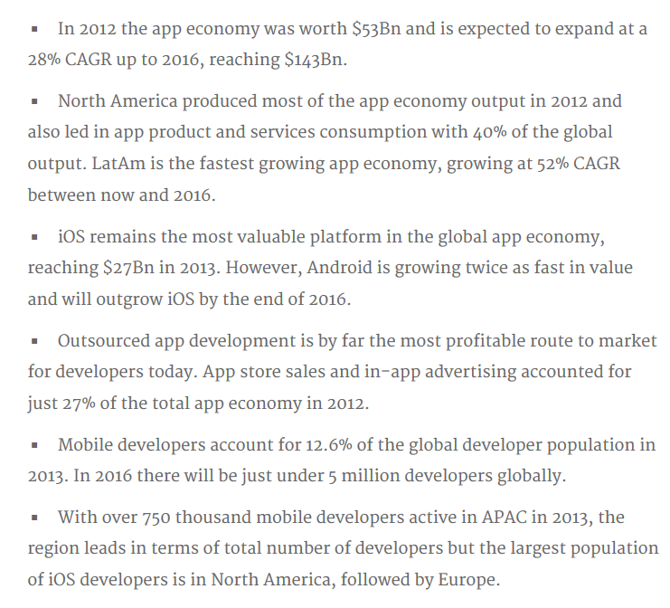 iOS still leads the industry in developer revenue per platform but it is being challenged not only by Android but surprisingly by Windows phone and HTML 5.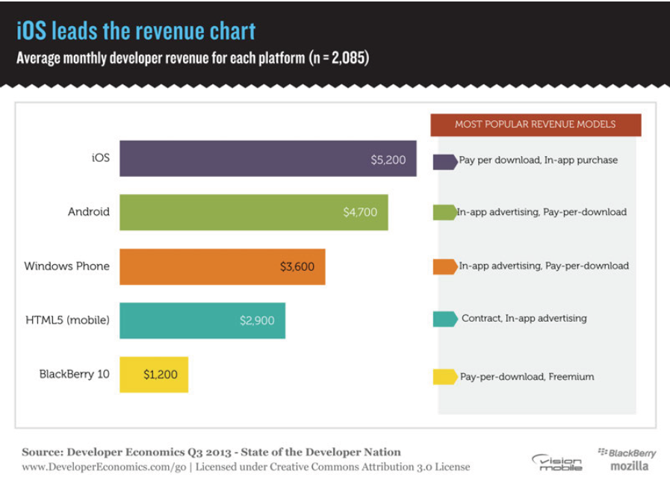 Upstart HTML5 was developed in 2008 but did not really gain any traction until Adobe stopped making Flash available for mobile devices in April 2012. It is now supported by the vast majority of mobile devices.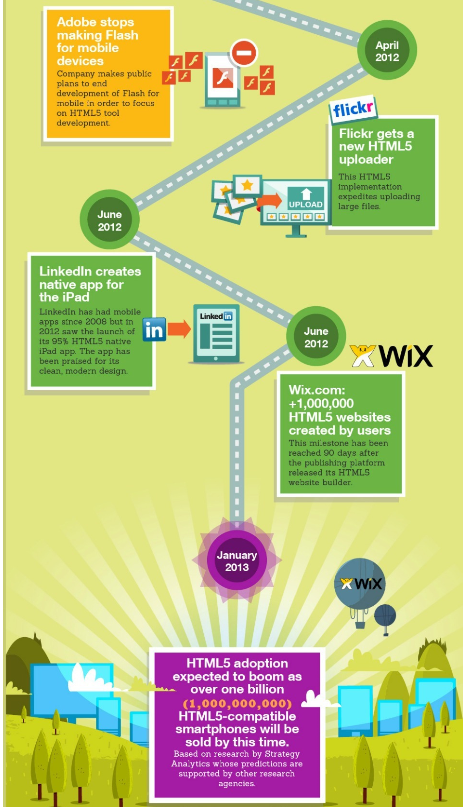 Source: Mashable
Windows 8 and Windows phone lead the list of platforms developers plan to adopt along with (surprisingly) BlackBerry 10 and Firefox OS. Interest in iOS and Android remains pretty flat but a growth in HTML5 for mobile seems to be accelerating.
Android remains the most used development platform followed by iOS in most regions with HTML5 approaching iOS in terms of developer support in most regions and leading it in South America and Africa.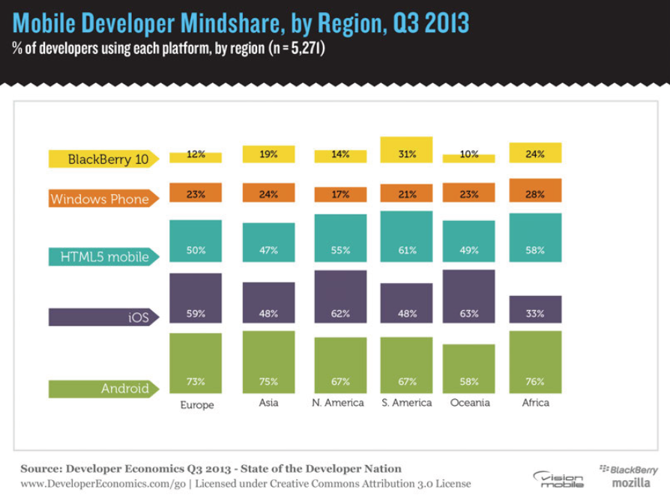 From an overall global perspective, Android and iOS still lead but the progress of HTML5 is impressive.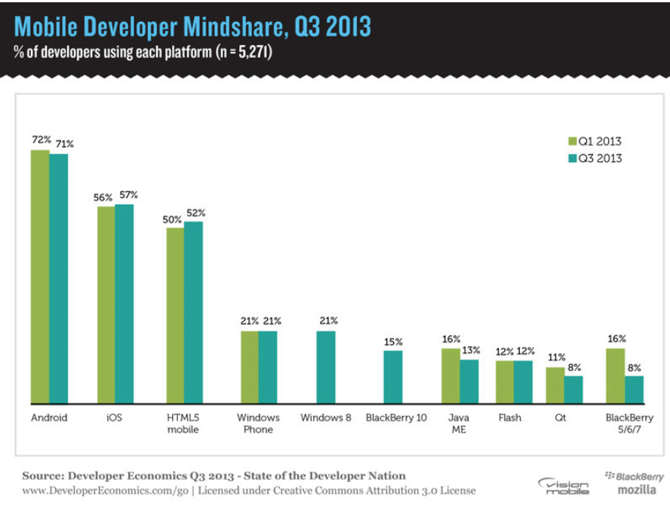 Developers are attracted to HTML5 by its speed and cost of development. In addition, it is fully cross platform allowing HTML5 applications to run on all devices rather than confined to a single OS.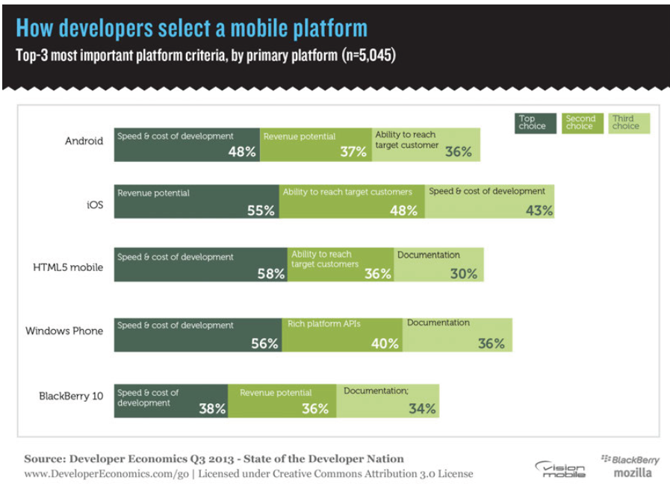 Conclusions
What investors should take from the foregoing trends is the following:
The "app" economy may surpass the device economy in a few years, making software and services the key long-term area for growth in smart connected devices;
The "closed" ecosystems have been very effective but their strongholds will weaken over time as HTML5 continues to grow in popularity and reach;
Google (NASDAQ:GOOG) will continue to be a leading beneficiary of growth in mobile with Android OS maintaining a commanding share of applications;
Developers will migrate towards HTML5 and Windows phone OS as the returns from these platforms approach those available for Android OS and iOS; and,
Companies that define themselves by hardware rather than software and services may find their products becoming commodities and their profits under pressure.
Against that background, I am a long-term bull on Microsoft (NASDAQ:MSFT) which understands the software game and is gaining traction and have a bearish bias toward Apple (NASDAQ:AAPL) which still believes it is in the device business conceding unit volume for short-term device profits. As the world shifts to software and services the installed base of compatible devices will be a key determinant in which company earns the industry profits and the market share losses Apple has ceded to competitors will come home to roost. I like the prospects for Google but believe the current share price fairly reflects them.
I hold puts on AAPL.
Disclosure: I am short AAPL. I wrote this article myself, and it expresses my own opinions. I am not receiving compensation for it (other than from Seeking Alpha). I have no business relationship with any company whose stock is mentioned in this article.
Additional disclosure: I will re-enter MSFT if I see a good entry point in the market sell off I expect