One of my predictions to end the year was that the housing recovery was going to be lucrative into 2014. As such, I allocated some of my portfolio rebalancing into certain REITs and housing related stocks for the coming year, hoping at least to take advantage of the dividends if the housing recovery stalled.
REITs have the appeal of generally paying very attractive dividends - usually upwards of 3% annually. As asset back trusts, this makes them much more appealing than other "conservative" dividend paying routes like bonds. Additionally, REITs had lagged in 2013, so I found them to be priced for the pickin' heading into the new year.
In addition to the growth domestically, real estate prices ramped up in Britain at a breakneck pace last year, as well.
It was announced yesterday morning, as well, that home prices gained a total of 13.7% in 2013 - quite a run up. This run, I predict, will continue - albeit a bit slower - in 2014.
(source - S&P Home Price Indices)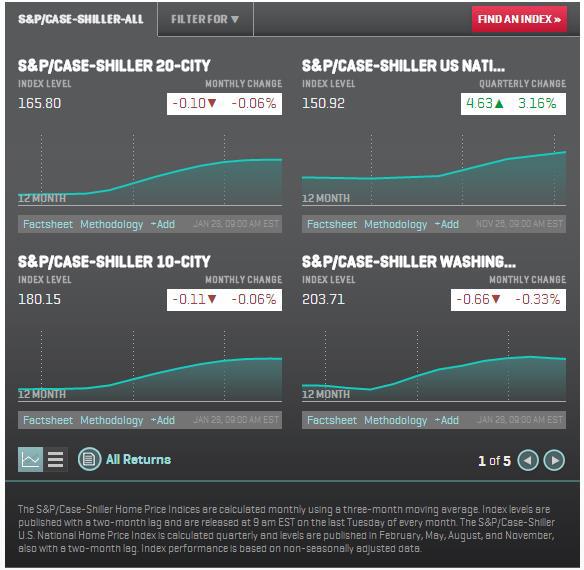 Of recent, it was reported that U.S. homes dropped more than was estimated in December, but much of that drop off was attributable to the cold weather:
Sales of new U.S. homes dropped more than forecast in December as cold weather helped put a chill on an industry at the end of its best year since 2008.

Purchases decreased 7 percent to a 414,000 annualized pace, lower than any estimate of economists surveyed by Bloomberg, Commerce Department figures showed today in Washington. For all of 2013, demand jumped 16.4 percent to 428,000.
New homes don't tell the tale in its entirety for the coming year. Housing market bulls have been quick to point out that houses are flying off the market quicker and closer to their asking price than a year ago.
Additionally, one month reports rarely make a trend - as such, the coming months' data will be important to gauge how large a potential slowdown could be.
Those looking to enter into home ownership should look at this slowdown the same way a long-biased investor should look at a stock market pullback - moving to the favor of the buyer, at least for the time being. If new home buyers don't provide as much liquidity to the housing market, home prices are likely to pull back slightly. Perhaps the slowing trend to end 2013 could actually be the catalyst to introduce home buyers into the market.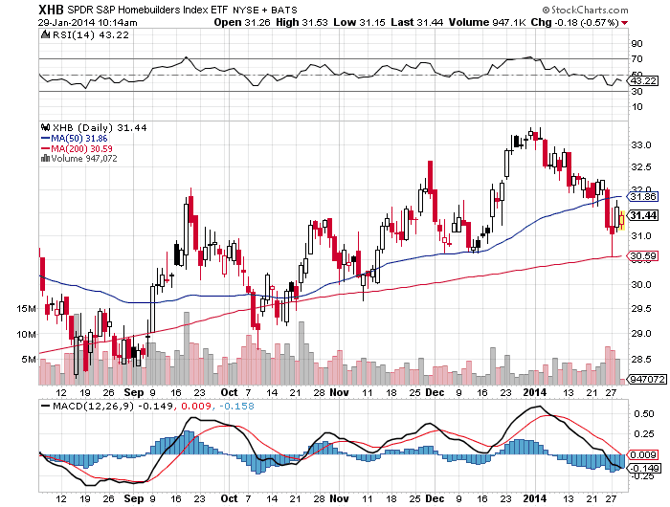 Using a gauge like the S&P Homebuilders index (above), we appear to - from a technical standpoint - be at the bottom point of a cyclical dip; one that should continue carrying this 6 month uptrend showing higher highs and higher lows. While questions won't truly be answered until the year carries on and homebuilding ramps up again in the Spring, I'm continuing to bet on a housing market recovery for 2014.
Here's a short list of ways that you can invest in the housing recovery:
REITS
Mortgage Heavy Banks
Supplemental Housing Related
Disclosure: I am long OLP, BAC. I wrote this article myself, and it expresses my own opinions. I am not receiving compensation for it (other than from Seeking Alpha). I have no business relationship with any company whose stock is mentioned in this article.