Despite the stock's strong performance in 2013, we believe that the rerating will continue thanks to still conservative expectations and a low valuation. Goodyear (NYSE:GT) is currently trading below 10x 2014 EPS, while it is expected to deliver double digit EPS growth over coming years, with risk on the upside (recent strength in North America, Europe potentially bottoming out).
Strong acceleration in December
The latest data (December figures) provided by Michelin (OTCPK:MGDDY) confirm that the slight recovery seen in aftermarket (c.70% of global tire shipments) in the last months is now accelerating with most geographies & segments improving in December:
In the US, 13% growth in light vehicle (LV) replacement tires, and -1% in truck tires (vs -5% in November)
In Europe, 1% growth in LV tires (a still uninspiring figure), but 12% growth in truck tires
In Latin America and more specifically Brazil, 10% growth in LV tires and 15% in truck tires
The US data clearly suggest that the US Rubber Manufacturing Association's 1% growth forecast for US aftermarket shipments in 2014 (+2% including original equipment sales) is overly conservative. The ongoing economic and employment recovery in the US (44% of Goodyear revenues) should spark a higher number of miles driven, a key positive for all tire manufacturers and specifically Goodyear which commands the highest market share in the US.
Goodyear's 2016 SOI (segment operating income) growth outlook calls for 2% annual volume growth. In view of the recent US strength and potential recovery in Europe, we believe that the risk is skewed to the upside.
Europe bottoming out
Europe (35% of group revenues) could soon become a major catalyst: the aftermarket has been resilient in recent months (i.e. slightly positive for LV) and could now benefit from a better macro (consumer and manufacturing indicators have been ticking up), notably in Southern Europe.
On the OEM side, it's worth noting that new car sales in Europe rebounded at the end of 2013 after several tough quarters, with December sales up +12% (vs. -2% over the FY). In view of easy comps in coming months and positive macro data, we believe that auto sales growth could trend high single digit or even double digit in the short-term. The mid-term/long-term upside could be huge as car sales in the region are at 18-year lows…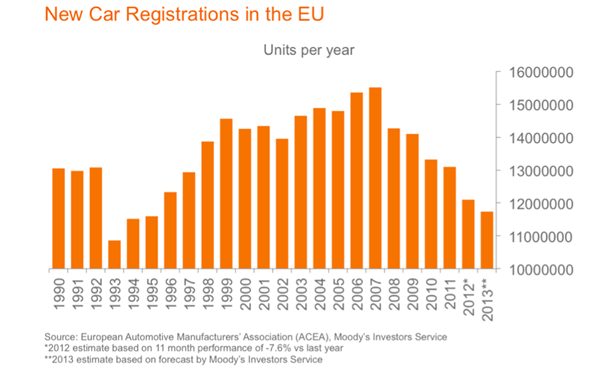 Strong earnings growth in sight
The input costs tailwind (rubber price is down 26% year-on-year) should be limited in 2014 as tire manufacturers are expected to pass on savings on rubber and other raw materials to customers. Prices are indeed expected to remain under pressure, with expectations ranging from flat prices at Michelin to -3% at Conti (OTCPK:CTTAY).
This suggests that the main source of margin leverage will remain restructuring initiatives, which Goodyear and peers continuing to move their capacities from developed economies to low-cost countries. Goodyear's closure of its Amiens, France plant is expected to spark $75m annual savings. This, combined with additional $75m cost-cutting over the next years, should give at least a 10% boost to operating profit.
In all, we are confident in a 150-200bps margin improvement for Goodyear over 2014-15. This, together with a volumes pick-up, should lead to double digit EPS growth.
In conclusion, the current valuation (around 9x 2014 EPS) is a bargain in our view: we continue to believe that the low expectations-low valuations combination makes Goodyear highly leveraged to an improving newsflow.
Note that all tire manufacturers have announced significant capex plans: even if some investors fear the impact of rising capacity additions on prices and utilization rates, we believe that this is a sign of confidence in the industry outlook.
Disclosure: I have no positions in any stocks mentioned, but may initiate a long position in GT, over the next 72 hours. I wrote this article myself, and it expresses my own opinions. I am not receiving compensation for it (other than from Seeking Alpha). I have no business relationship with any company whose stock is mentioned in this article.