JPMorgan recently downgraded Cisco (NASDAQ:CSCO) because of the company's Emerging Markets woes and slow switch to Software-Defined Networking. JPMorgan analyst Rod Hall demoted Cisco to Underweight from Neutral and pegged a new target price of $17, a big discount from its old PT of $21 for CSCO. This downgrade report from two days ago caused Cisco to drop more than 2%.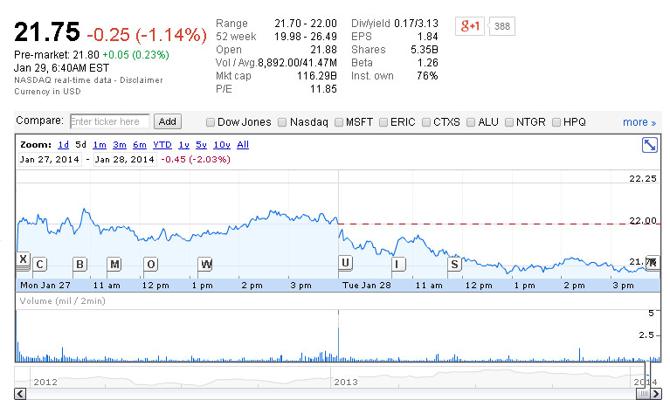 There's nothing that Cisco can do about its current problems in China and other Emerging Markets. However, the company is actually not being a slacker in SDN as JPMorgan portrayed it. Cisco is even changing its SDN strategy to make it more flexible and attractive to customers.
Due to the criticisms that Application Policy Infrastructure Controller (APIC) received from the public and industry experts, Cisco has relented and is now making APIC compatible with non-Cisco hardware for SDN deployment. This change of heart is an important development because Cisco shows it is willing to sacrifice its high-margin routers & switches just to be able to join the SDN party. Traditional routing and switching are the company's main revenue generators now, but Cisco is making sure it will be on board the SDN revolution too.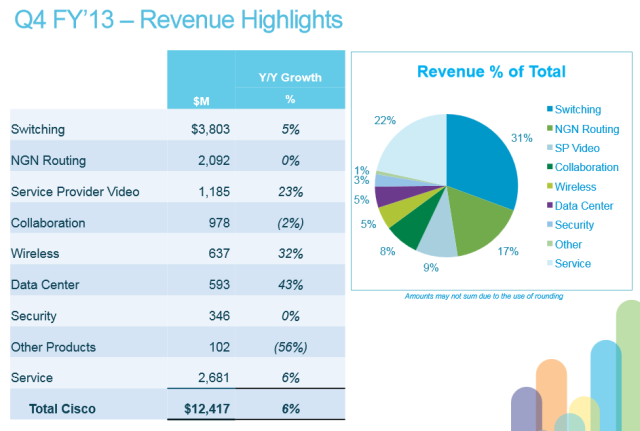 Cisco is tweaking APIC to work with OpenFlow, Network Functions Virtualization, and OpenStack - which enables this software controller work with third-party hardware equipments. The company is also expanding APIC outside its initial data center focus. APIC will now be available for enterprise and campus wide area networks.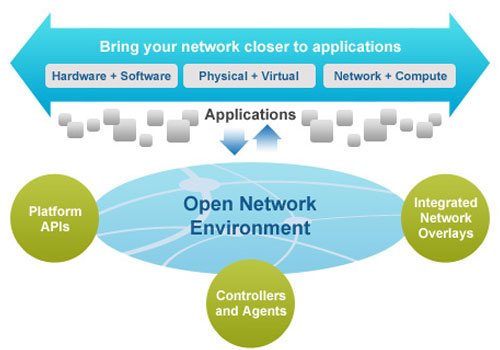 No Vendor Lock-In
APIC got flak from other SDN players when it was first revealed last November. VMware (NYSE:VMW) and Juniper Networks (NYSE:JNPR) said Cisco was trying to pollute the open source policy of SDN to protect its lucrative IP networking hardware business. APIC's first version last year was a clear attempt to lock-in customers to keep on using on expensive Cisco routers and switches. SDN is supposedly intended to replace costly networking hardware with software solutions.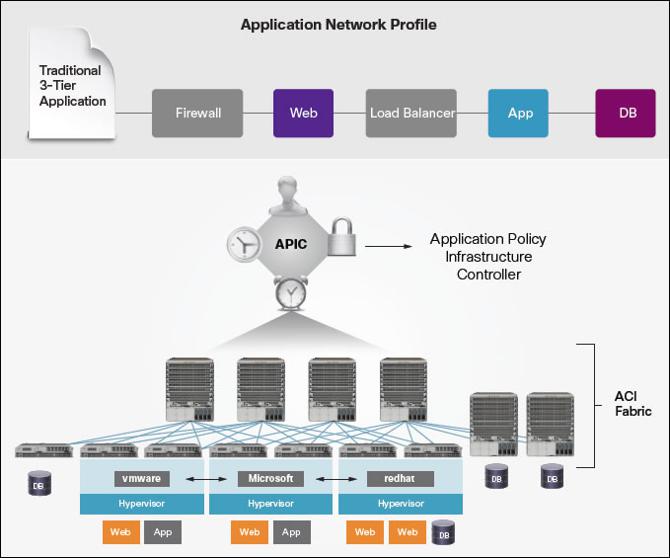 Cisco has changed its tune and the new APIC enterprise module for wide area network is now more open and no longer exclusive to Cisco's proprietary hardware. The company also announced its new InterCloud solution will work with other vendors' servers and switches. InterCloud is compatible with hypervisors from Microsoft, RedHat, Citrix, VMware and other cloud service providers.
Fabio Gori, Cisco's director of cloud marketing, said there will be no vendor lock-in for InterCloud. This pragmatic approach helps the company win public relations points. Prospective customers will no longer hesitate to trust Cisco's SDN and cloud computing products since they won't be required anymore bundling expensive hardware equipments with it.
SDN Is A Future Growth Driver
Cisco bought startup Insieme Networks last year. The company is therefore in a great position to take advantage of SDN's predicted growth of becoming a $35 billion industry by 2018. While Cisco may never again regain its good standing in China, it can still make up for the lost hardware sales in that country by becoming a dominant player in SDN.

Cloud based hosting is even bigger so InterCloud is another driver for growth. Cisco's open policy for its cloud computing product should help it attract cost-conscious providers.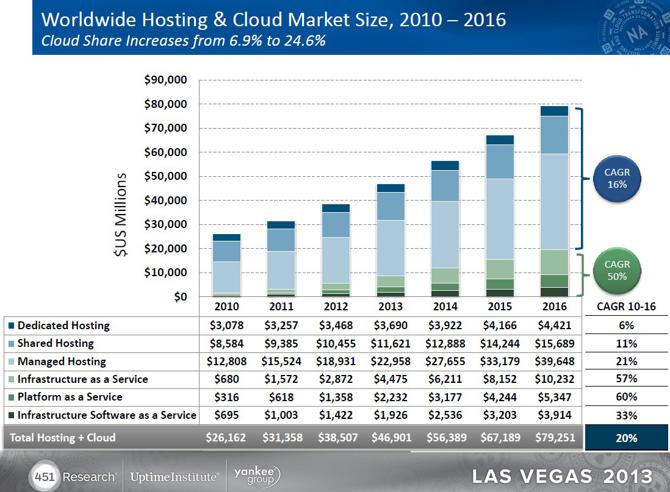 Cisco needs these new revenue streams to keep it competitive. Its current cash cow in routers and switches is no longer sustainable for the next decade. Cloud computing is the future. Cisco's management is aware of this, and the change to no-vendor-lock-in policy is a good start to help the company accelerate its transformation into a cloud-centric company.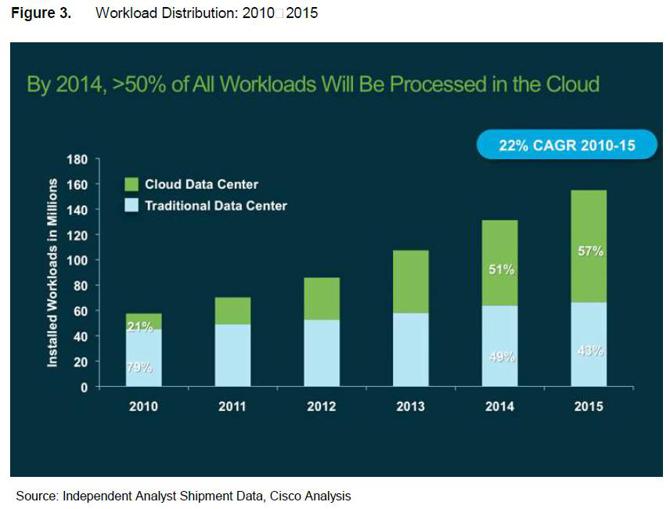 Conclusion
I no longer own CSCO shares but if the stock falls to JPMorgan's PT of $17, I'll be tempted to buy some. Cisco has solid fundamentals and future growth drivers in SDN and cloud computing. The no-vendor-lock-in policy is an excellent marketing strategy to win over reluctant customers.
The company has one of the best valuation ratios among its industry peers: low P/E, low Price/Sales, and low Price/Book ratios. It offers a decent 3.1% dividend yield too.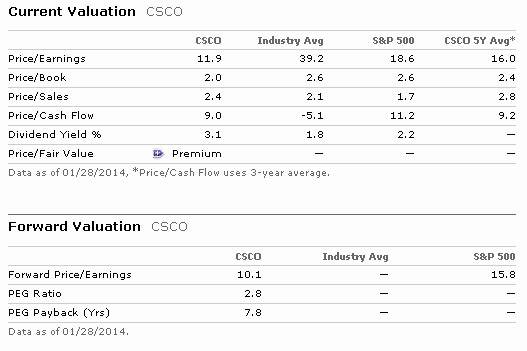 Cisco still has the better fundamental numbers than Aruba (NASDAQ:ARUN) or Juniper.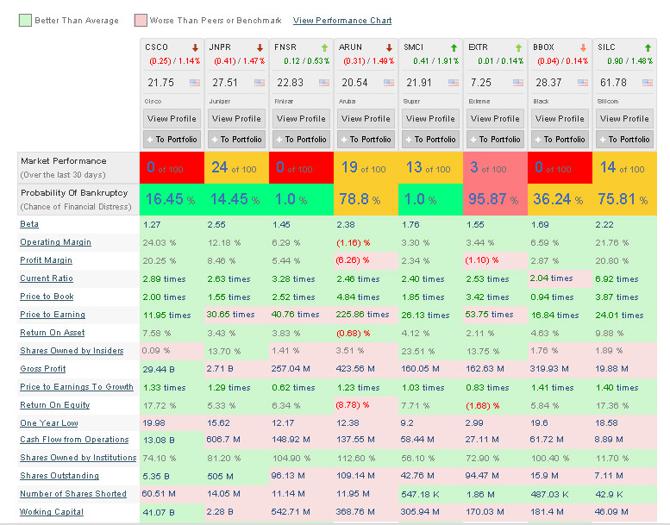 The pessimistic outlook of JPMorgan is not shared by other analysts. The Buy to Sell recommendation ratio is 5:1 at MarketWatch. If you can afford $20++ price levels for CSCO, then by all means, feel free to buy more shares. Cisco is far from becoming irrelevant.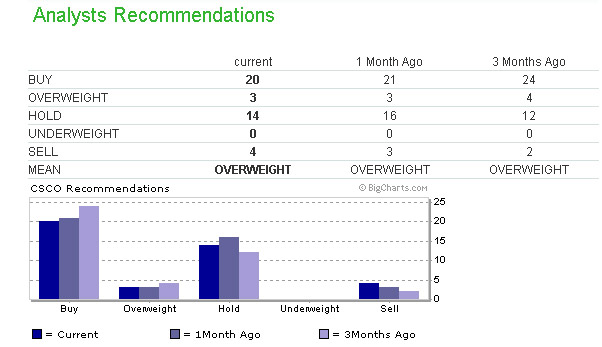 Disclosure: I have no positions in any stocks mentioned, and no plans to initiate any positions within the next 72 hours. I wrote this article myself, and it expresses my own opinions. I am not receiving compensation for it (other than from Seeking Alpha). I have no business relationship with any company whose stock is mentioned in this article.