Dish Network (NASDAQ:DISH) recently launched its 15th satellite in an attempt to remain competitive in its High Definition (HD) offerings as well as match or surpass competitor DirecTV's (NASDAQ:DTV) portfolio. Although Dish's HD service constitutes only about 7% of the company's stock, a competitive HD offering can have an important impact on Dish's market share and how much Dish can charge for its HD service.
Dish Network is the second largest satellite pay TV provider in the US, and competes with DirecTV, and cable providers like Comcast (NASDAQ:CMCSA) and Time Warner Cable (NYSE:TWC).
The new satellite is expected to boost Dish's HD offering from 160 HD channels currently to over 200 HD channels. In comparison, DirecTV which also launched a satellite recently is said to have increased its HD count by 50%, taking its total HD channels to above 200.
Below we discuss the importance of HD service for Dish Network, and how expanding HD portfolio will make Dish more competitive and give it room to increase its HD pricing.
HD Service Is 7% of Dish Network's Stock
We estimate that HD service constitutes about 7% of the $27 Trefis price estimate for Dish Network's stock. This results in a little less than $1 billion based on our estimate of $12 billion for the value of Dish Network.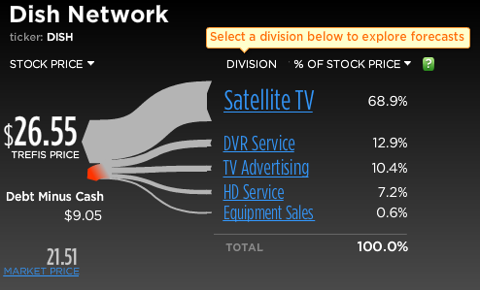 Dish Network makes money from HD service by charging an incremental fee to its customers for additional HD channels over usual programming packages. Dish claims that, apart from the monetary value, a wide selection of HD channels acts as an added incentive for customers to subscribe to its other services.
Expanding HD Portfolio Will Help Dish Drive HD Pricing Growth
We estimate that Dish Network's HD fee declined from about $20 in 2006 to about $10 in 2009, attributable to competitive pricing offered by other market players that has made the fee charged by Dish unsustainable.
Dish Network leads the HD service market in the US with about 160 channels compared to DirecTV's 130 channels. With the new satellite launch, its HD capability is expected to cross 200 channels. We believe that there is room for Dish to increase its HD fee in the future for the following reasons:
Improved HD portfolio will allow creation of upscale HD packages, thereby creating opportunity for Dish to charge more from certain customers
With economy showing signs of improvement, there is likelihood of price increases in general
You can modify our forecast above to see the impact on Dish's stock price, if Dish were to increase its prices substantially higher than we forecast.
For additional analysis and forecasts, here is our complete model for Dish Network's stock.
Disclosure: No positions