SanDisk (NASDAQ:SNDK) has launched the world's first 32 GB flash memory card for mobile phone users, targeting the growing smartphone category. The maximum storage capacity being doubled from the previous 16 GB and will provide smartphone users with the ability to store and use more digital content. Flash memory cards are SanDisk's core business and the significance of mobile phone market makes memory for mobile phones an important driver of SanDisk's stock.
Below we discuss the importance of phone memory to SanDisk stock, benefits of higher memory for SanDisk, and how popularity of higher capacity cards among smartphone users can create a 7% upside to to SanDisk's stock.
Mobile Phones Flash Cards is 33% of SanDisk's Stock
Mobile phone flash memory is the most business for SanDisk, constituting 33% of the $30 Trefis price estimate for SanDisk's stock.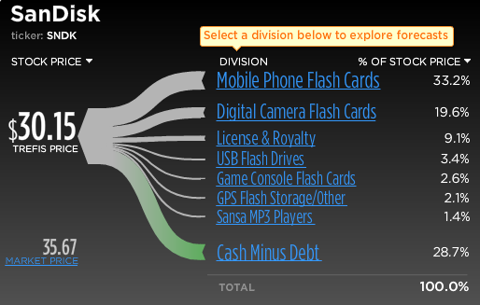 Click to enlarge
32 GB is the Next Generation Flash Card for Smartphones
We estimate that the global mobile phone shipments will reach 1.3 billion units in 2010 with smartphones owning 19% share. With growing demand for smartphones, we expect smartphone penetration will reach 43% of the total 1.83 billion mobiles shipped by the end of Trefis forecast period.
The new 32 GB memory from SanDisk is attractive to smartphone users because it provides freedom to store greater volumes of video, music, games, digital images, applications and business documents. We believe the current high price of $200 for the 32 GB memory card will limit the card usage to high-end smartphones only but that prices will come down over time.
Higher GB memory benefits SanDisk in two ways:
1. Retain Market Share in Mobile Phone Flash Memory
SanDisk is the market leader in mobile phone flash memory with 44% share globally in 2009. The new high memory card will help it continue with its dominance against other flash memory makers such as Toshiba (OTCPK:TOSBF), Transcend (TRCR), Kingston, Memorex, Fuji and Lexar (LEXR).
2. Slows Decline in Average Sale Price of SanDisk Memory Cards

With greater demand for higher storage memory cards from smartphone users, the average capacity per flash card shipped will increase, and this will slow the decline the average price of a SanDisk memory card.
7 % Upside to SanDisk's Stock from Higher Capacity Cards
If the average capacity per SanDisk's flash memory card increases to 18 GB from our previous estimate of 8.4 GB for 2010, this can create an upside of 7% to SanDisk's stock.
You can modify the forecast above to see how SanDisk's stock would be impacted if the capacity per flash card increased more than we forecast.
For additional analysis and forecasts, here is our complete model for SanDisk's stock.
Disclosure: No positions