We have some big moves taking place this morning as earnings have been reported and guidance given for many names investors had piled into over the past few months. There is also the news of emerging markets and countries raising interest rates in order to maintain normal volatility in their own currencies. With the Fed due to give the market direction this week we think that the prudent game plan is to stick to the blue chips and value stocks right now and to nibble on names where we have seen overly dramatic moves to the downside.
Chart of the Day:
The 10-year Treasury continues to see buying as emerging market fears spread throughout the market, causing rates to pull back towards 2.70%. This flight to safety might be something that the Fed has to address moving forward because the tapering will not be successful if it continues to force traders to take risk off of the table.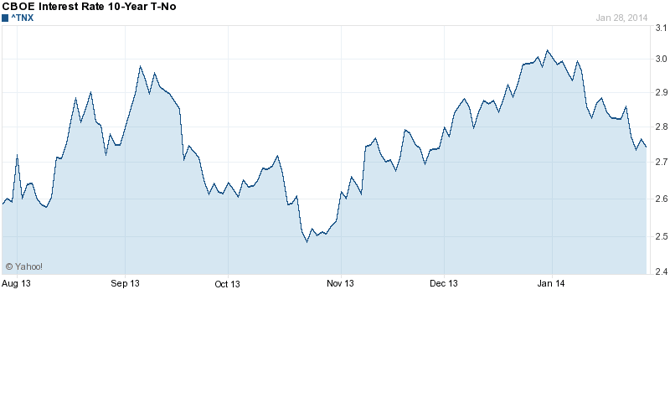 Source: Yahoo Finance
We have economic news today and it is as follows:
MBA Mortgage Index (7:00 a.m. EST): Est: N/A Act: -0.2%
Crude Inventories (10:30 a.m. EST): Est: N/A Act: +6.421M
FOMC (2:00 p.m. EST): Est: N/A
Asian markets finished higher today:
All Ordinaries -- up 1.04%
Shanghai Composite -- up 0.56%
Nikkei 225 -- up 2.70%
NZSE 50 -- up 0.71%
Seoul Composite -- up 1.26%
In Europe, markets are trading lower this morning:
CAC 40 -- down 0.72%
DAX -- down 0.35%
FTSE 100 -- down 0.38%
OSE -- down 0.45%
Industrials Making Big Moves ...
This morning Dow Chemical (NYSE:DOW) and Boeing (NYSE:BA) announced results and provided guidance going forward. Boeing announced EPS of $1.61 whereas analysts had expected EPS to be $1.57, a solid beat. The top line figure was also good with revenues of $23.8 billion versus the analysts' consensus of $22.7 billion. For Boeing the fourth quarter and 2013 were strong, however the guidance that the company provided for 2014 was weaker than many expected at $7.20, or up about 2% over 2013 numbers. We have long been bulls on this name and shall continue to be so, so this weakness we view as an opportunity. We have been recommending buying the dips all the way up and might take the opportunity to add exposure to Boeing via our personal accounts today. Our thinking is that the company is being conservative in their guidance and will solidly beat their guidance and probably even the analysts' expectations from before today's announcement.
The current pullback to $130/share appears a good entry point as the stock has support around that level and based on our belief that Boeing possesses some of the best growth prospects of the large industrial names moving forward.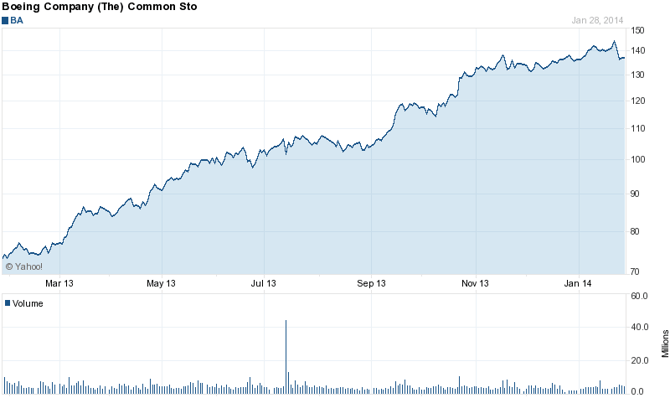 Source: Yahoo Finance
Dow Chemical also beat the analysts' numbers handily as the company reported EPS of $0.65, which was $0.22/share higher than the expected $0.43 EPS figure analysts were looking for. Dow also announced an increase in the dividend to $0.37/share, up from $0.32/share for the first quarter and also increased its share buyback program from $1.5 billion to $4.5 billion; a program which would be completed in 2014. The company also indicated that it would be open to suggestions from Third Point, Dan Loeb's hedge fund which announced a stake and issued a letter last week right after the CEO's interview on CNBC finished. This name has moved quite strongly in the past few months and as such we would exercise caution in regards to purchasing shares. Waiting for a pullback appears the prudent move here.
Buying into today's strength does not appear wise, especially when one considers how quickly the gains disappeared from last week's strong move higher.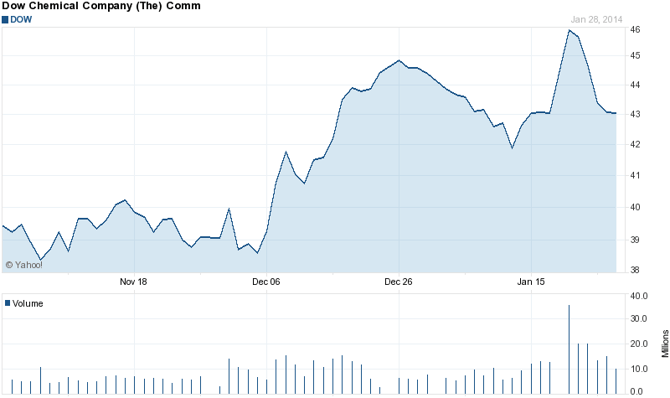 Source: Yahoo Finance
Telecom Not Coming In Clear
The rumors this morning are that Sprint (NYSE:S) has encountered resistance from the Justice Department in regards to a potential tie-up with T-Mobile (NASDAQ:TMUS). Although none of the parties involved have commented publicly, there are numerous reports out from reputable news outlets that indicate the Justice Department does not believe that a combination between the number three and four carriers in the US would result in more competition among the carriers and better service for consumers. Although negotiations will continue between all parties to find a way to structure a deal so that it can successfully close, it appears that the long rumored telecom deal is now on hold.
As bad as it is right now to be one of the smaller carriers, it appears that AT&T (NYSE:T) investors are not fairing much better. Shares are down sharply in early trading this morning after the company reported better than expected numbers for the latest quarter. The disconnect appears to be centered around the future expected numbers, as AT&T's guidance was considered weak. Both Citi and JP Morgan have already cut their price targets on the shares to $35/share from $38/share and Credit Suisse lowered its price target to $37/share from $38/share after cutting its estimates for the company moving forward.
Disclosure: I have no positions in any stocks mentioned, but may initiate a long position in BA over the next 72 hours. I wrote this article myself, and it expresses my own opinions. I am not receiving compensation for it (other than from Seeking Alpha). I have no business relationship with any company whose stock is mentioned in this article.