In a previous article, I showed how the Aberdeen Chile (NYSEMKT:CH) closed-end fund had reached an extreme premium to its net asset value (NAV). The red arrow in the chart below indicates when the Seeking Alpha article was published. Both the premium and the share price subsequently collapsed.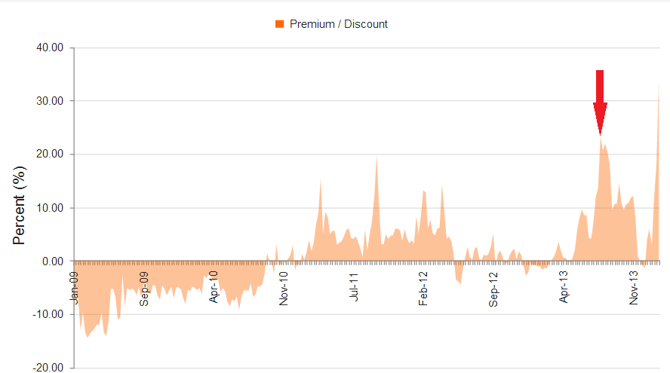 As you can see, the CH premium has taken off again, surpassing its all-time high. If you buy CH at this level, you are spending $1.33 to buy each $1 worth of assets!
It makes sense for some CEFs to trade at premiums because they hold foreign securities that are difficult for retail investors to buy. However, that is not the case with CH. The securities it holds are readily tradeable on the Chilean exchange. In fact, you don't even need to go to the Chilean exchange for many of these stocks; you can buy them on U.S. exchanges as ADRs.
| | | | |
| --- | --- | --- | --- |
| Company | Weight | U.S. ADR | ECH Holding? |
| Banco Santander-Chile | 10.40% | BSAC | Yes |
| Empresas Copec SA | 10.33% | | Yes |
| Falabella Sociedad Anomina | 10.18% | | Yes |
| Enersis SA | 9.23% | ENI | Yes |
| Empresas Cmpc SA | 8.77% | | Yes |
| Banco De Chile | 5.97% | BCH | Yes |
| Concha y Toro Winery, Inc. | 5.11% | VCO | Yes |
| Parque Arauco SA Parauco | 4.91% | | No |
| Compania Cervecerias Unidas | 4.74% | CCU | Yes |
| Embotelladora Andina | 4.60% | AKO B | Yes |
| Sonda SA | 4.56% | | No |
If you don't want to buy individual stocks, you can buy a carbon copy of CH's portfolio by purchasing the Chile ETF (NYSEARCA:ECH). As you can see above, nearly all of CH's top holdings are top holdings in the Chile ETF. The big difference is, $1.33 buys you $1.33 of stocks with ECH, it only buys you $1 worth with CH.
I think the sell-off of the Chilean market has been overdone. While socialists have gained power, the country's excellent economic record will not be undone in one election cycle. However, since I am not counting on a quick recovery, I am hedging my ECH holdings by shorting CH. The 5-year average premium for CH is only 0.71%. At some point we can expect it to return to that level, which implies a 30% decline, even if the Chilean market stays flat.
Disclosure: I am short CH. I wrote this article myself, and it expresses my own opinions. I am not receiving compensation for it (other than from Seeking Alpha). I have no business relationship with any company whose stock is mentioned in this article.
Additional disclosure: I am also long ECH.