(Editors' Note: This article covers a micro-cap stock. Please be aware of the risks associated with these stocks.)
This article is the second in a series based on Market Exclusive's interview with Michael Farkas, CEO of Car Charging Group (OTCQB: CCGI). In the first article, we discussed Car Charging's current business model, which is focused on providing public EV charging services primarily through strategic partnerships with commercial entities. In this article, we discuss Farkas' plans to tap the residential charging market as well as key end-user issues like charging station reliability and pricing.
Already Making Inroads
Car Charging has had such a laser focus on the commercial market that Farkas' enthusiasm for the residential market came as a surprise. When asked for his thoughts on the residential market, he quickly acknowledges that "a super majority of charging is done at home … bottom line, we want a product for everyone."
He points out that the company's initial emphasis on deploying EV charging infrastructure in dense, multi-use urban areas already has the company earning revenue from residential charging. "The same people who use garages during the day in the big cities use a different garage at night. Most installations are in major urban areas, so you get work and residential in the same garage; one person is charging there during the day and someone else is charging there at night." New York City, where about 50% of all vehicles are parked on the street or in public parking lots, is a good example. Last February, Car Charging acquired Beam Charging (page F-10), which gave the company over 100 commercial charging points there. Recently, Beam Charging received a grant to install an additional 21 chargers in the New York metropolitan area.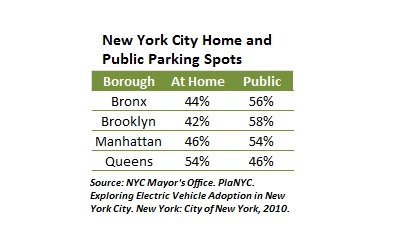 Car Charging is proving that such opportunities aren't limited to big cities, but can spring up whenever EV charging stations are deployed in mixed-use environments. For example, Car Charging recently announced that it is deploying more EV chargers in response to increasing demand for services at Santana Row in San Jose, California. The Silicon Valley development includes office space, rental homes, shopping and entertainment.
The EV Project
As one can infer from our discussion of Car Charging's revenue model in our first article, the company cannot generate revenue from a charging event unless it can insert itself between the EV owner and the utility providing power. "There is no recurring revenue model at all in a single family installation," says Farkas. With respect to the 7,000 or so residential chargers installed by ECOtality under the EV Project, however, unique short-term revenue opportunities are available. There is the EV Project itself, for which Farkas says Car Charging recently won a four month extension of the contract with the Department of Energy to assume ECOtality's role in the project. Farkas seems very pleased with the arrangement: "We got a new deal. We expect to take over the entire project 100%. We got all of the benefits and none of the liabilities." In addition, Farkas says there is a $1 million grant from a source outside the EV Project to share usage data being collected from residential chargers in certain areas.
Farkas concedes, however, that this follow-on revenue from the EV Project won't last forever. He says Car Charging is working on "a couple of concepts" to monetize the EV Project chargers after the data collection projects are completed. "There are definitely opportunities to cross sell them services, or subscribe to the [Blink] charging network," he adds.
Migrating to Manufacturing
As the EV Project illustrates, Car Charging's current transaction-based revenue model limits its opportunities to make money in the residential market. With utilities being the sole beneficiary of each charging session, the only opportunity to earn revenue is through equipment sales. Interestingly enough, Farkas explains that Car Charging has always planned to make its own residential charger. The ECOtality acquisition just accelerated that timetable.
"Blink HQ [ECOtality's home charging solution] is the plan for the single family residential product going forward," he explains. The ECOtality acquisition included some Blink HQ chargers and his intent is to start heavily marketing that product. Car Charging also plans to move forward with developing and marketing the second generation Blink HQ 200 product. According to ECOtality's original Blink HQ announcement, the upgraded Blink HQ will add connected capabilities and remote access.
Increasing Customer Satisfaction
Moving into consumer products will make pleasing the end user more important than ever before. Fortunately, Farkas demonstrates a good understanding of EV drivers' concerns and is making sure Car Charging does all it can to address them.
One issue that Car Charging inherited from ECOtality was an overheating problem with its Blink level 2 chargers. For Car Charging, the silver lining is that the issue is with one component as opposed to the entire unit, which would greatly decrease the value of the Blink acquisition. The problem has been narrowed down to faulty crimping of the pins in the unit's REMA brand J1772 connector. Over time, the defect gets worse; resulting in overheating that can melt the connector and the J1772 inlet on some EVs. Though Farkas contends that melting is only occurring in a small number of units right now, he says Car Charging is actively working with REMA to swap out the defective J1772 connectors. It is encouraging that Farkas objects to ECOtality's assertion that it was merely a communication issue between chargers and vehicles, or that EV manufacturers are setting the charging rates on their cars too high. "If it was current, we would have trouble with Teslas (NASDAQ:TSLA)," (which charge at a high rate) says Farkas.
Another point of frustration EV drivers have had with public EV chargers is up-time. Though negative press has focused on reliability issues with Blink chargers, Farkas says that all things equal, Car Charging has experienced much more trouble with its 900 or so Chargepoint chargers than ECOtality experienced with its Blink chargers. At any given time, Farkas estimates that 13% to 13.5% of Car Charging's Chargepoint units are down compared to about 5% for the Blink Network. It was ECOtality's financial woes that temporarily caused Blink Network down-time to spike. Farkas says "there were definitely issues with Blink stations not operating properly. They had hundreds out … when they were in bankruptcy nothing was being done." A lot of the fixes were simple, like a charger just needing to be reset. He says most of the issues have been dealt with. Though in some instances they are still waiting for parts from manufacturers, Farkas says Car Charging has fixed hundreds of Blink Network chargers since the acquisition.
Going forward, EV drivers should expect better up-time owing to the higher sense of responsibility Car Charging has as an owner/operator of their own network. "We actively monitor all charging stations as part of our management service, so mostly we know [about a problem] before the property owner does. We're not just waiting for the property owner to call," explains Farkas.
Finally, Farkas is committed to per kilowatt hour pricing for public charging. "We believe it is the only fair way to charge. You have different cars charging at different rates … so it is really unfair for one driver to get twice the charge for the same price. Think about a gas station. You don't get charged by how long you are fueling, but by how much fuel you actually get." Farkas says that Car Charging charges by the kilowatt hour in every state that allows it. When it comes to influencing policy in states that don't, Farkas says "We try to speak to anyone and everyone. We actively pursue it."
More Than Meets the Eye
Given Farkas' description of where Car Charging is going, it would be wrong to pigeon-hole the company as a mere provider of public EV charging services. Clearly, the company has bigger ambitions. In our next article, the discussion turns outward as Farkas gives his take on other key players in the EV industry like Chargepoint and Tesla and lays out a vision for where EV infrastructure providers fit in the larger picture.
Disclosure: I have no positions in any stocks mentioned, and no plans to initiate any positions within the next 72 hours.
Business relationship disclosure: Business relationship disclosure: Market Exclusive is a team of analysts and writers. This article was written by Carlos Uribe, one of our Group contributors. We did not receive compensation for this article (other than from Seeking Alpha), and we have no business relationship with any company whose stock is mentioned in this article.