By David Russell
Boise (NYSE:BZ) ripped to a two-year high yesterday and encountered an onslaught of call sellers.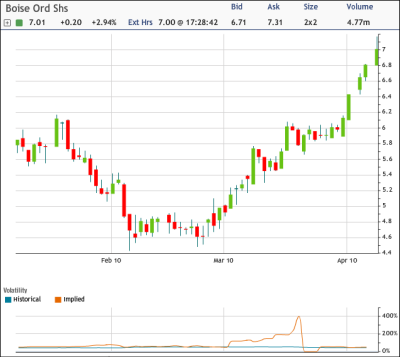 optionMONSTER's tracking systems detected the sale of more than 10,000 September 7.50 calls, most of which priced for $0.60 to $0.70. Volume was more than twice open interest in the strike.
BZ rose 2.94 percent to $7.01 and is up 33 percent in the last month. The debt-laden paper maker has been rallying since it successfully issued $300 million of bonds to term out a bank loan. It also reported a profit on Feb. 25 versus a loss the previous year and said prices had started to rebound in late 2009 and early 2010.
Yesterday's call selling occurred as the stock pushed toward $7.17, its highest price since March 2008. The option activity reflects an expectation the shares will remain below $7.50 through expiration.
BZ has climbed more than 1,000 percent in the last year, matching a pattern seen in many other leveraged companies such as Dana Holding (NYSE:DAN) and Ford Motor (NYSE:F), which traded at distressed levels at the depths of the credit crunch.
Overall options volume in BZ was 22 times greater than average yesterday.
(Chart courtesy of tradeMONSTER)