We live a few hours away from Atlanta and have been watching the news reports and pictures/videos that friends have been sending us since last night. It is a nightmare to be anywhere near that city right now as the snow storm that swept across the southern US states caught many of Atlanta's citizens at work. Without snow they have horrible traffic issues because most people live in the various suburban communities, but we want readers to understand that although most of the government in the region has shut down for at least part of today, infrastructure was spared.
This was not an ice storm and the snow was already melting this morning, which would indicate that power outages will be minimal moving forward. We did not hear of any power outages last night from any of our friends across the region and that bodes well for the utilities...and power usage.
Chart of the Day:
We would close any positions in the US Oil Fund (NYSEARCA:USO) right now and move to cash or oil equities as we think that the easy money is definitely already off of the table at this point. The fact that the spread between WTI and Brent is now right around $10/barrel highlights the lack of easy upward momentum.
We would also be rotating out of any trading positions in the United States Natural Gas ETF (NYSEARCA:UNG) in much the same way. Cash and natural gas equities look much more appealing in our opinion, and if you can find one of the MLPs with an 8-10% yield that fits your investment requirements then we think that is surely the way to go in the current environment.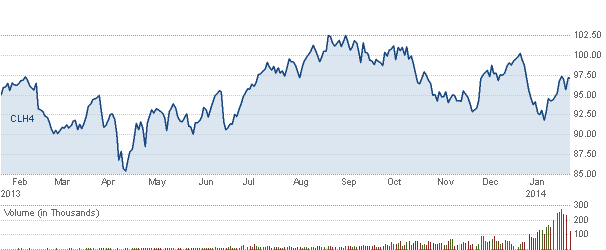 Source: CNBC
Commodity prices this morning are as follows:
Gold: $1,264.00/ounce, up by $13.20/ounce
Silver: $19.635/ounce, up by $0.132/ounce
Oil: $97.08/barrel, down by $0.33/barrel
RBOB Gas: $2.6562/gallon, up by $0.0284/gallon
Natural Gas: $5.18/MMbtu, up by $0.147/MMbtu
Copper: $3.242/pound, down by $0.011/pound
Platinum: $1,409.90/ounce, up by $0.50/ounce
Reserve Growth
The Wattenberg continues to be a driver for PDC Energy (NASDAQ:PDCE), in regards to its share price as well as its balance sheet. PDC's success in the play drove solid year over year growth in its reserves as the company continues to experience extremely good exploration results. With multiple targets available for exploration and down spacing continuing to work we think that reserves will continue to grow, but more importantly that production will grow at a much faster pace now that some of the midstream issues have been addressed in the Wattenberg play.
Investors really liked the news from PDC Energy yesterday (see press release here), pushing shares up over 10% on the session and pushing the shares higher this morning as well. This is a key holding in our personal portfolio due to its exposure to the Wattenberg and our belief that they will prove their southern acreage in the Utica to be productive. This does appear to be a takeover play to us as well, but that is not factored into our investment thesis.
Update on Positions
We were asked recently whether we were still invested in EV Energy Partners, LP (NASDAQ:EVEP) and Gulfport Energy (NASDAQ:GPOR). The answer is yes. We have diverted our attention away from EV Energy Partners for the time being because it has been a value trap for us thus far and we are more than a bit disappointed in management's inability to sell their Utica acreage that they have been marketing. It was supposed to be a straightforward deal with a $1 billion+ valuation with a royalty kicker but very little of the position has been sold to this day. We have not sold any of our position in the name thus far, and rather than continue to buy units on dips we have set our distributions to be automatically reinvested in the name.
EV Energy Partners, LP has been a big winner with natural gas prices moving higher due to the winter storms hitting the US. We are still waiting for news on a sale of the Utica acreage though.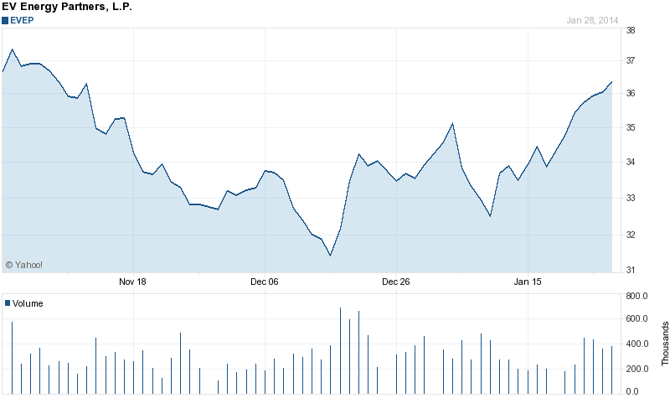 Source: Yahoo Finance
As Gulfport Energy is concerned, we have held on to our entire position there as well as we believe that the fast money made a quick exit around the $70/share level and has yet to return. We get many comments asking about the value proposition here, but the valuation methods used to do comparisons we feel skew the results. Readers need to recognize that this is a growth company, one with very high growth figures and as such cannot fairly be compared to names with lower growth and high yields on many metrics. One has to pay up now for that growth in the future, so trying to place a value on today's production is not fair and looking at one year out also misses the mark. The smart money gets this and shall return, most likely when the company starts releasing more drill results and gets their production issues settled as the midstream bottlenecks are ironed out.
Disclosure: I am long GPOR, EVEP, PDCE. I wrote this article myself, and it expresses my own opinions. I am not receiving compensation for it (other than from Seeking Alpha). I have no business relationship with any company whose stock is mentioned in this article.