Vanguard REIT (NYSEARCA:VNQ) and iShares DJ Real Estate (NYSEARCA:IYR) each pocketed 100% year-over-year. Indeed, the triple-digit gains for real estate investment trusts, or REITs, have been nothing short of staggering.
Granted, one might have anticipated a stronger price recovery for the most beleaguered stock assets (e.g., banks, real estate companies, etc.). However, I find it a bit shocking that yield hunters haven't yet decided to move their money elsewhere.
At the start of 2010, I viewed SPDR Select Utilities (NYSEARCA:XLU) as safer and more sensible than REITs. And while I still believe XLU is superior for total return, I can't dodge the actuality; that is, REITs still reign supreme.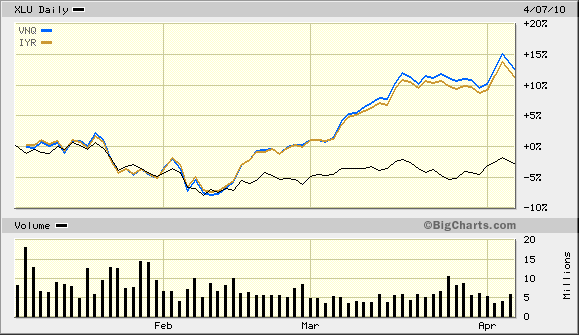 Calendar year-to-date performance can be misleading, though. A trip down memory lane paints a very different picture for these "total return" tools. (Here's how REITs stacked up against utility stocks from the bear market inception date of 10/9/2007.)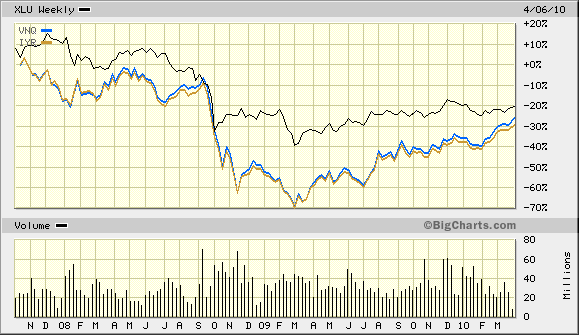 The real question on real estate investment trusts is, how might you look at them going forward? I still say… they are overvalued and unnecessarily risky. Expect REIT investing to take a major hit between now and the end of the summer.
My assessment goes something like this: Markets are forward-looking by 6-9 months. With mortgage rates on an inevitable path higher and with $1,500,000,000 in commercial loans coming due between 2011-2014, refinancing property with non-existent equity will be exceptionally difficult. Even the diversified REIT vehicles like VNQ and IYR will experience increased volatility for a questionable yield. And investors are going to start questioning their choices long before 2011 arrives.
In contrast, the 4.3% yield for SPDR Select Utilities (XLU) is more attractive than either VNQ or IYR by 50 basis points. XLU's underperformance in '09 and the first quarter of 2010 should eventually benefit from sector rotation. And… fundamentally… the utility bin is a bargain relative to the overpriced REIT arena.
Hey, if it's growth that you're looking for, there's plenty of capital appreciation potential in emerging markets as well as global powerhouses. Think Vanguard Emerging Markets (NYSEARCA:VWO). Consider SPDR Select Industrials (NYSEARCA:XLI).
Still, there are better income and total return ETFs than REIT ETFs. Take a look at SPDR Convertible Bonds (NYSEARCA:CWB) for bonds that can perform well in a rising rate environment. Also, JP Morgan Alerian MLP (NYSEARCA:AMJ) represents a higher-yielding opportunity in oil/nat gas pipelines.
Disclosure Statement: Gary Gordon, MS, CFP is the president of Pacific Park Financial, Inc., a Registered Investment Adviser with the SEC. The company and/or its clients may hold positions in the ETFs, mutual funds and/or index funds mentioned above. The company receives advertising compensation at the ETF Expert web site from Invesco PowerShares Capital Management, LLC. The commentary does not constitute individualized investment advice. The opinions offered herein are not personalized recommendations to buy, sell or hold securities.