Dividend growth strategies have attracted a large number of converts over the past several years. While there are nuances within the broad strategy of investing in equities that have historically raised dividends annually, developing and analyzing potential dividend stocks is not particularly easy. I do not find many publicly available screenable and sortable lists to begin research. In addition, some investors would like exposure to the strategy without individual equity exposure. ETFs can become both an interesting place to develop research lists, but they can also be used to gain exposure to the strategy. These are usually unmanaged ETFs where changes in the underlying "index" prompts additions or deletions.
There are several dividend-focused ETFs that are dedicated to the dividend growth investor. These include ProShares Equal-weight S&P 500 Aristocrat Index ETF (BATS:NOBL), the SPDR S&P High Yield Dividend Aristocrat Index ETF (NYSEARCA:SDY) and Vanguard's Dividend Appreciation ETF (NYSEARCA:VIG). The difference between these three is the pool of companies that meet the criteria and that fall within the utility sector. A description of each is below from their respective websites here (NOBL), here (SDY), and here (VIG):
NOBL - The S&P 500® Dividend Aristocrats Index constructed and maintained by S&P Dow Jones Indices LLC, targets companies that are currently members of the S&P 500® and have increased dividend payments each year for at least 25 years.

SDY - The S&P High Yield Dividend Aristocrats Index is comprised of the highest dividend yielding constituents of the stocks of the S&P Composite 1500 Index that have increased dividends every year for at least 25 consecutive years.

VIG - The ETF seeks to track the performance of the NASDAQ US Dividend Achievers Select Index (formerly known as the Dividend Achievers Select Index). The Index includes companies with at least ten consecutive years of increasing annual regular dividend payments
Each of these ETFs hold utility stocks, but the exposure to the sector differs quite a bit. For instance, NOBL has just one utility from its 54 holdings and utilities comprise 1.3% of total assets, SDY holds 11 of 97 companies and 10.5% of assets and VIG offers 16 out of 146 companies and 1.1%, of assets. As an equal weight index, NOBL could be expected to offer lower specific sector exposure. SDY and VIG offer small- and mid-cap stocks. There are 20 distinct utility companies in these ETFs and they overlap with the 17 utility firms listed on David Fish's Dividend Champion list.
This series of articles will review these companies with the goal of finding overlooked utilities with dividend growth potential. I plan to use several resources to review these firms, and will offer fundamental benchmarks for comparison. In addition to the usual factors, such as historical dividend growth, there are some specific utility sector fundamentals that investors should focus on. These include return on invested capital, proximity to potentially disruptive generating technologies such as wind and solar, and the regulatory environment. As utility investing is usually considered for longer-term investors, 5-yr and 10-yr results should be more important than shorter-term time periods.
NOBL includes only Consolidated Edison (NYSE:ED), a large-cap electric utility, in its list of Dividend Aristocrats. Five companies are held in both SDY and VIG. Of these five common stocks, three are natural gas and propane utilities, one is a water utility, and one is diversified. Almost all are mid-cap companies.
Consolidated Edison is mainly a regulated electric utility with service areas around New York City. For the first nine-months of 2013, electric revenues comprised 72% of total revenues, and 89% of 2012 EPS. From their website:
Consolidated Edison, Inc. is one of the nation's largest investor-owned energy companies, with approximately $12 billion in annual revenues and $42 billion in assets. Con Edison's principal business segments are Consolidated Edison Company of New York's regulated electric, gas and steam utility activities, Orange & Rockland Utilities' (O&R) regulated electric and gas utility activities, and Con Edison's competitive energy businesses. Con Edison of New York provides electric service to approximately 3.3 million customers and gas service to approximately 1.1 million customers in New York City and Westchester County. The company also provides steam service in parts of Manhattan. O&R provides electric service to 301,000 customers in southeastern New York and adjacent areas of northern New Jersey and eastern Pennsylvania and gas service to 130,000 customers in southeastern New York and adjacent areas of eastern Pennsylvania.
The state-regulatory body that controls the destiny of ED is mainly in New York, with some exposure to New Jersey and Pennsylvania.
Management's 2013 EPS estimates are between $3.70 and $3.80 and investors are anticipating virtually flat growth over the next few years. Of concern should be the upcoming 2015 rate decisions for New York. According to the latest investor presentation last Nov, ED requested a 10.3% allowed return on equity ROE while the utility commission recommended an 8.3% ROE and the two sides were at an impasse. The Governor of New York announced an agreement on Dec 31, which calls for an electricity rate freeze for two years along with gas and steam rate freezes for the next three years. Investors should expect a filing for rate relief in 2015 to take affect when the current freeze expires.
New York's regulatory environment is considered as being "Less Credit Supportive," or below average, by the 2008 S&P Utility Regulatory Assessment. If the most recent rate freeze is an indication of the current environment, investors should not expect much of an improvement.
One of the underfollowed aspects of electric utilities is the encroachment of subsidized wind and solar power in overall competitive profit margins. As written in previous articles, the disruptive nature of intermittent and subsidized alternative power compared to base-load generation impacts companies closer to their location, such as the Midwest. ED is well suited, both structurally and geographically, for minimal margin impact by the move to intermittent alternative fuels. When New York City utilities were deregulated in 1997, ConEd exited its generating assets and is mainly a distribution company buying power wholesale from several different suppliers.
Growth in ED earnings should come from increasing rate-based assets. Management expects to invest over $12 billion looking out four years to 2017, with the bulk in rate-based assets. New York City infrastructure continues to age and replacement/upgrades will drive this capital budget. Upgrades related to infrastructure weaknesses uncovered by Hurricane Sandy will add to ConEd's rate-based assets.
Below are three graphs courtesy of fastgraph.com. The first is a current valuation comparison, followed by an anticipated earnings graph and a Return on Invested Capital graph: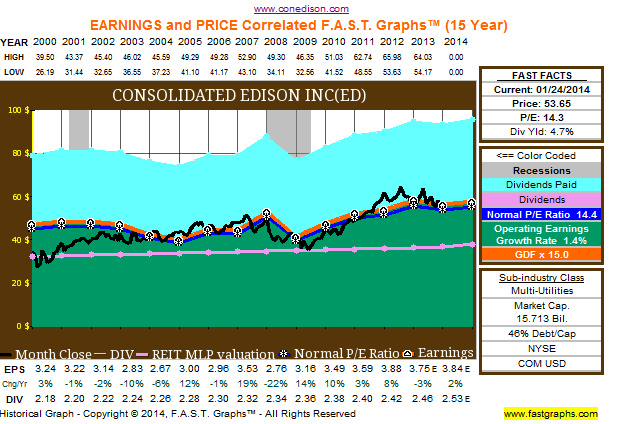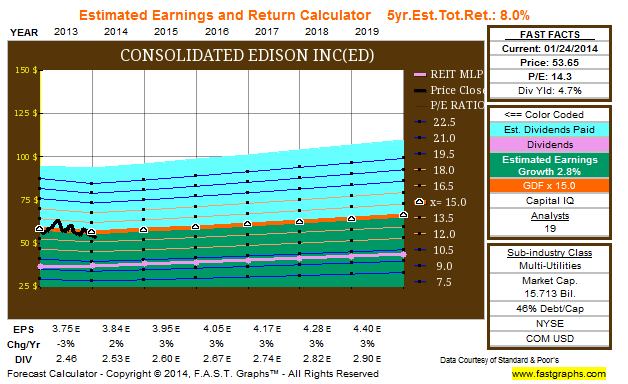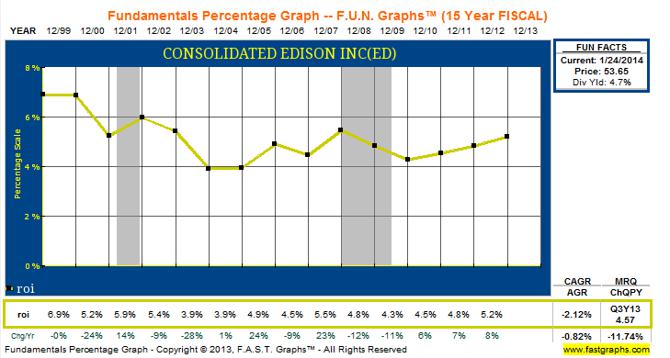 As shown by these graphs, ED is trading at about its fair value trading at a P/E ratio of around 14.
As dividend growth will be fueled by higher earnings, a 1.5% to 2.5% anticipated EPS growth rate should allow for a similar increase in annual dividends. Return on Invested Capital (ROIC) has averaged 4.9% over the previous 15 years, with a 5-yr average of 4.7%. Investors should be searching for ROIC performance north of 5.0%, and ED gets pretty close to this threshold.
ED has a string of 39 consecutive years of dividend increases and is the 3rd longest in the electric utility industry. However, dividend growth has been a bit muted, with a 5-yr average of 1.0% and an almost identical 10-yr average of 0.9%. The growth of EPS over the past 14 years has been a paltry average of 0.78% and has demonstrated quite a bit of volatility.
While ED is listed as a Dividend Champion, the five-and ten-year averages for dividend growth has hardly kept pace with inflation. With a current yield of 4.7% and a payout ratio of 67%, investors should keep an eye on ROIC numbers over the next year, as the current rate freeze agreement will affect both earnings and returns. It does not seem like there will be much opportunity for higher allowed ROE until 2016 - at the earliest.
Even though ED is the only large-cap holdings within these ETFs, and is included in the Dividend Champions criteria, there should be better utility dividend growth opportunities elsewhere. ED offers a more than acceptable current yield with a lower than acceptable dividend growth rate.
Author's Note: Please review important disclaimer in author's profile.
Disclosure: I have no positions in any stocks mentioned, and no plans to initiate any positions within the next 72 hours. I wrote this article myself, and it expresses my own opinions. I am not receiving compensation for it (other than from Seeking Alpha). I have no business relationship with any company whose stock is mentioned in this article.