I recently highlighted Lindsay Corporation (NYSE: LNN) in one of my Dividend Focus reports. There are several reasons I find LNN to be an attractive long-term investment.
The company has a strong balance sheet, which is another way of saying it is financially healthy. It has zero long-term debt, and $152 million in cash. The total book value of tangible assets is $449 million. It has total liabilities of $132 million, which is less than the amount of cash it has on hand. Earlier this month, the company shared its capital allocation plan with investors. The plan includes expectations for opportunistic share repurchases of $100-$150 million over the next 24 months, an amount which equals 9.2%-13.8% of the company's current market cap.
The capital allocation plan also calls for annual dividend increases. The company already has a track record of 11 straight years of increasing dividends.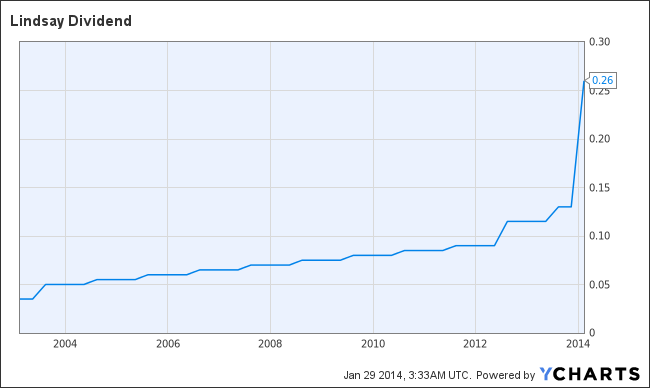 The recently announced quarterly dividend of $0.26/share represents a 100% increase from the previous $0.13/share dividend that was paid in November 2013. Even with the recent increase, the stock only sports a modest 1.24% indicated annual yield at today's price. However, given the ability and indicated willingness to continue increasing the dividend, it seems likely that LNN could be a future dividend champion. Also, with dividend growth rates like this, it doesn't take long for the yield to become much more significant to the income oriented investor:

Source: YCharts.com, Wisdomsreward.com.
As for valuation measures, it's worth noting that the TTM operating earnings yield is currently at 9.30%, which is relatively attractive considering the five-year average for that measure is only 7.73%.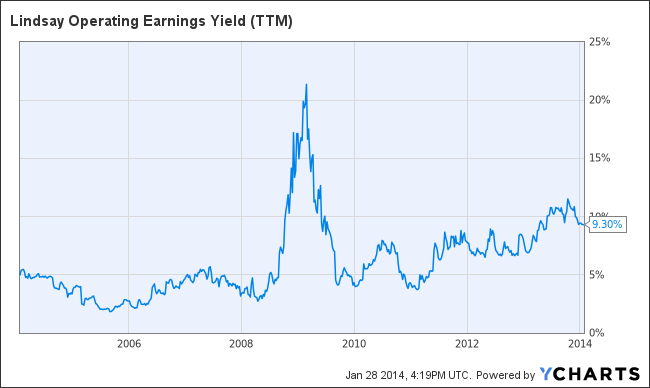 The TTM free cash flow yield is only 3.57%. But, it's also worth noting that free cash flow for this company has been positive in 21 of the last 25 quarters.
Opportunities for Growth
I believe the company has above-average long-term growth prospects. Based on USDA data regarding total farmland irrigation, there is still plenty of room for growth in the well-established U.S. market for its primary product (pivot and lateral irrigation systems). The company has even better growth prospects internationally. The short version is that world population growth, increased protein consumption, and increased modernization of farms around the world will drive strong growth for it. The prospects for long-term growth have already been covered pretty well by the company itself, and by other SA contributors. I also go into a little more detail about its growth prospects in my recent report on the company.
I also believe Lindsay Corporation has some significant competitive advantages that will allow it to maintain, and possibly increase, market share going forward. This includes strong branding and market position (it holds the No. 2 spot in what is basically an oligopoly). It also includes a dealer network of 200 U.S. dealers and more than 140 dealers internationally. Having a dealer network is very important for part availability and service after the sale. Suffice it to say, the company targets long-term annual revenue growth in the range of 10%-15%, which it has been able to deliver over the last 15 years. When weighing all of the evidence, I have no reason to doubt that this is a rational estimate of its future growth prospects.
However, in the short term, LNN's sales can fluctuate pretty wildly. Sales are significantly affected by factors such as weather conditions and crop prices. So, near term fluctuations could possibly create even better buying opportunities for long-term investors.
Summary
Lindsay Corporation appears to be friendly to shareholders. Management been very responsive to investor questions in the recent past, regarding how cash would be used. They have also demonstrated their ability and willingness to reward shareholders with sizable dividend increases whenever possible. The company is in good financial health, has attractive long-term growth prospects, and a sizable buyback plan in place. It could face challenges in the near term. The weather, as well as commodity prices are both fairly unpredictable. But those kinds of fluctuations could be what keeps LNN stock reasonably valued, based on TTM measures. Furthermore, it's possible that these fluctuations could create even better buying opportunities in the near future for long-term investors.
I find the stock to be attractive where it trades right now, at $83.98. But, I realize that the yield may be a little low for many dividend-oriented investors. Even if you don't like it with a 1.24% yield, it might be a good idea to keep LNN on your watch list.
Disclosure: I have no positions in any stocks mentioned, and no plans to initiate any positions within the next 72 hours. I wrote this article myself, and it expresses my own opinions. I am not receiving compensation for it. I have no business relationship with any company whose stock is mentioned in this article.