Valmont Industries Inc. (VMI), a U.S. manufacturer of lighting poles and support structures, is expecting a 20% year-over-year decline in revenues in the first quarter of 2010. The company is expecting revenues of about $365.0 million in the quarter compared with last year's $455.2 million.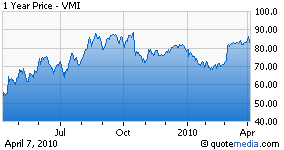 A subdued performance in the Irrigation and Utility segments are expected to drive the decline in revenues. Valmont expects operating income in the range of $29.5 million to $31.5 million in the quarter. Full year earnings are expected to be down 25% year over year.

A slowing economy affects Valmont negatively. The company is witnessing lower sales due to a weak commercial construction market in the U.S. Sales of lighting structures to electrical utilities are also feeble due to the recent weakness in the residential housing market.
A decrease in wireless communication structure sales on the back of the reorganization of the Chinese wireless communication industry also led to a decline in Valmont's sales of wireless communication poles in China.

However, the recent extension of the highway bill until the end of 2010 inspires optimism. We expect strong North American spending on electric transmission as well as increased North American expenditures fueled by the extension of the highway bill to drive Valmont's top line.
The U.S. highway bill has historically been a strong driver of demand for Valmont's lighting and traffic structures. Separately, we believe that the proposed Delta plc acquisition is an excellent strategic fit for Valmont.
Delta Acquisition
Last month, Valmont had agreed to acquire British industrial engineering company Delta plc for £284.5 million ($429.1 million) in cash. Valmont expects to close the transaction in the second quarter of 2010. The company expects the deal to add to its earnings in 2011.
Delta is a manufacturer of support structures for the lighting, wireless and utility industry, industrial access systems and road safety systems in the U.K. The company has operations in Australia, New Zealand, the United States, China, South Africa and Southeast Asia. Delta's engineered support structures business and galvanizing facilities will expand Valmont's geographic coverage of the business.
Valmont believes that Delta's access systems and road safety businesses will bring new growth areas. We are hopeful that Delta should strengthen Valmont's base, with its leading positions in the growing Asian and Australian markets.
Valmont is expected to report on April 15, 2010. We maintain our Neutral recommendation on Valmont.