Berkshire (NYSE:BRK.A) (NYSE:BRK.B) is looking for a large acquisition; Warren Buffett has been very clear about that. According to Buffett's own statements on the subject (see last year's shareholder letter), he would be willing to spend about $25B. Berkshire has $42B of cash on its balance sheet as of September 30, 2013; an amount that grows every month. Buffett has said he considers $20B to be the minimum cash level for his company given the risks underwritten by its reinsurance operations. Assuming the books to December 2013 have about $45B available, he would spend up to $25B for a cash deal using no debt or issuance of new shares.
BlackRock (NYSE:BLK) is worth about $50B, which may be too large for Berkshire and would be the largest deal if it got done. But BlackRock has two important institutional shareholders in PNC Financial (NYSE:PNC) (which holds just above 21%) and Norges Bank Investment Management (holding about 9%) which may not wish to sell their significant stakes. The remaining shares would be worth about $35B. This is about $10B over the target amount, even excluding any premium that the board would require to approve any acquisition that leads to a change in control. However, Berkshire may decide instead to take a significant position that still allows it to maintain acceptable oversight. This could be achieved by purchasing a similar sized stake to PNC's, for some $10B to $12B depending on the availability of shares in the market. Given the relatively small size of this company and the two large shareholders, it is unlikely that Berkshire would be able to purchase its stake quietly in the open market, as it did with the $10B worth of IBM (NYSE:IBM) stock a couple of years back or its $3.5B worth of Exxon Mobil (NYSE:XOM) stock last year.
Here are a few reasons why the purchase may make sense for Buffett:
Moat creating qualities and growth potential: BlackRock has some interesting moat qualities due to its size and reputation and its strong risk management culture. These are combined with below average risk embedded in its business model and an interesting growth potential. I wrote about these qualities in a past article, and therefore will not repeat them here. Looking at BLK's most recent earnings release, just a few days ago, the strategy to increase retail assets (with their higher than average base fees) has continued driving good results.
High return on capital and scalability: Although BLK´s balance sheet looks large, this is mostly due to regulatory requirements that dictate booking of both assets and liabilities that largely offset each other in practice. With some adjustments (see graph below, from investors day presentation last year) the CFO estimates the company operates with about $9B in tangible assets, to June 2013. It had over $10B in revenues for 2013, more than 100% turnover on tangible assets. Very few companies can achieve such returns. Clearly there is not a huge amount of capital required to sustain this operation, which makes it scalable, another quality Mr. Buffett usually looks for.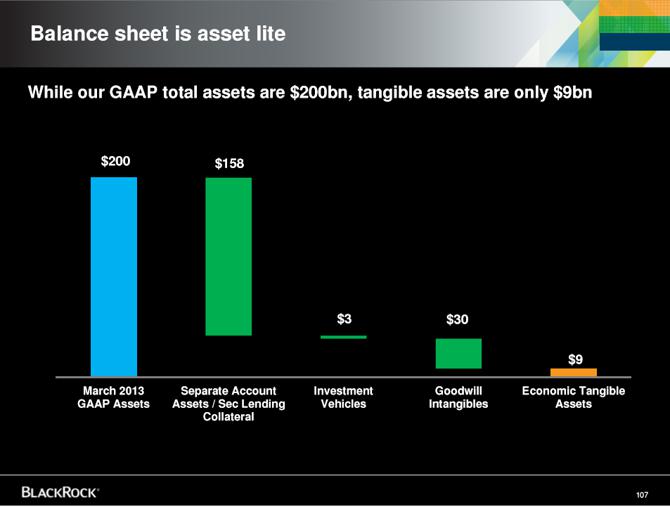 Revenue exposure to raising markets: BLK Business model is set up to profit from rising markets. This is the result of the company earning a base fee over assets under management (usually from 50bps to 25bps, depending on the product). While this exposes the revenue stream to some volatility, since market returns are positive over the long term, and the company has a large equity product lineup, BLK is able to grow its revenue base even without any organic growth. The company would increase its revenue and earnings simply by retaining its current asset levels and riding the markets higher. This can have a powerful effect to a long-term investor. Buffett already has an opinion on where market indexes will be in the long term, as evidenced by his willingness to sell put option on equity indexes and to carry these contracts to expiration.
Growth through bolt-on acquisitions: Buffett also likes companies that can grow through bolt-on acquisitions and that have a proven track record of executing them well. BLK has an excellent track record in this regard. Its largest acquisition being the iShares business from Barclays Global Investors about 5 years ago, which was arguably more transformational than "bolt-on" but it has made several smaller acquisitions successfully in recent years.
Information gathering value: Although I am not aware of him stating it explicitly, I believe Warren Buffett likes (and values greatly) the information provided to him from his operating businesses. He sometimes discusses the insight he gains from looking at reports from subsidiaries. One example is the weekly car-load data from BNSF (his wholly owned railroad). Given the large size of this railroad, data from its operations can be thought of as a representative sample for industrial activity in the U.S. [for example, looking at automaker shipments and deciding on the outlook for GM (NYSE:GM), a recent Berkshire holding]. The same can be said for BLK with its over $4T in assets under management and its even larger $14T assets managed by clients through its Aladdin platform. Especially interesting are the types of risk analysis being run by these clients on the platform. The "what if" scenarios can be substantially more revealing than industry surveys that try to gather what are currently the issues that most concern portfolio managers.
Management Quality: BLK is 25 years old and has been run by essentially the same management team. Two of its founders, Mr. Fink and Mr. Kapito are still very much involved in day-to-day operations. Some of the most significant achievements have been integrating passive asset managers acquired through iShares (which track indexes) with active asset managers, looking to beat their benchmarks. Some thought, at the time, that the cultures were so different it could not be done successfully. But BLK has proven otherwise and is now capitalizing on its ability to offer both styles to investors. For Buffett, outstanding and long-standing management teams are a must.
Berkshire stamp of approval: Having a shareholder with the track record and financial capacity of Berkshire is an advantage. This was proven several times during the financial crisis, where Berkshire made some very visible commitments to financial institutions in distress. The market reaction was positive in all cases, proving an investment by Berkshire, even in the most difficult of times, gives a valuable stamp of approval to the investee. Although this result may be true for many potential Berkshire targets, it is especially true for financial entities like BLK. The reputational edge from being a Berkshire subsidiary is a lot more valuable in the financial industry than, for example, in utilities or railroads.
Some will probably argue that valuation is an issue at 15x forward EPS of about $20. I do not think that is the case, as Buffett looks beyond P/E ratio and focuses on his estimate of intrinsic value. Because intrinsic value is in the eye of the beholder (and I don't know how Buffett estimates it); I tried a simple perpetuity formula using 11.5% discount rate and 5% EPS growth and got a $300 per share result, which is where the shares are trading today. I believe both the discount rate and constant growth factors are very conservative, and thus the value of each share should be at least $300 (perpetuity formula is very sensitive to inputs; using 10% discount rate and 6% EPS growth, the value goes up to $500). Management's own estimates on EPS growth range from 11% to 16%: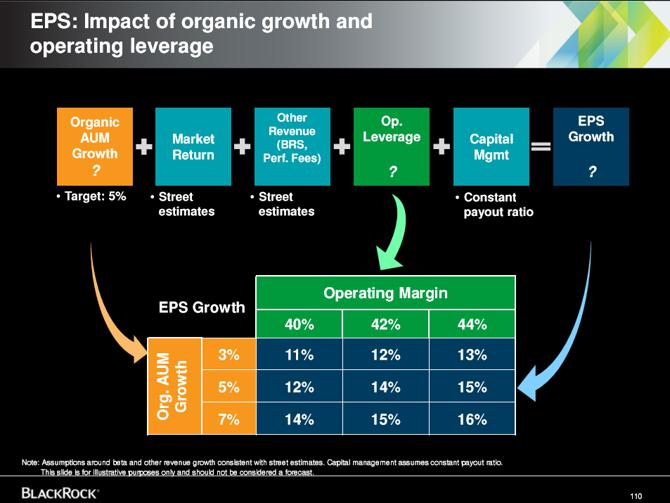 Although BlackRock may not be a "typical" Berkshire target, I think it fits well with Buffett's criteria. It is growing fast enough and is also large enough to accept a $10B or $15B sized investment. Its two institutional shareholders may make an outright acquisition too expensive, but would be foolish to ignore the advantage of letting Berkshire take a seat or two in the board room.
Disclosure: I am long BRK.B, BLK. I wrote this article myself, and it expresses my own opinions. I am not receiving compensation for it (other than from Seeking Alpha). I have no business relationship with any company whose stock is mentioned in this article.