3M (NYSE:MMM) is one of the biggest multinational companies in the world, with revenues topping $30 billion annually. The company employs over 88,000 people and has been a staple in conservative and dividend accounts for as long as most people can remember.
3M has traded well, along with the major market indices over the past year. To date, it's up 28.3% over the last twelve months and 4.2% over the past three months. Combined with its modest 2.6% dividend yield, it's been yet another good year for 3M investors.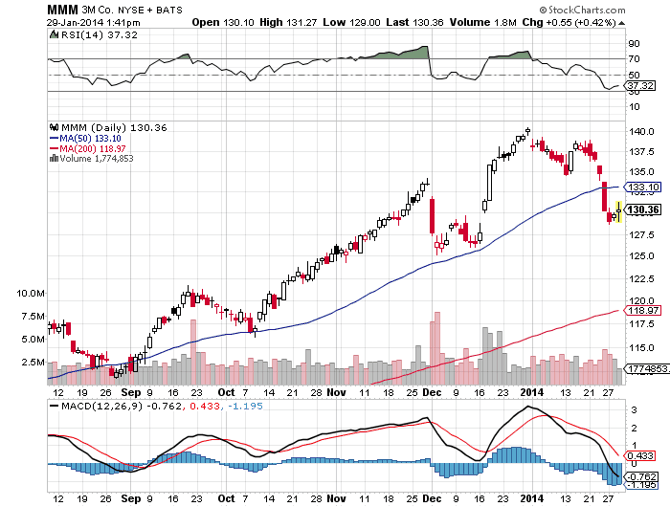 3M has had an impressive past 12 months, yielding 28.3% in addition to its consistent dividends.
It increased its dividend 35% on December 17, 2013 and its dividend yields 2.6%.
3M has offered guidance of $7.30 and $7.55 for its 2014 fiscal year.
3M currently carries a P/E of 20 and a market cap of $87.67 billion - and is trading near its 52-week high of $140.
Analyst estimates for the reporting quarter average at $1.61/share EPS and revenues of $7.7 billion.
3M said that the above mentioned dividend raise was going to accompany over $20 billion in buybacks as well over the coming five years. The company is expecting EPS growth of roughly 10% for the next 3-4 years - a goal that, if met, could continue to make 3M a lucrative investment for shareholders.
Analysts have been raising targets on 3M over the past 2 months, as Seeking Alpha reported back in December:
Langenberg & Co. describes a recent meeting with 3M (+1.1%) as "far more" interesting than expected.
The firm notes that MMM outlined meaningful changes to its capital structure.
Langenberg's new 2014 EPS estimate: $7.45 (from $7.35). Consensus is $7.38.
2015 estimate: $8.30
Additionally, analyst sentiment for the company remains mostly bullish.
(source - Nasdaq.com)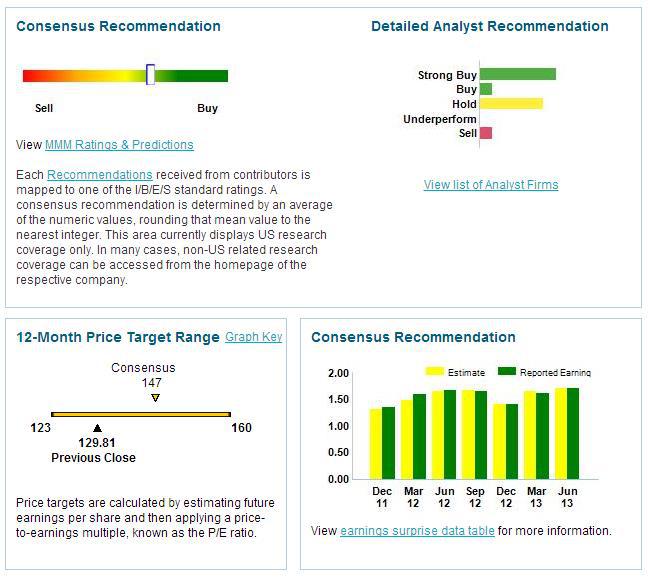 At the end of the day, 3M is one of the safest stocks you can be in for the long-haul. I expect very little chance of anything coming along that will impede the company's long-term progress and would consider any pullback from earnings a buying opportunity. 3M will likely not move much post-earnings, and then will likely continue its slow and steady trek upwards. If you're long, I'd write covered calls into earnings.
Best of luck to all investors.
Disclosure: I have no positions in any stocks mentioned, and no plans to initiate any positions within the next 72 hours. I wrote this article myself, and it expresses my own opinions. I am not receiving compensation for it (other than from Seeking Alpha). I have no business relationship with any company whose stock is mentioned in this article.