Buy Pick of the Day: Direxion Daily Oil and Gas ETF Bear 3x (NYSEARCA:ERY)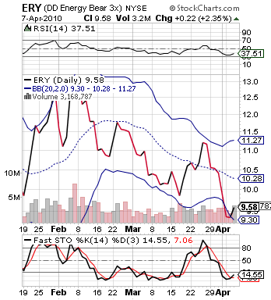 Analysis: The market is looking to suffer a major set back today as we had two extremely negative pieces of infomation released this morning. One, Greece is back with news that they are not sure the "bailout" the EU was looking to provide will be strong enough to sustain them. That fear was weighing on the market before the 8:30 AM release of the Unemployment Jobless Claims, with futures down 41 points on the Dow. At 8:30 AM, we were given the even more unfortunate news that jobless claims continue to rise. Today, the report announced that another 460,000 Americans have entered unemployment claims, beating the estimates of 433,000. Both pieces of news are not good for our investing friends - that's us.
For that reason, I have chosen an ETF that I think can really rise on today's news. ERY has been kicked around over the past month with the sustained rise of oil price up to over $85 a barrel. Today, oil prices are looking to sink along with the market. Oil was down 75 cents as of 8:45 AM, but when the market opens and we get going, I think that number will continue to dwindle. More importantly, the market, as a whole, is going to be moving downwards. Futures have continued to decline this morning, and yesterday's drop should continue today. Yet, I would expect to be even further.
ERY has dropped over 10% in the past month as oil prices have risen, but the two day market downturn has put ERY back on the path upwards. I look for that to continue. The ETF is undervalued, oversold, and near its lower Bollinger band. The technicals on any ETF are hard to gauge with the market being very important, but what they do show us is how overvalued the market is currently. It really has made a lot of movement to the upside, and we should expect healthy pullbacks on fundamentally bad days.
I think getting into ERY early will be very profitable, and I expect it to make a nice move. Don't pay for more than 2% above yesterday's close, however.
Entry: We are looking to enter at 9.75 - 9.85.
Exit: We are looking for a 2-3% gain on the day.
Stop Loss: 3% on bottom.
Disclosure: No positions.