Elon Musk Is On The Move
Instead of allowing negative media reports to continue to hamstring Tesla (NASDAQ:TSLA)'s company progress, CEO Elon Musk is promoting the company's latest addition: a 3.6 thousand-mile Supercharger network across the US-with several high-profile tours, showcasing this car's ability to go cross-country without gasoline. In addition, to highlight Tesla's viability, Musk has proposed taking a Tesla road trip with his own family, traveling from Los Angeles to New York. If the PR is successful, and free of technical difficulties, it could send the rebounding TSLA stock higher in 2014.
Tesla has been the premier name in electric auto technology since the 1990s. Despite a rocky road to acceptance, including a few technical problems and a price-point that appeals mostly to those who can afford to indulge, Tesla continues to be aggressive in revealing their products' viability in the public realm.
Past Glitches at Tesla
The lithium-ion battery on which the Model S depends has a history of overheating--with three incidences of catching fire after hitting debris in the road. (Lithium-ion battery manufacturers have been dealing with overheating and fire problems for some years.)
It should be noted that if the National Highway Traffic Safety Administration determines that the batteries are a known hazard, this could scuttle Tesla's ability to advance public acceptance of its Model S and affordable Next Gen models.
The Supercharger Network
Musk announced an expansion of its Supercharger station networks across the United States and Europe--promoting its viability for long distance travel. Stations will be located in major metropolitan areas--from California to New York and into Canada. The process takes only 20 minutes and is worth 3 hours of energy.
It is planned that this expansion, occurring over a period of six months, will allow owners of the Model S to fully charge their vehicles, free of charge, while they take a break from driving to have lunch or grab coffee. With 80% of the country now covered by charging stations, the company is gearing up for the final push to make Tesla autos commonplace on American roads.
TSLA is also expanding similar charger networks in Europe.
For Investors
Despite uncertainty regarding government relations and technical issues, Tesla's sales in Q4 2013 were the highest in company history - 6,900 vehicles - and exceeded guidance by 20%. The chart below shows the strong recent uptrend, beginning late November 2013 and moving into 2014.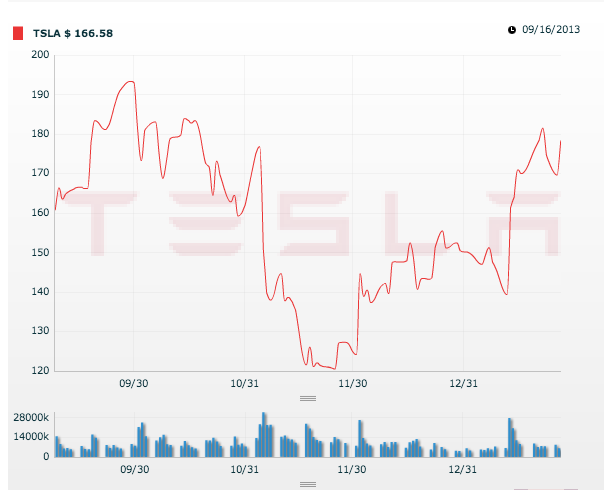 Source: Tesla Motors
In Q1 and Q2 of fiscal 2014, TSLA also beat estimates for revenues.
In addition to positive press from a Tesla technical team successfully completing the first cross-country Tesla tour of the nation's touring stations (3.6 thousand total miles) this month -- TSLA stock surge could be largely attributable to Tesla's Model S high performance in cold weather conditions, due to its outstanding traction control, compared with many all-wheel drive gasoline cars.
As more utilize the new Supercharger system, including Elon Musk himself, and as long as positive press outshines any Model S and Roadster logistical quirks, TSLA stock could be set to continue current momentum into Q1 2014.
Disclosure: I have no positions in any stocks mentioned, and no plans to initiate any positions within the next 72 hours. I wrote this article myself, and it expresses my own opinions. I am not receiving compensation for it (other than from Seeking Alpha). I have no business relationship with any company whose stock is mentioned in this article.