As the old saying goes, when it comes to real estate, the three most important factors are location, location, location. In other words, a property's location is so important to the value of the property that everything else barely matters.
When it comes to hotel REITs, however, it is apparent to us that there are certainly other very important factors, including customer service, hotel management partners, the spending capacity of your target market, and the ability to execute the implementation of its operating strategy. Based on location and these additional factors, Host Hotels & Resorts, Inc. (NYSE:HST) seems to be well positioned to take advantage of this market environment by owning properties in areas of high demand, partnering with premier hotel operators, and targeting a segment of the consumer market with high levels of disposable income. It's an investment that is as sound as the sleep you will attain by staying at one of its hotels.
Host Hotels
Host Hotels is one of the largest owners of high quality hotels in prime locations throughout the world. It is one of the largest REITs by market capitalization and the largest of the hotel REITs. Spun off from Marriott International in the early 1990's, Host Hotels slowly evolved from the owner of hotels, senior living facilities, and limited service hotels, into what it is today. Today, Host Hotels is one of the largest owners of upscale hotels with 102 properties in the U.S., 15 properties in international markets, as well as an additional 19 properties in Europe through a European joint venture.
The company certainly boasts some of the best locations for its hotels, which is consistent with the old adage mentioned above, but as we mentioned, there is more to Host Hotels potential than just location, location, location.
Location is Still Important
In the U.S., Host owns hotel properties in cities with a high level of corporate, leisure, and group demand base with a high and growing destination appeal in strong economies. As the diagram below illustrates, properties are located in larger cities and the properties are typically centrally located in urban areas. It's largest markets are New York, Washington D.C., and Florida, which combined make up 38% of revenue.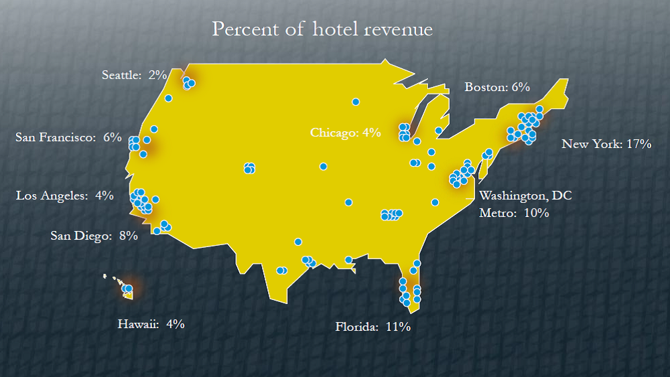 Many of Host Hotel's properties are located in urban areas with high barriers to entry so additional supply growth will tend to be slow and costly for new entrants. Because of this, Host is well positioned to take advantage of global growth, an improving labor market, and consumer spending increases.
High Quality Partners with Top Levels of Customer Service
The second driving force behind the success of Host Hotels, is the quality of the partnerships they have entered into with hotel operators. The list below includes some of the top global hotel management companies with worldwide brand recognition and reputations for providing the highest quality service.
Fairmont Hotels & Resorts
Four Seasons
Hilton (NYSE:HLT)
Hyatt (NYSE:H)
Marriott (NYSE:MAR)
Novotel
Ritz-Carlton
Swissotel
Starwood Hotels (HOT), which includes Le Meridien, The Luxury Collection, Sheraton, St. Regis, W Hotels, Westin Hotels.
The Ritz Carlton, for example, is famous for its extremely personal and highly specialized levels of customer service that is often unsuccessfully emulated in a number of different industries. It has been well documented in books such as The New Gold Standard: 5 Leadership Principles for Creating a Legendary Customer Experience Courtesy of the Ritz-Carlton Hotel Company and Exceptional Service, Exceptional Profit: The Secrets of Building a Five-Star Customer Service Organization.
One of the famous customer service stories the Ritz is known for was taken directly from its website and is a great example of the extent of the Ritz experience:
A guest mentioned to the doorman that he had been out fishing that day, and caught a 200-pound yellow fin tuna. The guest said that the fish was in his cooler in the car and asked the doorman if it would be possible to get some extra ice.

The doorman quickly volunteered and offered to do much more than that. The assistant front desk manager took the cooler to the kitchen where the cook supervisor cleaned the fish for the guest. This was no small task. After much work, he cut the meat, and broke it down into smaller pieces. Given the size of the fish, this was not easy.

The cook supervisor went a step further by cleaning the guest's cooler and organizing the small pieces of fish in ice for him to take home. The beautiful piece of tuna was now ready to cook once the guest arrived home. The guest was "wowed" by the entire experience. The hotel took his simple request - delivering more ice - and managed to anticipate his needs and exceed his expectations.
If you have ever stayed at any hotel operated or owned by these companies, you would have experienced the type of service that differentiates each one of them from their peers. It is this type of service and this type of partner that makes Host Hotels such a compelling opportunity.
Target Market
The majority of Host Hotels properties are concentrated in the luxury and upper upscale segments. While these segments are at risk of reduced consumer spending during an economic downturn, the higher wage earners that make up that segment tend to increase discretionary spending when times are good. As the economy continues to improve, albeit slowly, Host should be well positioned to take advantage of increased global travel, a strengthening labor market, and higher consumer confidence that leads to higher spending.
While none of the hotel companies provide detailed financial metrics for their target markets, we can infer from the higher relative room rates for Host Hotel properties that guests at its hotels will probably be in the higher income brackets. For example, according to the American Hotel & Lodging Association, the average revenue per available room (RevPAR) for the U.S. hotel industry in 2012, was $65.16, with an average occupancy rate of 61.4%. The average RevPAR for Host Hotels through Q3 2013 was $190 with occupancy rates near 80%. We can infer from these metrics that the room rates for Host Hotel properties are significantly above the average for the industry and that it caters to consumers in higher income brackets.
Risks of REITs in a Rising Rate Environment
We often get asked about the risks of investing in REITs when interest rates are expected to rise. We wrote an article in Seeking Alpha back in December (Read Article) that addressed this myth and have included a chart from that article below to reiterate that not all REITs are as sensitive to rates as they might seem.
The chart below highlights the attractiveness of certain types of REITs during periods of rising rates. REITs with short-term leases have the ability to increase lease rates more quickly in a rising rate environment and hotel REITs are particularly flexible having the ability to raise rates on a daily basis.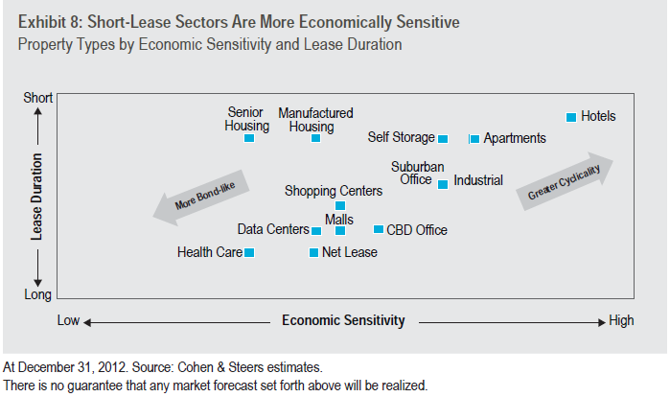 What About the Hotel Operators
If the dynamics of the industry continue to be positive, the thought of investing directly in hotel operators may also come to mind for investors still wary of the reaction of REITs to rising rates. Some of the hotel operators mentioned above can be good investments and would be good candidates to evaluate, but investors should understand that the business models for REITs and hotel operators are quite different. The hotel operators may own some but not all of the properties they manage and in many cases are only receiving a management fee for property management. They are not pure hotel real estate plays.
Some notable companies are Starwood Hotels and Resorts, Marriott International , Hyatt, Hilton, and they are good companies with excellent business models, but they are not REITs. Some own a number of hotels of their own, but a good portion of their businesses are providing hospitality services to hotel owners like Host Hotels.
Host Hotels - Financial Stability
Host Hotels is financially stable and has continued access to the capital markets to continue to fund acquisitions to fulfill its strategy. It has over $350 million in cash as well as access to another $770 million through a credit facility. Furthermore, 106 of its hotel properties are mortgage free, which results in a relatively low debt to equity ratio of 0.63, and a very manageable EBITDA to interest coverage of 4 times. According to the table below, they rank favorably relative to the industry average in all of the metrics shown.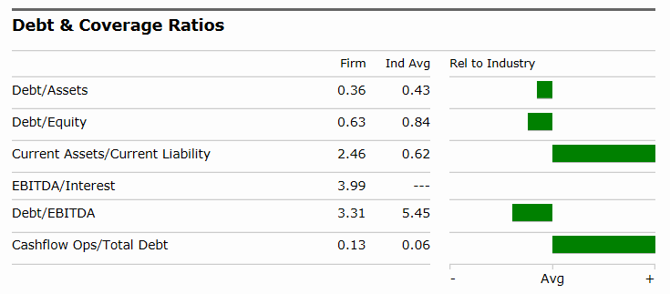 It's debt maturity schedule is also fairly spread out, beginning with a $400 million issue that doesn't mature until 2017.

Valuation
From a valuation perspective, the stock is starting to look attractive to us at these levels. With a YTD decline of 3.34% through 1/24/2014, Host has underperformed the REIT - Hotel & Motel sector by over 2%. We think the selloff was overdone and believe the upside on the stock is compelling.
Fund from operations estimates for the 23 analysts covered by Bloomberg call for an increase to $1.44 per share in 2014, from $1.29 in 2013.
Relative to two of the premier upper upscale hotel REITs, the valuation for Host looks favorable.

The estimated price/FFO for 2013 FFO estimates is 14.6, well in line with both peers shown. On a forward price/FFO basis, the valuation continues to look compelling, with a price/FFO in line with both peers, when, in our opinion, Host may even warrant a premium over both for its size and high quality partners.
If FFO targets are met and the P/FFO multiple remains at the current level, the potential price target for Host over the next 12 months is $21, a 12% increase. Add a 2.4% dividend yield and there is a potential return of 14%-15%.
Analyst ratings are unconvincing, however, with almost an even split between analysts rating the stock a buy and analysts rating it a hold.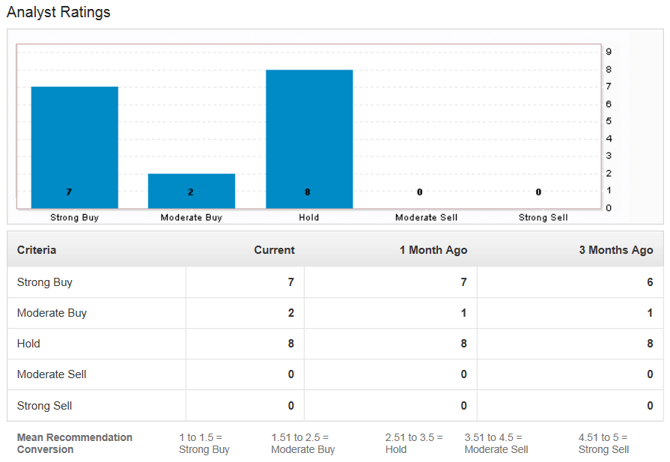 Sleep Well at Night
We tend to check-in early when staying at a top-notch hotel. That way we can take advantage of the hotel amenities as early as possible. Even if our room isn't available yet, we can lounge by the pool with a cool beverage, relax in the spa, or take a nice stroll around the property to take in the novelty of it all. After all, getting pampered never gets old.
As investors, we tend to do the same thing. We try to anticipate opportunities and identify them before the general market does. We wouldn't recommend that for all investors, however, knowing that being too early can be a painful, albeit short-term experience.
Based on the tepid analyst ratings above, however, we may suggest keeping an eye on this one. But regardless of whether you check-in early like we do or prefer to wait until your room is ready, you will sleep well at night owning Host Hotels.

Sources: Morningstar.com, Zacks, businessweek.com, Cohen & Steers, Host Hotels Investor Presentation
Disclosure: I am long HST. I wrote this article myself, and it expresses my own opinions. I am not receiving compensation for it (other than from Seeking Alpha). I have no business relationship with any company whose stock is mentioned in this article.