Solid fundamental analysis of a stock is the key to knowing where it's headed. It's important to look at a company's financial statements to determine a fair multiple for the earnings it produces. It's also essential to compare the company to its competitors and get an idea of the industry's future as a whole. Sometimes though, a technical trigger can expose a value stock and give a clear "buy" signal to investors, as long as it's fundamentally sound.
You can approach this kind of analysis by thinking about inertia - where a body in motion tends to stay in motion. In the stock market, it's called momentum. Stocks that hit new 52-week highs are signaling to investors that the underlying companies are trending higher. If the growth is backed by strong fundamentals, the stock could be a value play despite trading above its previous range.
A screen for stocks with low debt and/or low PEG ratios that also hit a new high this week yielded three stocks that should continue to climb: Corning, Inc. (NYSE:GLW), MasTec, Inc. (NYSE:MTZ), and Synaptics (NASDAQ:SYNA).
Corning is an electronics company that has reinvented itself in the last decade. Its flagship product, Gorilla Glass, has helped the company become a leader in technology displays. It was originally designed with Apple's (NASDAQ:AAPL) iPhone in mind and has expanded beyond computers and electronic displays to include automotive and healthcare applications.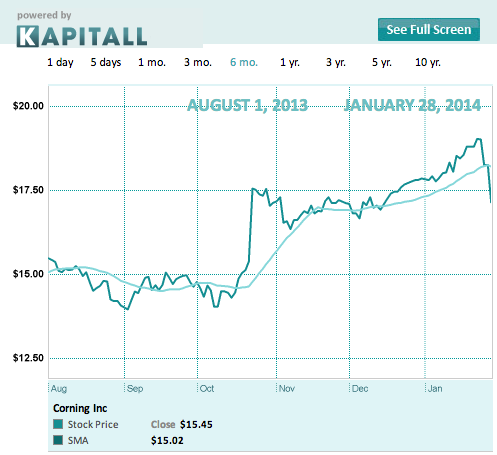 Click here to see data in full. Sourced from Zacks Investment Research.
The company trades at around 15 times earnings with a PEG ratio of just 0.87. EPS growth over the next five years is expected to be over 17%, but the real story is Corning's balance sheet. The company has done a good job reducing debt loads and only has long term liabilities of $2.8 billion, while total assets sit at around $28.7 billion. Corning carries over $4.5 billion in cash and cash equivalents which puts it in a perfect position to deliver on a $2 billion stock buyback program and continue to expand on its dividend, currently yielding 2.1%.
MasTec is a heavy construction company involved in everything from communications, to utilities, to renewable energy projects. The communications segment driven by growth in wireless projects has been the company's leader - up 38% in the third quarter. Thanks to AT&T (T) and the addition of Samsung (OTC:OTC:SSNLF) as a client, MasTec expects total revenue from this segment to reach $900 million by year end.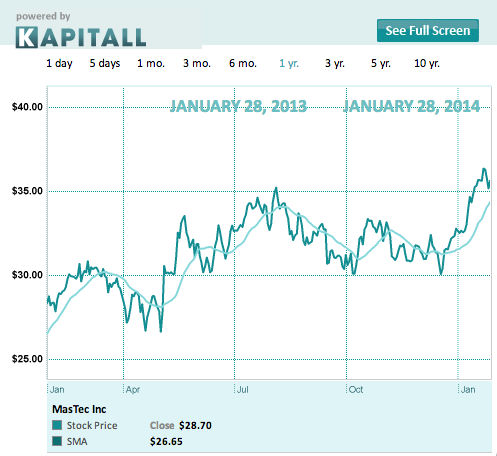 Click here to see data in full. Sourced from Zacks Investment Research.
The stock trades at just over 21 times earnings but expects EPS growth over the next five years to be over 30% giving it a PEG ratio of 0.70. Quarterly revenue growth year over year is around 19% while annual sales growth over the past five years is 29%. The company meets the debt criteria as well with $1.3 billion in current assets and current liabilities of $882 million.
Last but not least, Synaptics is a software application developer specializing in interfaces for smartphones and tablets. The touchscreen industry, first popularized by Apple's iPhone, is on an up-swing driven by strong demand in Chinese markets. Synaptics' latest collaboration with Google (NASDAQ:GOOG) for the Nexus 5 could cement the company as the premier leader in the touchscreen and interface development industry.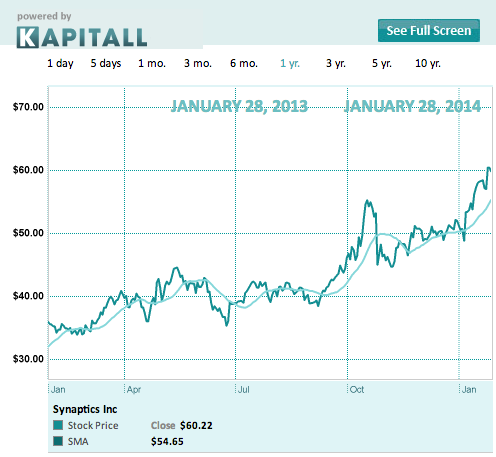 Click here to see data in full. Sourced from Zacks Investment Research.
Trading at 15.5 times earnings, the stock looks cheaply valued - especially considering its EPS growth for 2013 was 84%. Quarterly earnings growth is over 455% and Synaptics carries no long term debt, giving them plenty of room to buy back stock through its repurchase program, currently approved for $160 million.
Momentum backed by strong fundamentals is a recipe for future growth, but investors should keep a close eye on earnings for the first quarter of 2014 to make sure there are no surprises. Investors interested in the long term prospects of these companies should brace themselves for any short-term volatility. Stocks that rise quickly can end up overbought, triggering some profit taking.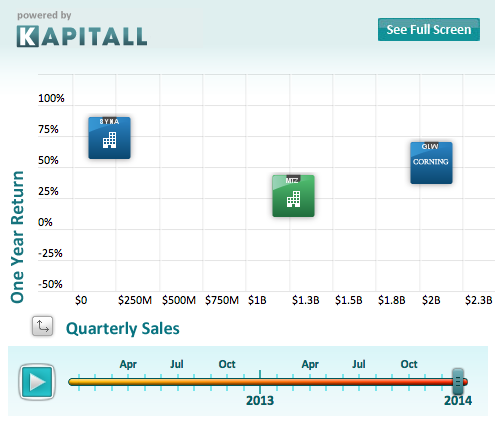 Disclosure: I have no positions in any stocks mentioned, and no plans to initiate any positions within the next 72 hours.
Business relationship disclosure: Kapitall is a team of analysts. This article was written by Daniel Cross, one of our writers. We did not receive compensation for this article (other than from Seeking Alpha), and we have no business relationship with any company whose stock is mentioned in this article.