By Dee Gill
Shares of agricultural biotech company Monsanto (NYSE:MON) have lost a little luster on Wall Street, where several industry analysts have downgraded the stock. The slights had nothing do with the highly public controversy over genetically modified foods produced by Monsanto's seeds, but rather more mundane concerns about commodity markets. Weak corn prices mean less demand for Monsanto corn seed.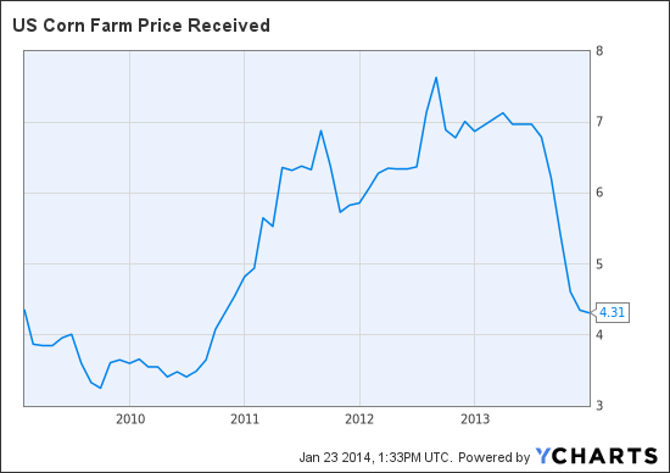 US Corn Farm Price Received data by YCharts
Regardless, Monsanto remains an attractive possibility for long-term investors. A talent for engineering seeds, fertilizers and other products that improve crop yields, at a time when the world is demanding more food, gives the company a lot of protection from concerns about GMOs. And its consistency in developing new products suggests Monsanto's has the ability to keep growing despite fluctuations in commodity prices.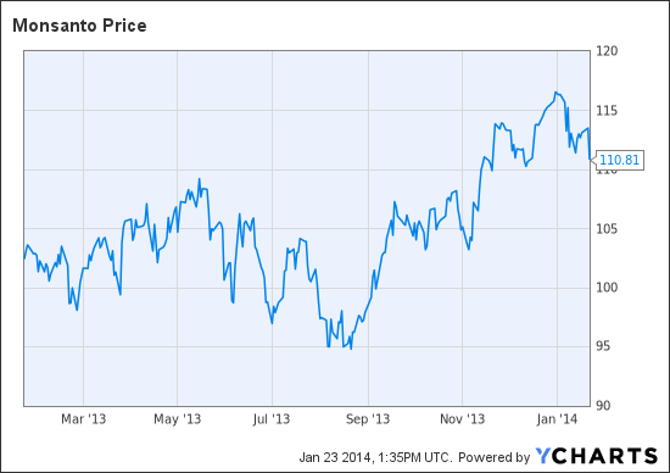 MON data by YCharts
Monsanto's strengths are based in its huge research department. R&D spending as a percentage of revenue is higher at Monsanto than at competitors Dow Chemical (NYSE:DOW) and DuPont (NYSE:DD), though to be entirely fair those companies have some less-R&D-intensive chemical operations while Monsanto is more focused on agriculture products. Its R&D spend isn't quite as high as at pharmaceutical companies, say Pfizer (NYSE:PFE) and Merck (NYSE:MRK), which like Monsanto develop products that achieve patent protection and thus can enjoy many years of market exclusivity.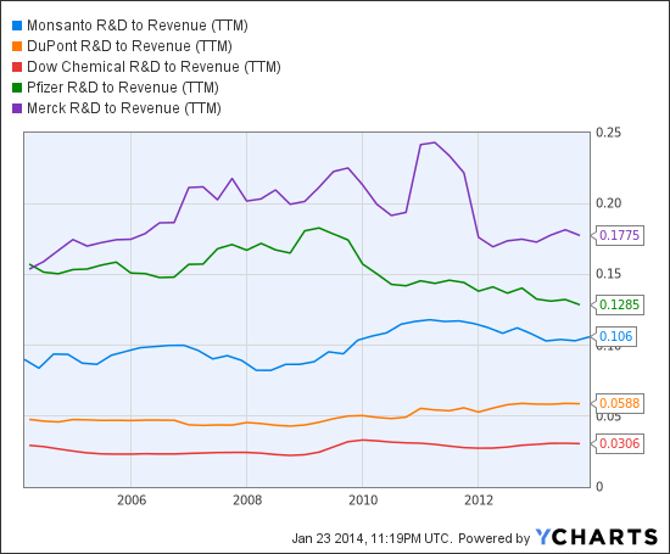 MON R&D to Revenue (NYSE:TTM) data by YCharts
By promising better and better crop yields, even if only incrementally, Monsanto creates demand for new products that keep profit margins wide.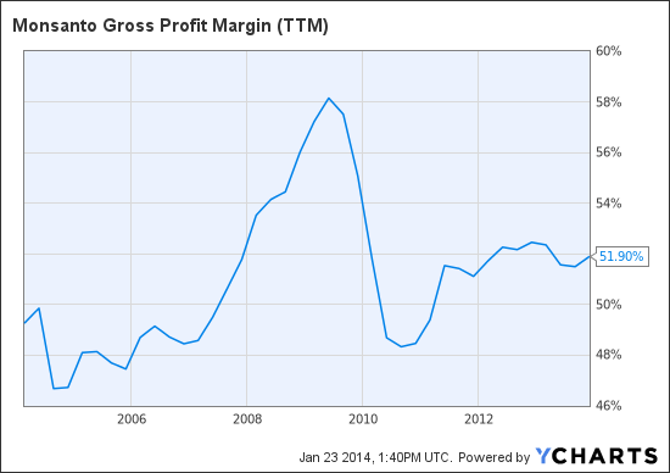 MON Gross Profit Margin (TTM) data by YCharts
The rewards of this strategy were illustrated a couple of weeks ago when Monsanto reiterated an operating profit growth forecast in the mid-to-high teens this year. Many investors had questioned that target given the weakness in corn prices, which may not improve much this year. Sales of Monsanto genetically modified corn fell 7% to $1.1 billion in the first quarter.
But overall sales and profits rose anyway. Sales of a new soybean seed designed particularly for resistance to insect infestation in Latin American fields went very well. The company plans to cover some 3 million acres in Brazil with them in 2014. Sales of the older but still dominant Roundup brand herbicide and its sister products jumped 24%; a significant feat for a division that now makes up about half of the company's sales.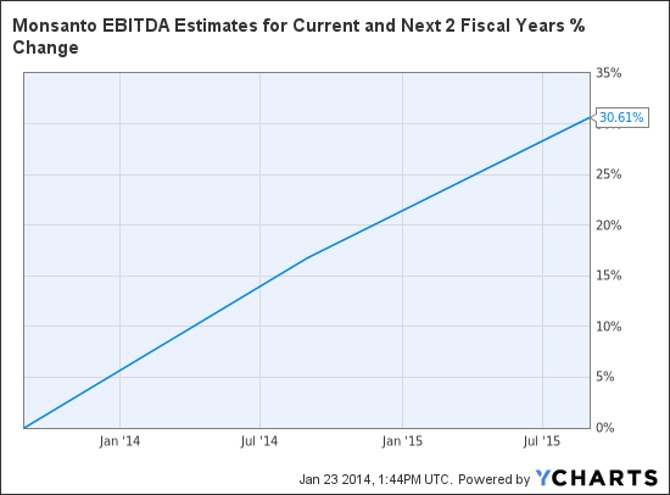 MON EBITDA Estimates for Current and Next 2 Fiscal Years data by YCharts
Now Monsanto is investing heavily in farm analytics, another controversial project because it involves collecting traditionally private business data from farmers. Monsanto uses it to create technology to determine when, where and what to plant for maximum yield. The unit doesn't make money yet, and some are skeptical that farmers will cooperate to make it a success. But again, this promise of higher yield is an extremely compelling sales pitch. Eventually, the agricultural community is likely to view Monsanto's business the same way we look at Google (NASDAQ:GOOG) services: an acceptable trade-off of privacy for information we want.
Monsanto's shares are no bargain now, trading at a forward PE ratio about average for its history.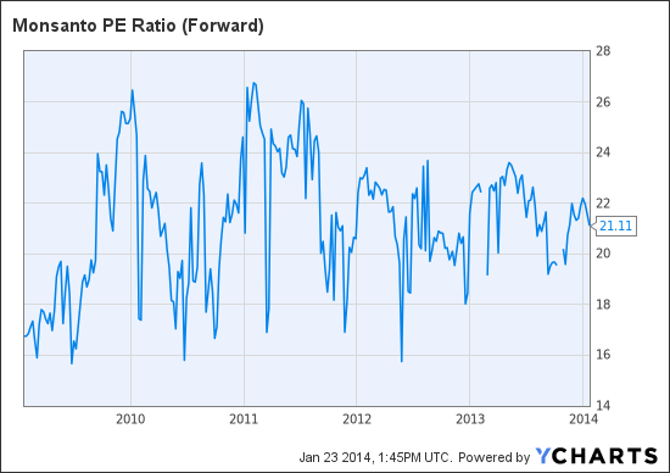 MON PE Ratio (Forward) data by YCharts
However, the company's strong fundamental's - YCharts Pro shows a perfect Monsanto rating - lead to major share repurchase plans and big gains in its dividend, which yields 1.6%.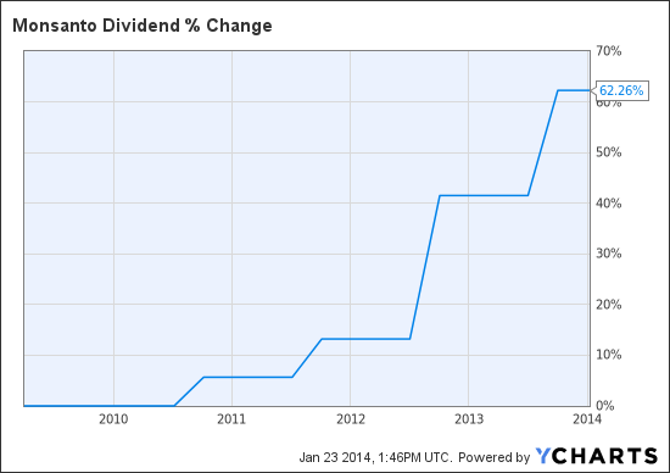 MON Dividend data by YCharts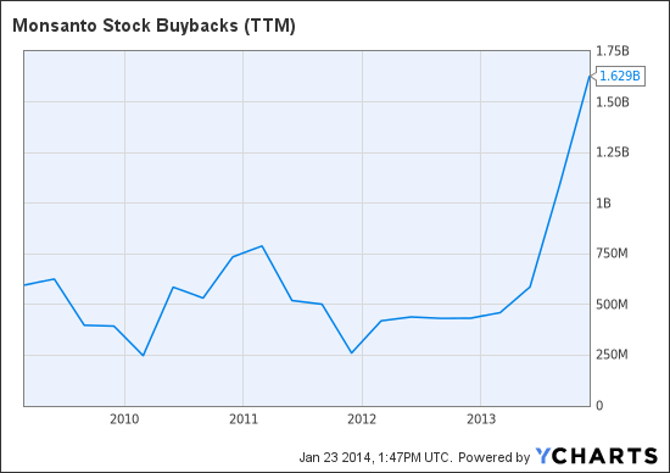 MON Stock Buybacks (TTM) data by YCharts
Investors who believe society will eventually reject genetically modified foods should steer clear of Monsanto shares at any price. Strong legislation banning them would devastate Monsanto. Similarly, investors who believe privacy concerns will lead to serious limits on big data collections should be less interested. Long-term investors who think desire for cheap food and bigger farm yields will eventually drown out those concerns might like what they see in Monsanto.
Disclosure: None.