When it comes to long/short investing, I am an inexperienced virgin. I don't short stocks, nor have I ever. I am currently too small of an investor to be concerned with arbitrage opportunities involving pair trades.
As an informed investor however, I am in-tune with a couple of long-term long/short plays that should make clear sense to the investment community. In short (no pun intended), there may free money laying on the table for the right type of investors to cash-in on.
1. Realty Income Corp. (NYSE:O)/National Retail Properties (NYSE:NNN)
Both of these companies are concentrated on the retail real estate ownership. The cool part about this sector is that these types of buildings supply slow and steady growth, which translates into steady and low-risk, long-term income growth.
As net-lease operators, both companies are able to employ low-cost management strategies, as most or all energy, taxes, insurance, upkeep and other expenses are the tenants responsibility. The long-term leases employed by the operators account for slower turnover, incremental rent bumps and thus stable, rising income.
Realty Income is currently the largest net-lease retail operator in the U.S., which will stay true until the merger between American Realty Capital Properties, Inc. (ARCP) and Cole Real Estate Investments, Inc.(NYSE:COLE), which was recently approved, is digested later in the year.
Historically speaking, Realty Income has grown over the years through efficient utilization of debt to finance growth. Companies that overuse debt are at risk of default in the event of a downturn, as seen in office property owners in the aftermath of the global financial crisis.
REITs that under-utilize debt are safer investments, however they will grow slower than peers. The goal of REITs is to manage debt efficiently, which is to find the sweet spot in the amount of debt versus capitalization. This brings us to the first long/short play, which is Long O/Short NNN.
Investment Thesis:
Long Realty Income Corp., $39.67
Short National Retail Properties, $32.52
National Retail Properties is a well-run REIT that employs the same strategy of Realty Income, which is to own and operate a net-lease, retail REIT with broad domestic real estate exposure.
The strategy to short NNN and buy O is because of the fact that NNN is focused on slower growth. They do not leverage the balance sheet efficiently, which inhibits long-term growth at normal peer rates. Currently the debt-to-market capitalization ratio of O is close to 57%, while NNN sits comfortably at 37%.
While low debt creates a stronger balance sheet, a 37% ratio here at NNN is providing more of a bond-like exposure that comes at a cost of higher returns to shareholders.
2. American Realty Capital Properties/National Retail Properties
The second long/short play is to short NNN while buying American Realty Capital Properties. This is a more aggressive pair trade, with larger upside potential.
Investment Thesis:
Long American Realty Capital Properties, $13.95
Short National Retail Properties, $32.52
This pair trade contains the same thesis as the long O/short NNN trade, which shorts one company in a sector for inefficient debt use while applauding a faster-growing, similar company in the same sector. The long ARCP trade does hold two other advantages as well, which may make this a more aggressive yet more rewarding bet.
First off, ARCP currently is undervalued due to integration risk as the company merger with COLE may take some time to digest. When the merger is complete, ARCP will command the highest market capitalization of the net-lease retail REITs. According to Brad Thomas, a Seeking Alpha contributor that specializes in equity REITS, the new company will actually be the largest net-lease REIT in the world.
In a recent article, Thomas explains:
Upon closing (ARCP/COLE merger)... ARCP's portfolio is expected to grow significantly to a projected 3,732 properties, ranking the company the largest Triple Net REIT in the world. Without a doubt, ARCP will be one of the most diversified REITs in the world; that is by tenant, by (sub)sector and by geography.
The largest REITs in each subsector (such as office, apartment landlords, etc..) exhibit lower risk due to increased geographic diversification, strong historical performance, consistent dividend growth, a long public-market management history, strong access to debt and a relatively large portfolio.
Due to these lower risk, the dominant, larger REITs exhibit a higher price than their smaller peers. This is what investors translate as a "risk premium," which can be measured on a REIT subsector by subsector basis.
As REITs are valued in terms of price/FFO (funds from operations), rather than by the standard P/E ratio, the risk premium in larger players in terms of valuation can be seen as the bigger REITs normally exhibit a larger P/FFO versus smaller peers (peer being defined as another company in the same REIT subsector).
Examples of the peer-to-peer risk premium defined by market size include Equity Residential (NYSE:EQR) and Avalonbay Communities, Inc. (NYSE:AVB), both apartment landlords, valued at $19.4 and $15.5 billion, respectively. These two companies trade close to 19x 2013 FFO, whereas smaller competitors Camden Property Trust (NYSE:CPT) and Mid-America Apartment Communities Inc. (NYSE:MAA) trade at much lower valuations.
As noted in the chart below, the average P/FFO of these four landlords is 16.4, yet EQR and AVB trade at above-average levels while CPT and MAA trade at below-average valuations.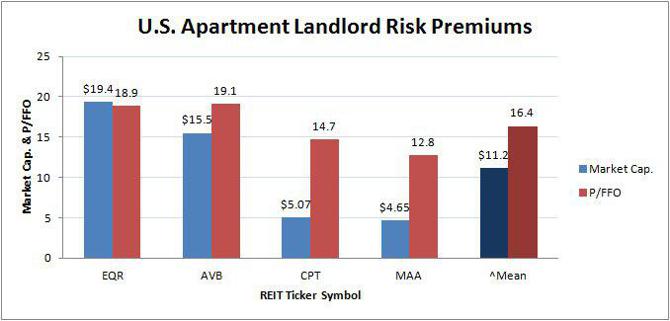 When viewing the trendline of P/FFO in order of largest to smallest market capitalizations of our small sample, the coefficient of determination, or R2, is .87, which signifies a strong causal relationship between the apartment REITs size and valuation.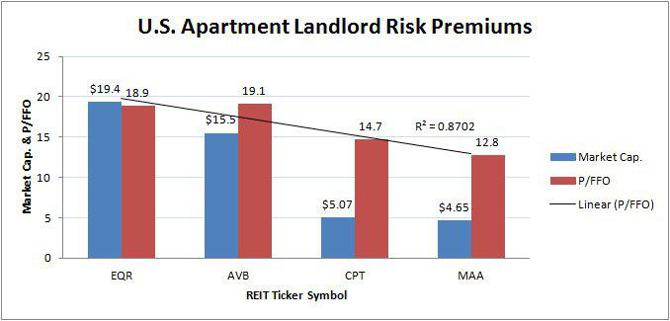 In terms of the retail REITs, ARCP currently is valued less than peers O and NNN, however ARCP will soon be the largest landlord by size. In this regard, ARCP should soon find itself trading at a premium, rather than at a discount, to other net-lease retail peers.
Currently ARCP trades at a discount to peers, which suggests major upside once the market digests the company as a well-run, financially sound net-lease REIT that will be recognized as the largest monthly net-lease retail REIT dividend player.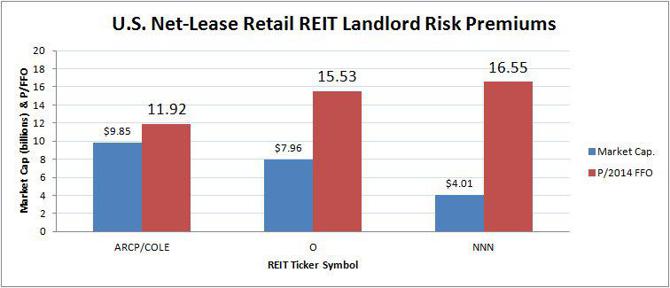 As noted from the chart above, ARCP trades at a major discount to O and NNN, while O also trades at a small discount to NNN in terms of valuation.
This may be a sign of inefficient pricing with O/NNN, as a valuation should be based on efficient use of debt, historical management and market capitalization. On the debt side, NNN is inefficient and on the market size side O is nearly twice as large as NNN, thus a risk premium should be held and O should theoretically be valued higher than NNN.
A more fair market valuation, under current circumstances, would be 15.5x 2014 FFO for O (close to current price) and 13.5x 2014 FFO for NNN (which would be $26.53, or 23.6% downside from current levels).
With ARCP, the low valuation can be attributed to its relatively short historical performance as a public company, a major acquisition spree and the fact that it is a mostly an unknown player in the field. Once ARCP digests COLE and shows a few good quarters of meeting or beating FFO growth estimates, a risk premium versus smaller peers such as NNN should be warranted.
The second additional advantage of ARCP versus NNN in a pair trade is the dividend spread. At current (January 27, 2014 close) pricing, the ARCP forward dividend is 7.17%, while NNN yields 4.98%, a difference of 219 basis points.
To a smaller extent this thesis also has merit in the O/NNN pair trade, as the O dividend is 53 basis points higher than NNN.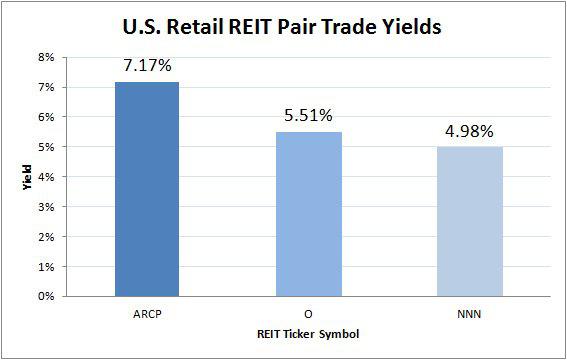 As seen in the yield chart above, a spread on dividend payments can be made in these pair trades by accumulating higher dividends with ARCP or O versus NNN.
The yield spread is a bonus earned as the main investment thesis of the pair trade is that both ARCP and O will grow faster than NNN with a more efficient use of debt.
According to S&P Capital IQ, when measuring the debt efficiency of REITs
a debt to total market capitalization ratio of 35% or less indicates the REIT has a conservative balance sheet and can grow by taking on additional debt. A ratio between 36% and 50% is adequate. A REIT with a ratio above 50% tends to have limited financial flexibility.
As seen with the ARCP/COLE and O current debts, they hold debt just above 50%. Both of these stocks can be seen as undervalued versus the net asset value of the portfolios they hold, as such, the stock prices may rise to adjust, and such effort will produce lower debt/market cap ratios.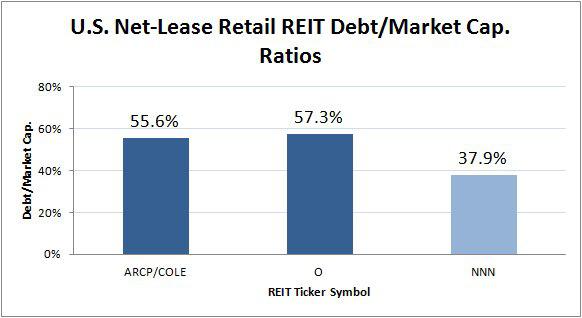 In looking at the NNN 2012 Annual Report, the company outlines its slower growth objective in defense of building "safe" shareholder value.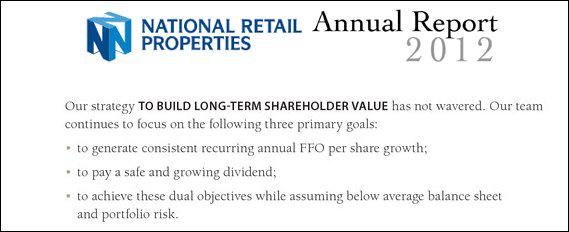 When To Cash Out Of The Pair Trade
While National Retail Properties may be showcasing a low debt ratio, this does leave the company wide-open to change its corporate policy and borrow to either acquire another REIT or to purchase additional retail property portfolios.
There are major variables that if put into play may lead investors to believe that NNN is shifting its policy to be more aggressive with debt, which may signal an end to this trade. These potential catalysts to be aware of include the following:
New company leadership, as seen via CEO replacement or current leadership resignations.
Activist investor(s), publicly stating that NNN should take on debt to finance more growth.
New debt financing announced, such that the NNN debt/equity ratio is raised.
A company statement that it is focused on reorganization efforts to change company policy to grow faster with more debt.
A P/FFO ratio below 12x 2014 FFO ($23.58) that may encourage a tender offer from ARCP or O at a valuation above 12x 2014 FFO.
Until one of these catalysts occurs, each of these pair trades should work to earn investors arbitrage money by raising demand for ARCP/O stock while pressuring NNN stock to be valued below its peers.
Disclosure: I have no positions in any stocks mentioned, and no plans to initiate any positions within the next 72 hours. I wrote this article myself, and it expresses my own opinions. I am not receiving compensation for it (other than from Seeking Alpha). I have no business relationship with any company whose stock is mentioned in this article.
Disclaimer: The short company suggested in these pair trades may be a very good long investment both in the short-term and long-term investment horizons. For alternative reasons however, it is quantitatively proven to be a slower-grower versus its peers and thus qualified to be on the short-end of these pair trades.