By David Urani
There's already been havoc in Argentina's peso last week and an unexpected interest rate increase by India yesterday in response to what is looking to be a real concern for the global markets, particularly emerging markets. That concern is currency instability and subsequent inflation, and it's being driven by the U.S. Federal Reserve's recent decision to begin to wind down its quantitative easing program. The Fed of course began winding down its money printing efforts last month from what you could call an obscene $85 billion per month, to a still gratuitous $75 billion (and now $65 billion as of this afternoon).
The idea is that level of Fed stimulus is expected to continue to go lower throughout the year as monetary policy slowly returns to normal. The dollar, though, is the benchmark currency for the world and likewise it's perceived strengthening has caused various world currencies such as the Turkish lira, Russian ruble, South African rand, Argentinean peso and Indian rupee to slide precipitously, threatening inflation across emerging markets. That volatility in world currencies has hit crisis levels in recent days.
Last night Turkey, as expected, made an emergency decision to raise its benchmark lending rate by what is effectively 200-400 basis points (the decision also included switching to a one-week repo rate from the overnight rate). The move had been anticipated, and initially there was relief that Turkey stepped in to stem the volatility but that relief faded fast this morning. If you ask me it's quite apparent Turkey and others' hands are being forced into this, as the Fed's overzealous and long-standing monetary easing policy is now rearing its ugly head.
Turkish lira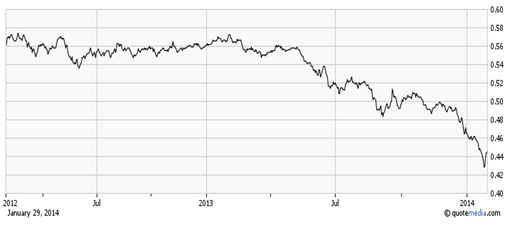 This morning we saw another sudden and unexpected central bank emergency action from South Africa. They raised their key interest rate from 5.0% to 5.5% and despite those efforts to stop the bleeding in their currency the rand is sinking in the range of 3% today. If you don't believe me about the U.S. Federal Reserve, then read this stunning call-out of the Fed by South African Reserve Bank Governor Gill Marcus in the first few paragraphs of their official press release this morning:
STATEMENT OF THE MONETARY POLICY COMMITTEE

Issued by Gill Marcus, Governor of the South African Reserve Bank

Since the previous meeting of the Monetary Policy Committee, the expected cutback in quantitative easing by the U.S. Fed has begun. Although the initial response in global financial markets was generally fairly muted, emerging markets have subsequently experienced a high degree of turbulence, particularly in the wake of renewed fears of a slowdown in China. While the Fed action signals a recovery in the U.S., and the U.K. economic outlook is also improving, it does not mean that the global financial crisis is over. Rather, we are now entering a phase of the crisis that is creating new challenges for emerging market economies.

In the longer run a sustained recovery in the U.S. should be positive for the global economy in general, but the adjustment to the withdrawal of quantitative easing is likely to create significant short to medium-term challenges. How to respond to a combination of sharply depreciating currencies, capital outflows, slowing growth, rising inflation, significant current account and/or fiscal deficits and deteriorating confidence is posing policy challenges and very difficult trade-offs for many emerging markets.

The rand exchange rate has been one of the currencies affected by these developments, and the recent depreciation of the rand, if sustained, will raise significantly the risk to the inflation outlook. Our inflation forecast shows a marked deterioration, despite the absence of clear evidence of domestic demand pressures."
Now the Fed faces a serious dilemma that comes, perhaps not at all coincidentally, right amid its own policy meeting yesterday and today. It's clear the Fed's policy is stirring not only the U.S. markets, but the world's as well. Maybe "Helicopter Ben" is flying away just in time, as we find out just how much instability his wanton money printing has really caused. As it stand's he's just left us with a second taper in two months, taking QE down to $65 billion per month. It's the right thing to do, as I'm a believer Federal stimulus has been going on far too long. But surely this isn't going to settle the emerging markets' nerves.