Dramatic changes are underway in Beijing and Washington, but we likely won't see the results in headlines for another week. Treasury Secretary Tim Geithner has set out on a sudden and unscheduled trip to Beijing. He will be holding meetings with key finance officials including Chinese Vice Premier Wang Qishan in advance of Chinese President Hu Jintao's upcoming visit to Washington.

Politics may not seem all that important to investors, but P/E valuations on a number of key Chinese ADRs fell earlier this year as political tension between the U.S. and China escalated sharply. Tensions hit a peak recently as several senators called for trading tariffs to be slapped on Chinese goods in advance of a report that could have labeled China a currency manipulator.
Geithner's trip to Beijing is being reported as a kind of "olive branch" to the Chinese. It is more likely that much crucial fence-mending has already been done. The potentially inflammatory currency report was shelved indefinitely following a lengthy chat between President Obama and his Chinese counterpart.
Geithner is probably laying the groundwork now for agreements to be announced next week. President Hu is due in Washington April 15th for a summit of nuclear powers, but it is apparent that he has also set aside a good deal of time for talks on other issues, mainly economic, between the two powers.
China's ADR Index continues to gain as signs of reduced geopolitical risk become apparent to investors who are reading between the lines of official news releases. The index of Chinese stocks traded in the U.S. as ADRs has gained more than six percent over the past eight trading days.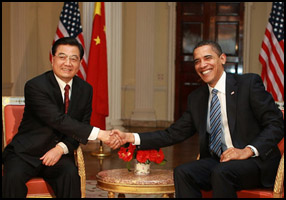 There are now more reports backing up our prediction that the Chinese yuan will be allowed to move slightly higher by easing its peg to the U.S. dollar. Currency gurus call this move "widening the trading bands."
The yuan may also be allowed to trade against several foreign currencies. Bloomberg reports that Chinese policy makers are considering allowing the yuan to trade against the Russian ruble, the South Korean won and the Malaysian ringgit to promote its use in foreign trade. It may take more than a decade before the yuan becomes a fully convertible international currency, but the process is clearly under way. This trend will also be favorable for Chinese stocks which are based on the value of the yuan and currently trade at a discount valuation compared to comparable international companies.
Currency traders are pricing yuan forwards at a value indicating expectations on a 2.9 percent increase in the value of the Chinese currency. China is seeking wider use of the yuan in an effort to reduce reliance on the U.S. dollar, following Premier Wen Jiabao's recent remarks that he is "worried" about Chinese holdings of foreign assets denominated in dollars.
Disclosure: No positions