James Worden


Jeffrey Spitzmiller is chief investment officer of Folsom, California based Iron Point Capital Management. A CFA and Certified Fund Specialist with a Series 7 license, Jeffrey oversees the firm's macro analysis and specializes in U.S. economic and bond market data.
His colleague, Portfolio Manager James Worden, oversees U.S. equities and the firm's quantitative screening models.
Seeking Alpha recently got the chance to ask Jeffrey and James about the highest conviction stock holding they see right now.

For starters, would you tell us a bit about your fund's investment approach?
Our investment philosophy revolves around the client achieving their financial goals - by developing a prudent investment portfolio utilizing strategic asset allocation with a tactical overlay. Our core strategic approach focuses on the long-term investment goal while the short-term tactical element capitalizes on market opportunity. Growth, protection and preservation of assets are the ultimate goals at Iron Point Capital Management.
What is your highest conviction stock pick currently?
Our model right now is scoring Western Digital (NYSE:WDC) very well compared with other equities in our database. We first bought this stock back in mid-May of last year, and though we're up roughly 90% in the position since then, we still rate the stock highly.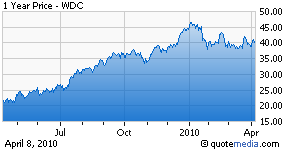 Western Digital's primary business is in the design, manufacturing and sales of hard disk drives. The company sells its products worldwide for use in computer systems and consumer electronics.
Doing a deep dive on the data points scored in the model reveals that valuations from both a relative and an intrinsic standpoint are very attractive, and revenue and earnings growth also look very appealing.
One data point in our model put the fair value at just under $79.57. (The stock closed Thursday at $40.34.) That's an additional upside of roughly 97% to get to fair value. Of course, this assumes that it meets or beats our estimates for profit growth for the next few years.
It's inexpensive from a Forward P/E multiple as well. At just 6.9 times the next four quarters' earnings, it has some room to grow, ranking in the top 1% against the sector and top 4% for the industry. Even if it traded at its 10-year average of 10.8, that's still upside of roughly 60%. Earnings quality and strong cash flow also are a positive for this stock.
Can you talk a bit about the sector? How much is Western Digital an "industry pick" as opposed to a pure bottom-up pick?
WDC is a pure bottom-up equity pick. That said, we do find the technology sector attractive moving forward, as many of the same fundamental improvements that we are seeing in the technology space will also help WDC increase its revenue and profit growth.
From a macro standpoint, we believe that demand for storage has rebounded and will remain high for both businesses and consumers, as consumers continue to flock to the electronics space in spite of the challenging economic climate, and businesses are starting to further increase their capital spending budgets. A boost from depleted inventory levels should also provide further catalyst for sales to increase.
The advent of higher-pixel digital cameras, higher-resolution video formats, high-definition DVRs, and the need to store large photo, movie, and music libraries is growing and we believe it will continue to grow for some time.
Western Digital has been further aided by a more stable pricing environment and good expense control.
What are your thoughts on Western Digital's competition?
While Seagate Technology (NASDAQ:STX) has had a higher momentum score than WDC and while the street appears to be favoring STX over WDC right now, we feel better about WDC from a profit growth standpoint and we feel that STX is richer from a cash flow return on total capital measure. From several other measures, however, STX also looks very attractive.
While we admit that the competition for market share may continue to be a challenge, we are impressed with the innovation at Western Digital and we believe that it will outshine the competition due to its strong portfolio of products. More important, we think that there is enough growth for multiple firms to benefit.
What about analyst sentiment on Western Digital?
Sell-side analysts have been generally revising their estimates upward, though there is some dispersion in the estimate numbers. We believe that those analysts who have been more accurate over time, the same analysts who have higher estimates right now, are probably on the right track about the direction of earnings growth.
Our thoughts are that the analysts with lower estimates will eventually cluster-revise upwards, similar to what we saw last January. We think that this gives more potential for upgrades to WDC - if everyone was currently a bull on WDC, then we probably wouldn't have as high of a conviction on the stock.
What will cause you to trim or sell out of a position like this?
From a risk management standpoint, we have slightly trimmed the position even though the quant score is very attractive, as we prefer to have not any one position get too large relative to the other holdings. We needed to do this with Apple (NASDAQ:AAPL) as well. In Apple's case, it was purely a valuation concern. We continue to rely on the scores in terms of whether we should trim it significantly or sell it altogether.
In this market environment, our approach has typically been to trim based on a lack of conviction in areas such as growth, valuation, or momentum and to eliminate positions that have one or more red flags from a risk or financial health standpoint, or two or more red flags in any of the other areas.
We still hold AAPL, because the only red flag is valuation. All other scores are high and this keeps the composite score still looking good.
What are the downside risks for Western Digital?
We believe the biggest risk is that the industry starts slowing down as a result of a poor supply/demand dynamic and that earnings growth doesn't materialize as anticipated by analysts. This will make the valuation less appealing and put a degree of uncertainty in the stock price - which is usually in the form of a discount and not a premium.
What type of model do you generally run, and are you primarily investing in growth or value stocks?
We are not like many traditional bottom-up fundamental stock pickers. We employ a proprietary quantitative scoring model (QESM) that screens through and scores 4,000 companies from both a growth and value standpoint. All in all, we're sifting through over a million data points. We then apply more of a qualitative fundamental analysis overlay for companies that make the top 50-100 names.
We are different in that we are just not focusing on valuations or fundamentals, or just looking for growth or value stories. We are also not biased toward a particular market cap. We have bought names like LZ, NVO, DLM, and ENDP, as well as RTN, JNJ, PTV, and DLTR. Our multifactor model also looks at various risk and volatility measures in addition to growth metrics, financial health metrics, and momentum or technical factors. This strategy has helped us quite a bit with a large client that had transferred over a number of higher risk names, like Bear Stearns, Lehman Brothers, AIG, MER, C, and GS.
While some indicators looked good or average, other data points were popping up red flags. Our composite score for these names was low well before trouble started really brewing and, fortunately, we were able to get out of them before things got real bad. We only held on to GS. We'll be the first to admit that the picks generated from this model may not always outperform in a raging bull market, particularly when low quality companies, highly leveraged firms, or those with relatively poor financial health are the top performers.

Thanks for sharing your pick with us.

Disclosure: Iron Point Capital Management is long WDC
Read more High Conviction Picks »
If you are a fund manager and interested in doing an interview with us on your highest conviction stock holding, please email Rebecca Barnett.