Stock price of Caterpillar (NYSE:CAT) has rebounded by approximately 10% since December 2013, compared to a loss of 8% for S&P 500 Index. The company's better-than-expected Q4 2013 performance further strengthened the momentum as the share price rose by 6% following the announcement. Although I believe CAT to be a quality long-term investment, potential buyer should be cautious for the stock's near-term volatility due to the reasons discussed below:
Q4 2013 results are encouraging…
The company released its Q4 2013 on January 28, 2014 with both revenue and EPS exceeding consensus estimates. Looking forward, I believe the following developments will benefit the stock price:
To continue driving shareholder value, management expects to incur additional $100M to $200M restructuring expense in 2014 on top of $300M spending which was already announced previously. As part of the restructuring program, the company plans to consolidate numerous small manufacturing facilities to cut costs and improve production efficiency. Management anticipates to achieve an annual savings of about $200M in 2014 (which translates to approximately $0.20 EPS) and $400M to $500M per year in 2015 and onwards.
CAT generated more than $7B free cash flow in 2013 largely owing to cash release from working capital management. It also managed to reduce its debt to capital ratio to 27% as at December 31, 2013, which is the lowest level in the past 10 years and would support a higher cash flow generation going forward.
Management indicated their commitment to complete the $1.7B remaining share buyback authorization by Q1 2014. On top of that, a $10.0B repurchase program has been approved and will expire in December 2018. The authorized value of the share repurchase program now totals at $11.7B, which represents about 20% of the current market capitalization.
However, key negatives continue to persist…
The weakness of Resources Industries segment is one of the primary drags on CAT's performance in 2013, and the segment's near-to-medium term growth prospect remains blur. The Q4 2013 segment revenue of $3.0B remains substantially below its peak level at almost $5.7B in Q4 2012. Management's 2014 guidance calls for a modest recovery in mining orders in the second half of 2014. However, given that global miners continue to cut production spending to preserve margin and there have been no indications of any improvement, management's expectation is somewhat questionable.
Although China only accounts for approximately 6% of CAT's overall sales, it is believed that the country's development would have far more impact on the company's operations given the importance of the Chinese economy relative to the globe and its influence on commodity prices. The Chinese economic growth continues to face headwinds into 2014 as reflected by the contracted manufacturing PMI for the country which marked the first business order decline in the past 6 months. I am of the view that market's concern on the Chinese economic slowdown would have a contagious effect (mainly through commodity prices) which would drag on business activities (e.g. construction and mining spending) in other emerging economies (e.g. Brazil) where CAT operates.
Valuations are not very compelling…
The stock's forward P/E multiple of 15.6x now trades at a 2.5% premium over the multiple of S&P 500 Index, which stands at 15.2x (see chart below). I am not very comfortable with CAT's premium valuation given that 1) CAT's P/E used to trade below that of S&P 500 in the past 12 months and the valuation discount was as deep as almost 30% and 2) CAT's consensus long-term earnings growth estimate of 7.3% is below the average estimate of 8.5% for S&P 500 companies.

In addition, CAT's forward EV/EBITDA and P/E multiples are both trading above comps averages despite the company's weaker growth prospect and below-average profitability performance (see chart below).

Market sentiment remains weak…
Street's sentiment on the stock is still weak. Over the past 6 months, total buy ratings (including both buy and outperform) has reduced from 14 to 9, and analysts has slashed their consensus long-term earnings growth estimate from 8.4% to 7.3% (see chart below).

In summary, despite some positive developments, I wouldn't consider buying CAT at the current price level as there is a lack of visibility on the recovery of CAT's end markets and the stock valuation does not look very attractive. Since July 2012, the stock has been trading within a range from $80 to $99 with a firm technical support at slightly above $80 (see chart below). Given my analysis above, I believe the range trade to persist until there is a recovery sign for the company's weak segments (e.g. Resource Industries and Construction Industries). As such, I would only recommend buying the shares at $85 or below.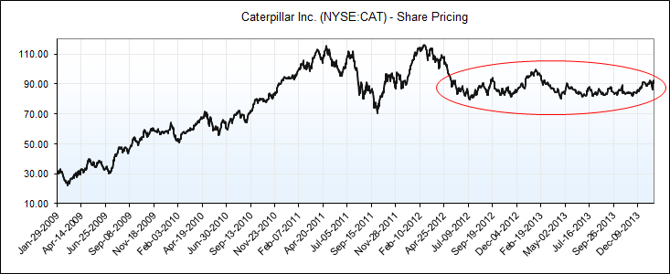 All charts are created by the author except for the consensus estimate tables, which are sourced from S&P Capital IQ, and all financial data used in the article and the charts is sourced from S&P Capital IQ unless otherwise specified.
Disclosure: I have no positions in any stocks mentioned, but may initiate a long position in CAT over the next 72 hours. I wrote this article myself, and it expresses my own opinions. I am not receiving compensation for it (other than from Seeking Alpha). I have no business relationship with any company whose stock is mentioned in this article.