General Electric (NYSE:GE) CEO Jeffrey Immelt reported personal purchases of 40,000 shares of GE on Tuesday, giving the stock a helping hand up from its recent slide. However, just a day later, GE seems to be slipping again.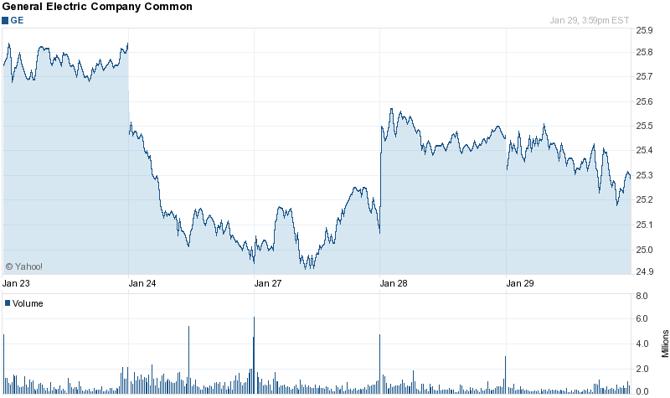 Immelt invested approximately a million dollars in acquiring the shares at an average price of about $25 per share. It was a great show of confidence in the company that the executive leads, and certainly shareholders can appreciate the gesture and vote of confidence. But just how significant was it for GE shares on Tuesday, and more importantly, how important is it for the stock moving forward?
| | | |
| --- | --- | --- |
| Security | 01/28/14 | 01/29/14 |
| General Electric | +1.6% | -0.7% |
| SPDR S&P 500 (NYSEARCA:SPY) | +0.6% | -1.0% |
| SPDR Dow Jones Industrials (NYSEARCA:DIA) | +0.6% | -1.2% |
| Industrial Select Sector SPDR (NYSEARCA:XLI) | +0.9% | -1.1% |
It's much easier to measure the impact of Immelt's purchase on the day of the event than it will be to measure its ongoing impact moving forward. We have the daily performance data for the shares and the market, as well as the ETF measuring the industrial sector. It clearly shows outperformance for GE on a generally good day for stocks Tuesday, and especially industrials.
Obviously, GE weighs heavily in the performance of passive industrial portfolios, so we need to take that into account when comparing its performance to that of the XLI. GE accounts for 11.18% of XLI total assets, and is the leading holding of the ETF. The beta coefficient of the XLI over ten years of data is roughly 1.0, so the outperformance of the ETF on the 28th may have been completely attributable to GE and perhaps another peer or two. It looks like GE was solely responsible, because the second and third most important holdings, United Technologies (NYSE:UTX) and Boeing (NYSE:BA) hardly moved or moved in the opposite direction on Tuesday.
GE is expected to outperform the market on up days, as that is what it has tended to do historically. We know this by its beta coefficient, which is 1.18 according to Yahoo Finance. So, if the SPY was up 0.6%, then we could expect the share price of GE to have moved higher by roughly 0.7%. GE shares were up 1.6% on the day, and likely did outperform at least partly due to the announcement of the CEO's investment.
What's the Significance Moving Forward?
I would not say Immelt's investment was insignificant for the stock over the long term, but I do believe its significance will fade with time. The information reached the newswire and was absorbed by the investment community. It is now part of the equation for the stock, and a factor in its price.
That factor will fade in importance with time, because other factors are more important and information about those factors will be refreshed regularly. Wednesday, global and domestic macroeconomic factors weighed against stocks and GE (emerging markets issues & FOMC monetary policy), with the SPY and DIA down 1.0% and 1.2%, respectively. The Industrial Select Sector SPDR likewise fell 1.1%. GE actually held up relatively well, as it only marked a 0.7% drop. This is probably partly due to the CEO's vote of confidence, but other recent corporate news may have helped as well. For instance, the company announced an investment in PoGens, as part of its broad effort to benefit from the electric grid modernization trend.
I think we can see that the executive's action was certainly meaningful and well timed, especially since it is not part of the man's job responsibilities. It says that he believes in GE's outlook and that he thinks the stock is undervalued. Don't forget that he already has an investment in the company which pays his salary and supports his own personal brand value. He need not also invest personal wealth.
Unfortunately, I suspect all the same catalysts that started the market lower since the turn of the year and kept momentum rolling that direction until now will run a ways further. In my recent write-up on GE I estimated downside risk for the stock from $24 to as low as $20 in the worst case scenario. I continue to believe the stock could drift below $24 before finding solid ground, though economic data will continue to offer a chance for a change in market sentiment, which matters for GE here. Q4 GDP is scheduled for Thursday morning reporting and has that kind of power. However, I see stock sensitivity intensely tied now to all negative news, and hardly attuned to positive catalysts. So, despite the vote of confidence from the corporate insider and my fondness for the company, I would avoid the stock still.
Disclosure: I have no positions in any stocks mentioned, and no plans to initiate any positions within the next 72 hours. I wrote this article myself, and it expresses my own opinions. I am not receiving compensation for it (other than from Seeking Alpha). I have no business relationship with any company whose stock is mentioned in this article.