Editors' Note: This article covers a stock with less than a $100 million market cap. Please be aware of the risks associated with these stocks.
AXT, Inc. (NASDAQ:AXTI) is a small tech company that appears to have been through some real highs and lows. In the early 2000's, this stock was trading for over $43. The financial crisis took the stock down to about a buck in May 2009, but it then surged to nearly $11 in January 2011. As most investors know, it's not uncommon for tech stocks to go through these boom and bust cycles. It's also well known that it can really pay off big to buy at the lows, if the company has the potential for another "up cycle".
This company primarily designs and manufactures semiconductor substrates which are often used in wireless communication products, fiber optics, and LED applications. AXT, Inc. has annual revenues of about $86 million and the stock appears to be undervalued at current levels due to a large amount of cash. Plus there is always the potential for the company to "reinvent" its business model. While it is hard to say if this stock is poised for a significant move higher any time soon, there are some factors that make this stock worth considering or at least watching.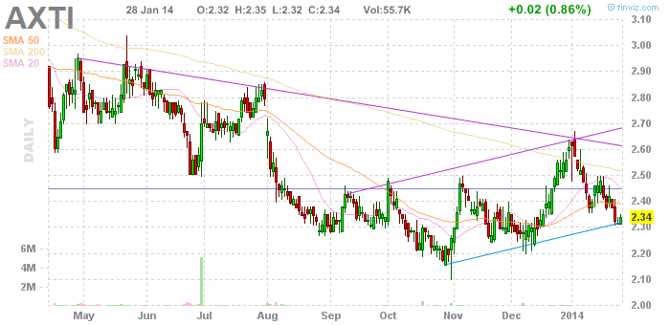 As the chart shows, this stock has been in an uptrend in recent months. It bottomed out at about $2.15 per share in October, and then went up to about $2.70 in early 2014. The recent market pullback seems to have put pressure on this stock, however, this could be an ideal buying opportunity. As the light blue line on the chart shows, this stock remains in an uptrend and it is now resting at the low end of the recent trading range. In the past few months, investors who have bought the stock when it traded near the blue uptrend line were rewarded, and it has also paid to sell when it touched the high end of the recent trading range which is now around $2.70 per share (as indicated by the purple trend line). It's never a sure thing but these patterns are certainly worth considering.
For a company with a market capitalization of about $75 million, this one has a cash hoard. It has just over $36 million in cash which is equivalent to around $1.12 per share and no debt on the balance sheet. This is a considerable amount of cash for a stock trading at just over $2 per share. It also appears undervalued based on book value which is around $4.18 per share. When you factor in the cash and that it has no debt, it shows that the enterprise value is right around $43 million. This is another sign the company is undervalued, especially when considering the annual revenues of nearly $86 million.
The cash hoard reduces downside risks for investors and gives the company flexibility to develop new products and invest in marketing. One potential downside risk that needs to be considered is the fact that this company has recently posted losses. For the third quarter of 2013, it lost $2.3 million or about 7 cents per share. The loss was partially due to a decline in gross margins, from 12.9% in the second quarter to 11.9% in the third quarter. This gross margin decline was due to a change in the product mix sold in that quarter. However, the potential downside risks from a small quarterly loss seem minimal for a stock trading at these levels, especially since the company has plenty of cash.
Clearly, the company needs to increase sales or increase profit margins in order to return to a level of solid profitability. Another option would be to invest in new product lines and adapt to new market demands in order to create shareholder value. In addition to its main line of business, this company owns stakes in five joint ventures. It is the majority owner in three of these ventures which gives it board level control. In one company, "Nanjing Jin Mei Gallium Co, Ltd." which produces "6N, 7N Ga, and B203" (Gallium), it owns an 83% stake.
The stakes in these businesses may have more value than the current stock price indicates. The 83% stake in the company that produces gallium seems most interesting since gallium can be used like liquid chocolate in 3D printers. While this has not hit the mainstream yet, it could be a potential future business opportunity. 3D printing could revolutionize manufacturing and allow individuals to have a mini factory in their homes. While most 3D printers use thermoplastics, other materials like gallium allow printers to make metal products. An article from Extremetech.com explains the potential for gallium in 3D printing, which states:
"Gallium is the chocolate of metals. With a melting point of 86 degrees, the stuff will literally melt in your hand, and then solidify when you put it down. This melting point can be lowered by alloying with Indium to make a non-toxic substitute for mercury in applications like thermometers and tilt switches. Gallium has another trick up its sleeve, in which it rapidly forms an oxide skin when exposed to air. This property has recently been exploited by researchers at NC State to do something pretty incredible-print stable 3D structures using room temperature liquid metal."
It's far too early to know if gallium usage will grow and if this company will capitalize on 3D printing in the future, but it sure seems to be an interesting point to consider as it could be a game changer. As a high tech company, AXT, Inc. could be positioned to benefit from this potential in the future, if the market for gallium in 3D printing grows. That is a big if, but the fast growth in the emerging 3D printing industry is bound to create many opportunities that the market is not fully aware of now. That potential makes this stock worth watching. The cheap valuation, a cash hoard and the recent pullback make it a stock to consider buying as a turnaround play. Management also seems to think the shares are trading at bargain levels and worth buying since it authorized a $6 million stock buy back just last year.
Here are some key points for AXT, Inc.:
Current share price: $2.35
The 52 week range is $2.10 to $3.43
Annual dividend: n/a
Data is sourced from Yahoo Finance. No guarantees or representations
are made. Hawkinvest is not a registered investment advisor and does
not provide specific investment advice. The information is for
informational purposes only. You should always consult a financial
advisor.
Disclosure: I am long AXTI. I wrote this article myself, and it expresses my own opinions. I am not receiving compensation for it (other than from Seeking Alpha). I have no business relationship with any company whose stock is mentioned in this article.