To little surprise, Ford (NYSE:F) was able to easily exceed consensus expectations for its fourth quarter. The firm earned $0.31 per share on $37.6 billion in revenue. For the full-year, Ford earned $1.62 on $146.9 billion in revenue. Even more impressive, Ford generated $6.1 billion in automotive operating-related cash flow, up $2.7 billion compared to the year prior. CFO Bob Shanks even called it the second best year in the company's history.
Why is the stock stuck in neutral? It has baffled me as much as anyone. After the Alan Mulally transformation, the consensus is that the company will be much more capable of dealing with the cyclical nature of the auto industry, so Ford should, theoretically, earn a premium multiple relative to its past positioning.
This sparked a thought that had not occurred to me much; why do some investors dislike Ford?
The Competitive US Auto Market
Few markets work as efficiently as the US auto market. When times are good, companies boost production to meet demand. This involves hiring more workers, building more factories, and adding more shifts. These actions raise the fixed cost profile of the business. On the other end of the equation, automakers slash prices to gain market share. Such activity is particularly prominent with some of the Japanese manufacturers like Honda (NYSE:HMC) and Toyota (NYSE:TM), which can capitalize on the weak yen to maintain earnings. General Motors (NYSE:GM) is also a typical culprit. In fact, GM's engaged in higher promotional activity than competitors for the lion's share of the latest recovery cycle.
I am not suggesting Ford is about to engage in any value destructive behavior. Nor do I think Mulally will add an unreasonable amount of fixed costs to the income statement. However, Ford is refreshing 16 models in North America, and the launches will translate to some pressure on operating margins as the firm takes some price cuts on older inventory.
The Bottom Line: Ford's margins could face some pressure in light of new vehicle launches and price competition. Ford is adding shifts and production capacity in North America, and if demand for vehicles lags, Ford could see even more margin pressure.
F-Series Launch
2014 is a huge year for Ford as it launches the all aluminum F-Series pickup. The product looks fantastic, and technically, the aluminum body should improve fuel economy.
However, Ford will have to idle its Dearborn Truck Plant as well as its Kansas City plant for a total of 13 weeks-though that includes the usual company's usual summer shutdown. Some fear that the idling will cause Ford to lose market share amidst a time of robust demand for pickup trucks. Further, the switch to accommodate aluminum production could take longer than expected, causing the firm to lose even more profitability.
The Bottom Line: Ford's highest selling and most profitable vehicle could have supply constraints in 2014-a year that could be marked by robust demand. Ford may miss out on some significant (and profitable) sales.
Emerging Markets Mayhem
It seems like emerging markets have been emerging forever now. The consensus opinion just a decade ago was that the US was taking a back seat to the emerging powers in South America and Asia. Though many of these countries have experienced solid growth, there are several questions surrounding the health of many key nations.
Ford has forecasted breakeven results in its South American segment as Argentina, Brazil, and Venezuela all deal with weak economic growth as well as policy uncertainty. Assuming the economic situation worsens, there could be downside to broader economic performance.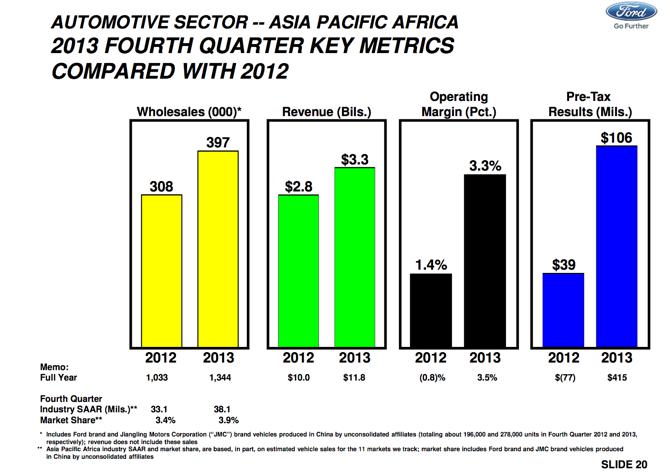 Click to enlarge
Source: Ford 4Q13 Slides
As for China, Ford performed splendidly in the region in 2013. The firm is seeing great success, and it continues to pour billions of dollars into the region to become a more meaningful player in the world's largest auto market.
Some mysterious investors recently bailed out a failed Chinese shadow bank, and concerns persist about the country's level of economic health as it transitions to a consumption-based economy. The manufacturing PMI recently registered its lowest figure in 6 months, so some investors might be thinking that Ford will be unable to reach its long-term targets for the region.
The Bottom Line: Even if North America performs well, economic pressure in Asia and South America could prevent the company from reaching its earnings potential.
What will it take for Ford to Accelerate?
In my view, investors are somewhat warranted to be cautious about Ford. The company may struggle to trade at a higher multiple until the global macroeconomic situation looks more certain. Argentina and Venezuela are particularly vulnerable economically, but any upside or certainty will be very positive for Ford.
Further, I think Ford needs to successfully launch the new F-Series. With CEO Alan Mulally and COO Mark Fields heading the operation, I am confident that execution will be superb.
As for the US auto market, I am slightly concerned that a value destructive mindset will set in. Yet, with economic growth weak and unemployment levels still relatively high, I expect more rational behavior during this portion of the cycle.
Ford remains a great value at this time, but I think share performance is largely out of Ford's control at the moment. Management needs to simply continue its fantastic execution and continue to return cash to shareholders. Ford is still one of my favorite stocks for 2014, but I think it could be a 2nd half story.
Disclosure: I am long F, FIATY. I wrote this article myself, and it expresses my own opinions. I am not receiving compensation for it (other than from Seeking Alpha). I have no business relationship with any company whose stock is mentioned in this article.