Facebook (NASDAQ:FB) once again delivered outstanding numbers with its Q4 FY 2013 earnings report. It beat street estimates, Q4 EPS is $0.31 which is $0.04 higher than expected, and fourth quarter revenue of $2.48 billion was also slightly higher by $250 million.
I bought 100 FB shares yesterday at $53.80. I wanted to buy 50 more but I was worried that it will get ravaged by bears as happened to Apple (NASDAQ:AAPL) and Nokia (NYSE:NOK). It is therefore a relief to see that the market gave Facebook a lot of loving after it released its earnings reports yesterday. I made $600 in paper profits while I was asleep.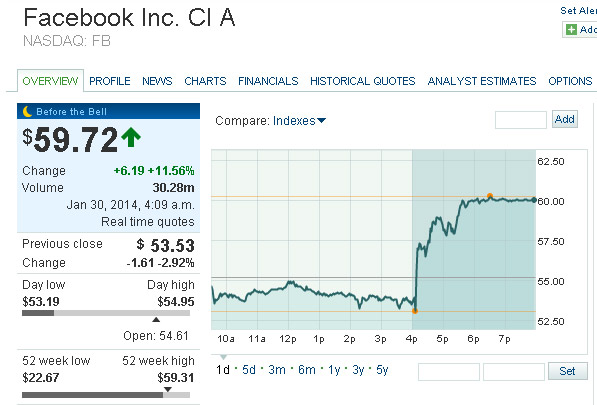 Facebook Is Now A Certified Mobile Advertising Company
In my December article, I emphasized a strong buy rating for Facebook because of its robust implementation of mobile advertising. I dared to do so because mobile ad money was already 49% of Q3 2013 advertising revenue. It was also obvious to me that digital advertising was rapidly shifting towards mobile devices last year.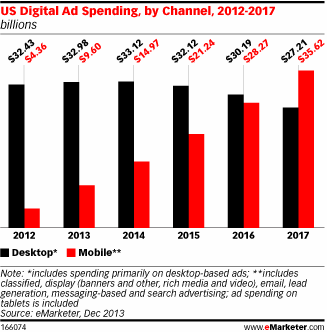 My intuition proved right, mobile advertising is again the company's star performer for its fiscal Q4 period. More than half of Facebook's advertising income now comes from mobile ads. Facebook gained 53% of its ad money from mobile users during the last quarter of 2013. The mobile advertising business contributed around $1.24 billion to company's total revenue for Q4.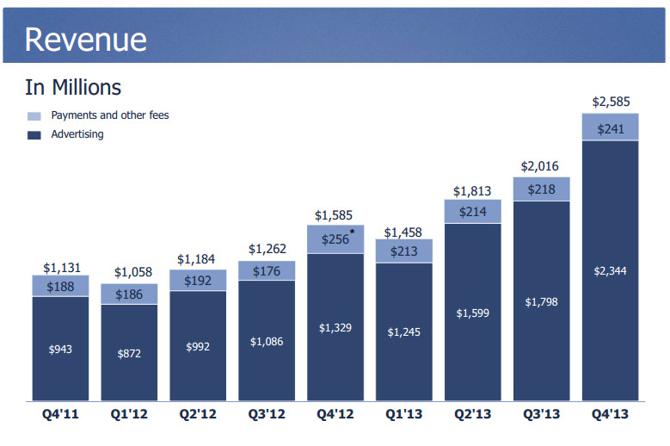 Click to enlarge
This feat is a great validation of Zuckerberg's 2013 Mobile First initiative for the company. The boy genius is right when he said that Facebook's future lies in the mobile platform. As the latest Q4 2013 charts shows, more people are logging in to their Facebook accounts using their phones or tablets.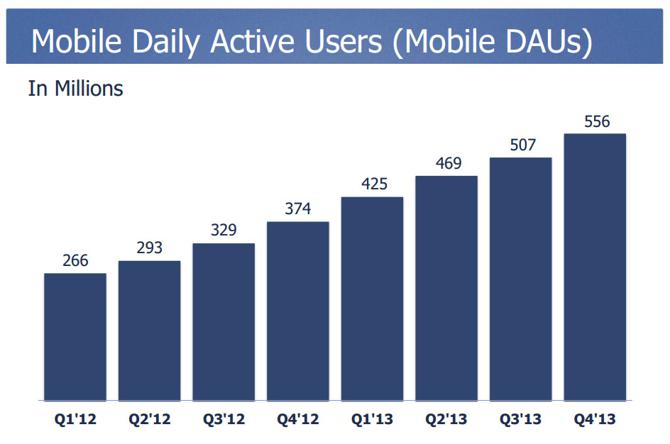 Click to enlarge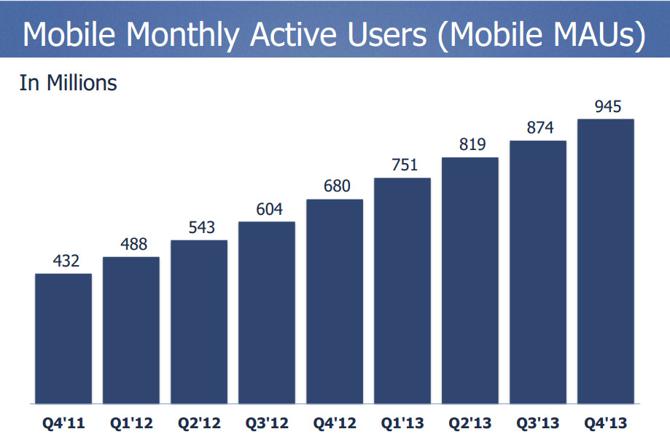 Click to enlarge
Facebook's decision to focus its advertising campaign towards mobile users is the right path towards a gold mine. More and more people are using Facebook exclusively through their mobile devices. The rapid deployment of superfast 3G and 4G connections across the globe help explain why there are already 296 million people solely accessing their Facebook or Instagram accounts on their mobile gadgets.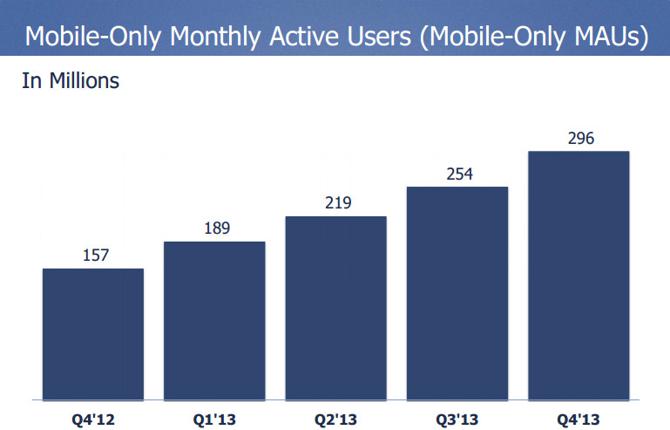 Click to enlarge
The U.S. and Canada are still Facebook's biggest source of advertising money but I'm confident that within five years, Asia and Emerging Markets will become the company's main source for mobile revenue.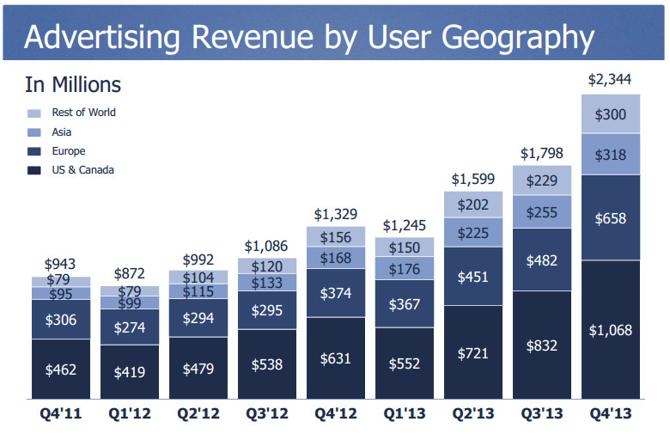 Click to enlarge
The advent of cheap Android, BlackBerry 10, and Lumia WP 8 phones in the developing market will shift the balance towards non-U.S. mobile advertising market.
Facebook is now only second to Google in global mobile internet advertising. The company did a 300% Year-over-Year increase in mobile ad revenue share while Google lost more than 3% in 2013. I humbly presume that Facebook will again deliver triple-digit growth this year in global mobile advertising.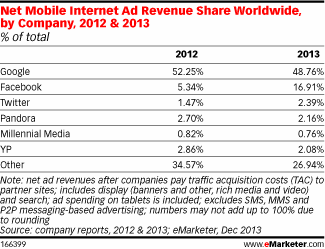 China, South America, India, and other emerging markets are projected to become the biggest markets for smartphones.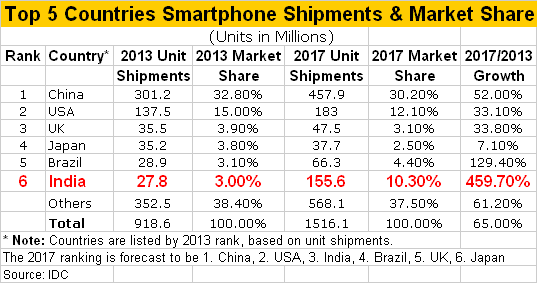 Facebook's mobile ad business is not seriously endangered by UK or American teens leaving the social network. Those kids are just shifting towards mobile apps like Instagram and Facebook Messenger.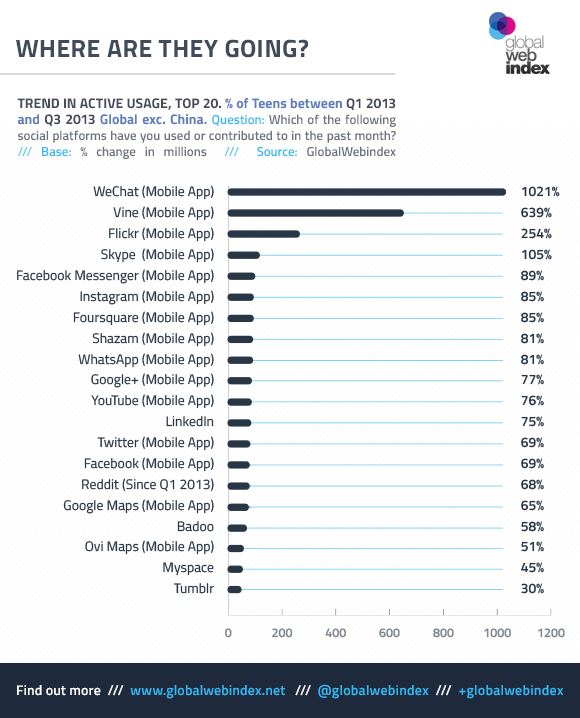 Instagram has doubled its users this year, or around 180 million monthly active users. Facebook Messenger is also a Top 3 mobile IM app in North America, South America, and Africa. I expect Facebook Messenger to attract more users once the company full end-user deletion of messages like SnapChat does.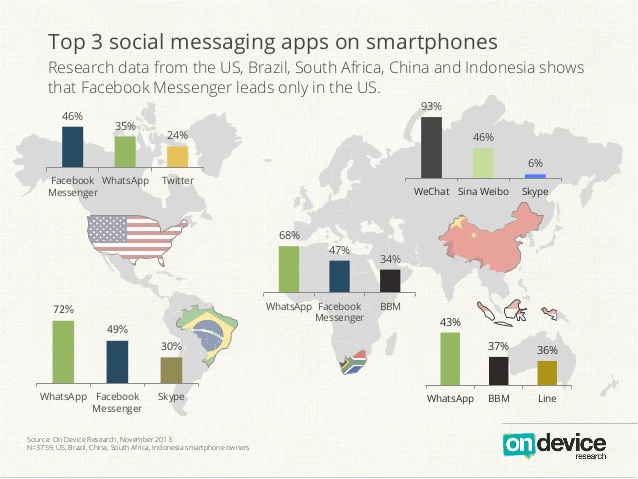 Conclusion
Zuckerberg's company has a great balance sheet and a proven monetization business model. For the last four quarters, Facebook delivered ever-increasing mobile advertising money. Another 100% or more growth in mobile ads global market share will give Facebook a lot more room to fly this year.
Facebook's 1.23 MAUs is way beyond the competition. ARPU-wise, the company is still growing.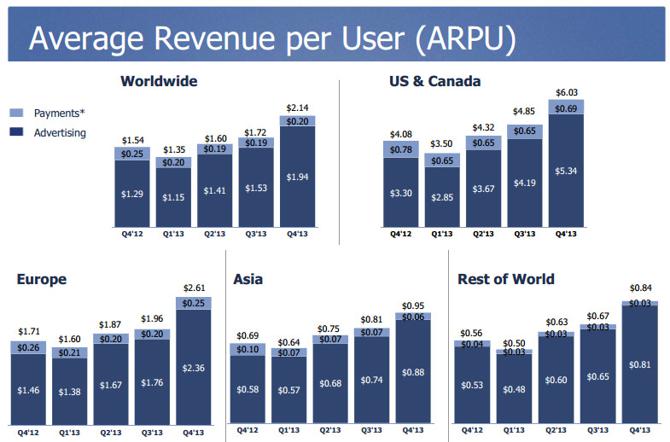 Click to enlarge
The company is planning to launch more standalone mobile apps this year as new avenues for its advertising business. I hope Facebook's Graph Search gets on mobile within the next few months.
No pro analysts are calling for a short on FB. I'll swing trade my shares. I hope FB's after hours rally yesterday will continue later.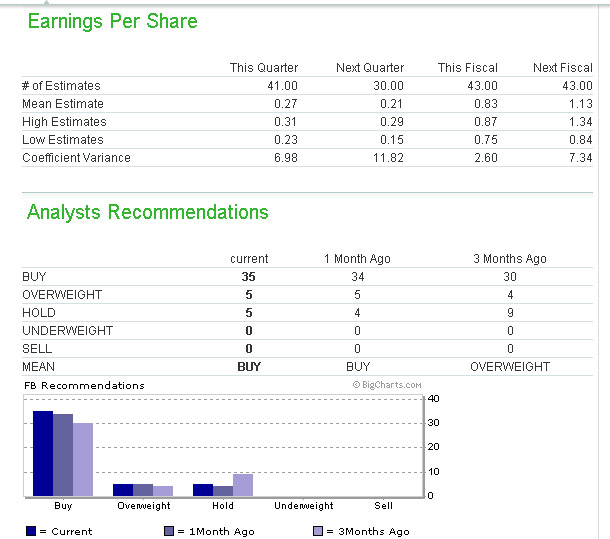 I again presuming that Facebook will again beat Estimize users' earnings projection for Q1 2014.

Click to enlarge
Disclosure: I am long FB. I wrote this article myself, and it expresses my own opinions. I am not receiving compensation for it (other than from Seeking Alpha). I have no business relationship with any company whose stock is mentioned in this article.