PACCAR Inc. (NASDAQ:PCAR) is a large cap company that produces trucks and parts, and also offers financial services. Many of us would better recognize its brand names. Nameplates include Kenworth, Peterbilt, and DAF.
It is cyclical. Underlying operations are global, as vehicles sell in domestic markets, Europe, Asia, Africa, and throughout North America. Despite a favorable signal from management in December, the stock has recently sold off, with the overall market, prior to announcing earnings on Friday, January 31st. The company is scheduled to report before the market opens.
Upon announcing Q3 results in October, PACCAR has raised its Brazil forecast to 145,000 units (from 140k). It has also lowered 2014 Capital Expenditures ("CapEx") guidance to $350 - $400 million and expects $425 to $475 in 2013. Additionally, its forecast Research & Development ("R&D") expense has been lowered, to $250 to $260 in 2013, and $225 to $275 million in 2014. With reduced R&D, operating income can ultimately be higher; and after that, subtracting lower CapEx would lead to higher Free Cash Flow ("FCF") and increased ability to return capital to shareholders.
The stock has been paying a small dividend of $0.20 quarterly to yield close to 1.41% at current prices. Additionally, it recently has declared a special dividend of $0.90 per share. While the special dividend is not a long-term commitment to stockholders, it does suggest that sufficient FCF is being observed by management.
There also have been buybacks. YCharts summarizes the activity: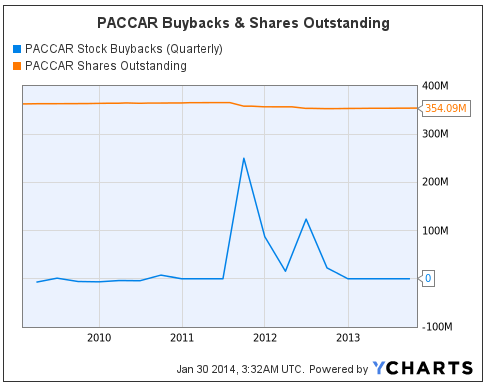 Considerable uncertainty has been added to the mix as the company is undergoing a transition in leadership. It has a new CEO, Ronald Armstrong, who is replacing Mark Pigott. Further, CFO Robert Christensen is now becoming president. It does sound like all parties have terrific credentials; however, a year of service can provide sensible means of evaluation prior to banking on any CEO.
The company's competition has strengths where PACCAR is questionable. Consider Navistar (NYSE:NAV) a corporation supported by the sizable stakes of several notable investors including Carl Icahn and his protégé, Mark Rachesky. As such, nearly 30% of Navistar's float is unlikely to go on sale, and there has been premier oversight on corporate governance for some time.
What has recently gotten attention of the financial press is an enormous options trade betting that PACCAR's share price is going substantially higher in the near future. OptionMONSTER reports 5,600 March calls, at a $60 strike price, have been bought in exchange for $60 to $65 per contract. Though there is a $62.50 strike price, there is no indication of a corresponding call sale. A whale is wagering $350,000, in a risky way, that the stock will go substantially above $60.65 in the near future.
The current 52 week high of PCAR shares is $60.17. While the stock is not heading into earnings at it, other technical observations work against the trade. Shares have declined the last four times it reported, depreciating nearly 2% on average.
It is assumed that the trader is not merely reckless. Given the question mark involving new leadership, strong fundamentals and future prospects must be anticipated. Upon seeking greater insight, it may be felicitous that UBS has copious research, including a 14 page January 27th quarterly European truck survey that is the product of six analysts (suggesting dedication of considerable resources and attention).
Let's turn to Brazil, a nation and geography that some view as offering strength to PACCAR, which has invested $320 million in a recently-opened DAF factory there. Christiansen estimates growth in Brazil's six tones truck market beyond 145,000 units. Further, the company expects a need for 500 employees, up from 100 now. Here is where UBS and its coverage of the wider market is intriguing:
Given the likely weak start to the year, European production and deliveries are likely to decline by up to 10% in 2014. In the US we forecast a production rate of 288,000 units, up 12% y/y. Just like today's European survey, the latest US truck survey pointed to improving business conditions. We see a more difficult Brazilian market and forecast a drop of c50% in 2014…Our preferred truck stocks are Daimler (OTCPK:DDAIF) (Buy, PT EUR 77) and Navistar (Buy, PT USD 44).
While not explicitly applied to PACCAR in detail, other truck makers, such as Volvo AB (OTCPK:VOLVY) and Sweden's Scania (OTCPK:SVKBY) are forecast to have problems in Brazil "…As truck sales continue to decline." Further, as there is competition, prices may fall under pressure. Also, there are issues confronting emerging market economies. UBS projects increased difficulty in 2015, with Scania's sales slowing.
The Swedish firm's truck results have been reported today, with bookings in Brazil remaining consistent QoQ, and driving Latin American deliveries (amidst slow bus and coach orders). Also the government is continuing subsidies in 2014. No sales information is currently available; however, there is no indication of weakening Brazilian demand.
The Swiss firm's rating of PACCAR follows:
PACCAR (Neutral, PT $58): We believe North American truck orders are likely to remain above normalized replacement demand in 2013 and may increase YoY in 2014, and we believe PACCAR is a leading player in the market, but we also believe current investor sentiment largely reflects our end-market view. Accordingly, we see less room for PCAR results to outperform investor expectations and have a Neutral rating on shares. Our $58.00 price target reflects a 15.5-16x P/E on our 2014 EPSe of $3.70.
PACCAR has spent $320 million in Brazil and guided to lower CapEx and R&D expense. Since then, a special dividend has been given to shareholders. Consequently there is reason to suspect that operations are sound. A large trader is looking for the stock to move higher in the immediate future, and with ongoing government financing and Scania's results indicating a stable Brazilian truck market, the company might prove to be exciting.
Disclosure: I have no positions in any stocks mentioned, but may initiate a long position in PCAR, NAV over the next 72 hours. I wrote this article myself, and it expresses my own opinions. I am not receiving compensation for it (other than from Seeking Alpha). I have no business relationship with any company whose stock is mentioned in this article.