First of all, I'm still sticking to my buy rating for Apple (NASDAQ:AAPL). The bloodbath last Monday after Apple reported its Q1 FY2014 earnings is a buy-on-the-dip opportunity. I'm following Carl Icahn's lead. Icahn bought another $500 million worth of APPL in spite of the great drop since Monday. His recent purchase increased his total Apple investment to around $4 billion. I prefer to trust this legendary investor's instinct rather than join the bear wagon.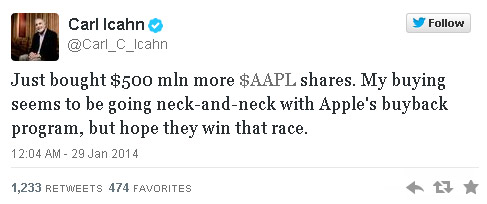 Icahn is ignoring the bearish sentiment over Apple. The last major downgrade of Apple was from Wells Fargo last January 2. The demotion from Outperform to Market Perform is due to concerns over lower profit margins and declining carrier support for the iPhone. Wells Fargo analyst Maynard Um pointed out that Apple will suffer from lower margins due to bigger expenses for the upcoming version of the iPhone. Um also predicted that the upcoming iPhone 6 will be less profitable.

On the other hand, the analysts at MarketWatch still perceive Apple as a great stock to buy and hold on to. Thirty analysts still recommended a Buy rating for AAPL, 12 made a Hold recommendation, and only 2 called for a Sell.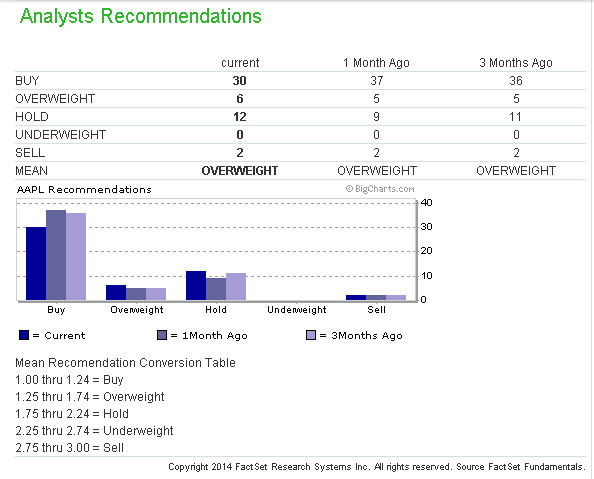 The volume of AAPL trades was also almost back to normal yesterday.

Why Apple Tanked
Despite soundly beating Street estimates on earnings, Apple still suffered a big drop during the after hours trading last January 27. I was wrong in assuming that Apple will not suffer the same fate that Nokia (NYSE:NOK) endured when it reported its better-than-expected financial performance last week. Bears beat Apple down by almost 9% last Monday.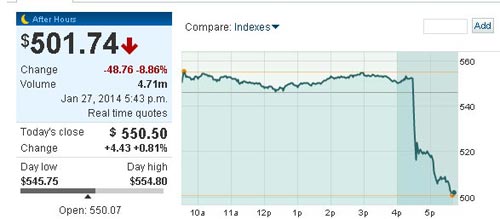 The lower-than-expected 51 million iPhone sales did not sit well with investors. The consensus was 55-56 million iPhone units. This big miss provoked a lot of agitation because the iPhone accounts for more than 50% of the company's revenue. The last quarter earnings report revealed that iPhone sales were 56% of revenue, $32.5 billion out of the total $57.59 billion that Apple made last quarter.
Tim Cook explained the lower than projected iPhone sales as a result of weakened North America sales. U.S. carriers like T-Mobile are shifting towards no-subsidy monthly plans for smartphones. Prepaid mobile plans are also becoming popular in North America which is very detrimental to Apple's high-end products. The iPhone's high retail price makes it hard to sell without hefty carrier subsidies.
AT&T, Verizon, and Sprint still subsidize the iPhone but it won't last forever. Complete elimination of phone subsidies by those big three carriers will certainly be disastrous for Apple. The U.S. is the company's biggest market for iPhones.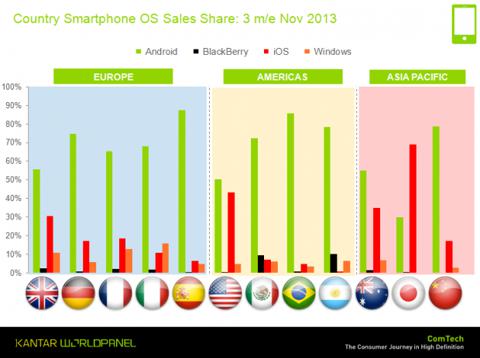 The weak guidance issued by Apple for Q2 2014 added fuel to the fire. Analysts were previously expecting a $46.05b but Apple only gave a $42-$44 billion estimate. The sell off last Monday was further aggravated by the absence of a tangible announcement of new product lines. Cook only hinted that mobile payments might be a good fit for Apple but no real commitment was elicited from him.
However, Estimize users are still very bullish and expect Apple to beat its own estimate again for FQ2. Wall Street has adjusted its own estimate to less than $44 billion. The chart below shows Apple's revenue growth fell to single digit. Cook really needs to come up with new products to escape the company's dependence from iPhone sales. Otherwise, Apple will become the new Microsoft (NASDAQ:MSFT), old, fat, rich, but unloved.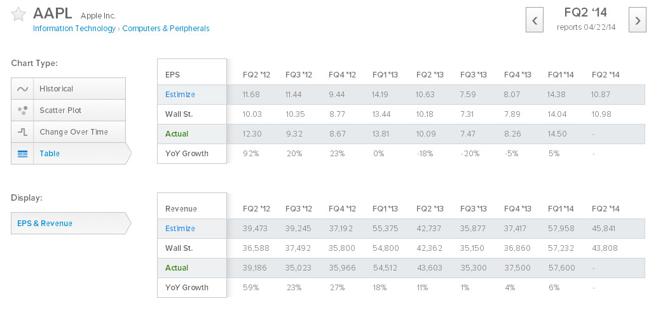 Cheap iPhone Will Only Worsen The Situation
Much as I want to see a $150 iPhone, I don't think it will be good for Apple to change its high-margin policy now. Cheap iPhone models will only cannibalize the big profits that the iPhone 5S and iPhone 5 generate. The $637 ASP for 51 million iPhone sold last quarter is still much better than 100 million units sold with just $250 ASP.
I don't think Apple has the patience to go toe to toe with cheap Android and Windows 8 phones. Yes, the iPhone is an iconic brand that is considered to be premium social status symbol among people in emerging markets. However, I still think that a $150 iOS phone will not find good reception in developing countries where there are hundreds of sub-$100 Android phones and $100 Lumia 525.
BlackBerry and Foxconn are also teaming up to saturate emerging markets with cheap BlackBerry 10 handsets. The entry-level smartphone sector is too crowded so Apple is wise to avoid it. A $400 iPhone 6 is acceptable but a $150 version is just too risky.
Instead of spending so much money with sapphire-equipped phones, Apple will benefit more in creating a mid-range iPhone that carriers won't mind supporting with small subsidies.
Buyback Is Best Minimized
I disagree with Icahn's view that a $150 billion buyback is best for Apple's future growth. Buybacks are good for investors, but most of Apple's $159 billion cash hoard should be used to develop new business. Buybacks do not create new revenue streams.
The mobile payments scheme is a great avenue for Apple to go into. It's a growth industry that's predicted to be worth $278.9 billion by 2018. Apple has the money to buy any of the major players in the mobile money industry. It can also just go on its own way and develop its existing huge pool of iPhone and iPad users as launching pad for a mobile payment platform.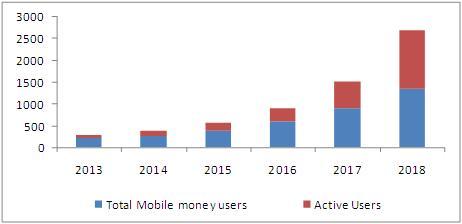 Conclusion
Investors should hold their AAPL shares and wait for the bears to bring down the price to $400. If this happens, it will be a good time to buy some more. I hope Cook doesn't give in to pressure for a cheap entry-level iPhone. Apple is better off spending its massive cash hoard in creating new products or services.
On the other hand, I believe that Apple's high-margin policy ought to be expanded to include medium-margin. The iPhone 5s only costs around $199 to manufacture. Apple can perhaps persuade carriers to continue their subsidies for many more years if wholesale price for the new iPhone 6 is below $450.
Disclosure: I am long NOK. I wrote this article myself, and it expresses my own opinions. I am not receiving compensation for it (other than from Seeking Alpha). I have no business relationship with any company whose stock is mentioned in this article.