Introduction
3M Co. (NYSE:MMM) has just released its Q4 results and as the company's share price increased by 30% in just one year, I'm keen to see if this price increase was warranted. I will provide my view on the financial results and the company's balance sheet, where after I will provide an outlook for 2014. This will result in my investment thesis at the end of this article.
My view on the financial results
In the fourth quarter of 2013, 3M generated a total revenue of almost $7.6B, which is almost $200M more than in the same period in 2012. Thanks to 3M's ability to keep costs under control, the operating income increased to $1.58B from $1.44B, which means its operating margin increased to 20.9% from 19.5%, which is a very encouraging sign. As 3M was also able to sharply reduce its net interest expenses, the total net profit increased to $1.1B, which is more than 10% higher than the $991M profit in Q4 2012.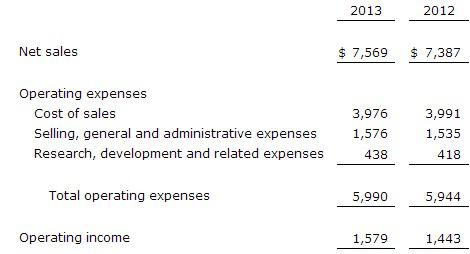 Most of my readers know that I also like to have a look at the cash flow statements of a company, as I strongly believe this gives a better indication of the strength of the underlying operations.
For the full year 2013, 3M generated approximately $5B in free cash flow (thanks to a $800M benefit from the sale of securities and other investment activities), which was fully used to repurchase shares for cancellation and to pay a dividend to its shareholders. Even though I'm glad to see a $5B free cash flow, the company actually had to borrow money to fund the almost $7B in share repurchases and dividend payments, which is something I don't really like to see. Based on the current amount of shares, 3M's free cash flow yield is approximately 5.7%, which is very decent.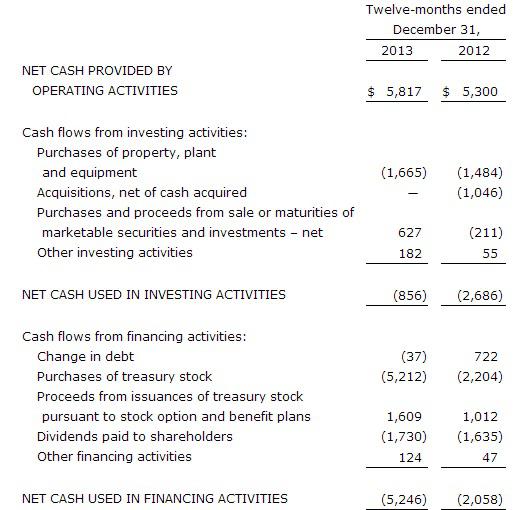 My view on the balance sheet
Moving over to the balance sheet, the company had a working capital in excess of $5.2B as of the end of 2013. This is lower than the $7.4B at the same period in 2012, but this is mainly caused by the share repurchases, the dividend payments and an increase in pension prepayments and non-current marketable securities, so there's nothing to worry about this drop in working capital as the current ratio still was a very healthy 1.70.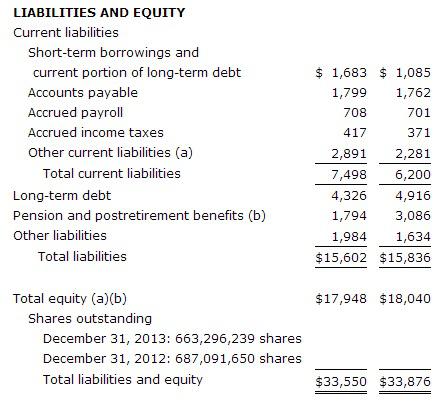 Total liabilities decreased slightly by $200M, as did the equity side of the balance sheet. However, because of the continuous share repurchases, the book value per MMM share actually increased to $27.06 from $26.25 last year, which is a good development.
Outlook
3M reiterates its guidance for 2014 as it expects an EPS of $7.3-7.55/share. But what's more important to me, is that the company expects a free cash flow conversion rate of 90-100%. If I use a ratio of 95% and an EPS of $7.3/share, the FCF ratio will be approximately 5.35%, which is lower than this year.
Investment thesis
3M had an excellent year, and I'm positively surprised by the company's free cash flow conversion ratio which was 131% for the year. Unfortunately, this ratio will drop to 5.35% this year, and that's a little bit disappointing.
As 3M is trading at 5 times its book value and almost 19 times its free cash flow, the company isn't exactly very cheap. However, if my cutoff point would be a free cash flow yield of 7%, I would be a buyer at $104/share (assuming further share repurchases). This means that even though I wouldn't buy in the market right now at $131/share, I might be interested in writing an out-of-the-money put option.
I'm particularly looking at writing a P105 January 2015 for an option premium of $2.50, but as the annualized yield on this option is quite low, I'd prefer to wait a bit longer to see if I can obtain a higher premium before writing a put option.
Disclosure: I have no positions in any stocks mentioned, and no plans to initiate any positions within the next 72 hours. I wrote this article myself, and it expresses my own opinions. I am not receiving compensation for it (other than from Seeking Alpha). I have no business relationship with any company whose stock is mentioned in this article.
Additional disclosure: I might write an out of the money put option as explained in the article.