Introduction
Banco Santander (NYSE:SAN) which is the largest bank in Spain, has just reported its quarterly results. I was looking forward to this day mainly to see if the company still is recording high charges on real estate investments as I was expecting a lower quarterly charge, as I explained in my previous article on Banco Santander. I will discuss the financial results and the company's outlook for 2014 and might have to change my opinion about the real estate writedowns.
As Banco Santander reports in Euros (being a Spanish bank), I have converted the most important numbers into USD, using an EUR/USD conversion rate of 1.37.
My view on the financial results
Banco Santander reported a gross income of 9.4B EUR ($12.9B) (basic revenue was 9.03B EUR ($12.4B)) which resulted in a profit before taxes of 1.78B EUR ($2.44B) after taking a 2.28B EUR ($3.12B) loan loss provision. The net income was a healthy 1.06B EUR ($1.45B), which brings the total annual profit for 2013 at almost 4.4B EUR ($6.03B), which is a 90% increase compared to 2012.
As I expected in my previous article, the provisions for bad loans are decreasing, as the bank took a provision of 2.28B EUR ($3.12B) in Q4, compared to 2.6B EUR ($3.56B) in Q3 (-12.6%). Even though this is still a bit more than what I was expecting, but it will be interesting to see if Santander is able to reduce the loan provisions to 'just' 1.5B EUR ($2.06B) per quarter from this year on. I think this should be achievable, given the improving economy in Spain where most of the provisions are being made.
I'm particularly impressed with the continuous reduction in the loan to deposit ratio, which stood at 109% at the end of December 2013 which is a huge improvement compared to the 150% in 2008. This effect is mainly caused by its Spanish operations where the LTD ratio dropped from 157% to just 87%.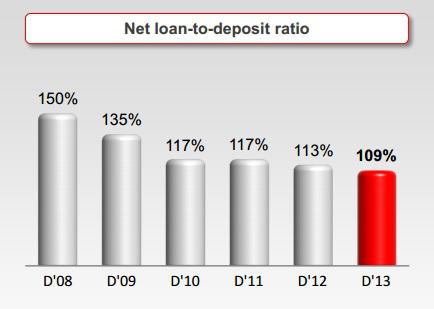 Brazil and Mexico still are the company's profit engines, as just these two countries are responsible for 33% of the company's net profit (but this is down from 35% in the last quarter). However, I do expect Spain's share (7%) to pick up once the write downs on bad loans will be reduced further.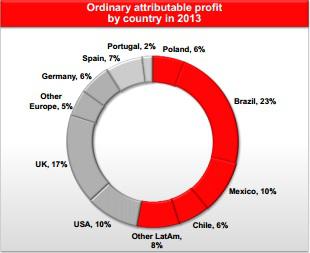 The capital ratios continue to improve
The core capital under Basel II regulations came in at 11.71%, which is an increase of 138 bp versus last year, and an impressive 413 bp compared to the end of 2008. If we are already looking ahead to the BIS III standards, Banco Santander is performing quite well with a core capital ratio of 10.9%.
The Tier 1 ratio was 12.6%, which means that there was an equity surplus of almost 32.3B EUR ($44.3) at the end of 2013, which is a very nice 3.9B EUR ($5.34B) increase compared to the same period last year.
My outlook for 2014
Unfortunately, the non-performing loans ratio continues to increase and stood at 5.64% at the end of December, and this reduces my hopes to see a lower loan loss provision in 2014, and I'm afraid my personal estimate of 1.5B EUR/ quarter won't be met. However, there are also positive signs, as the NPL ratio in for instance Brazil (which is where Santander's majority of the profits is coming from) is decreased by 126 bp in just nine months, which is extraordinary. However, the overall NPL ratio increased due to a sharp increase on the Spanish market where the NPL ratio almost doubled to 7.49%, which was mainly caused by the lower lending rate.
Banco Santander is still trading below its book value of 7.43EUR/share ($10.18/share), which makes this company an interesting investment if you indeed believe the worst is behind us, and Santander will be able to show further growth in profitability.
Investment Thesis
Even though the loan loss provisions were still a bit higher than I expected, this was another solid quarter from Banco Santander, which continued to show higher capital ratios and did a huge effort to reduce its loan to deposit ratio and the non-performing loans ratio in the emerging markets.
However, investors cannot ignore the sharp increase in the NPL ratio in Spain which now stands at a high 7.49%, and I will monitor this ratio closely, as this will be the dominant factor in deciding whether or not Santander will have to continue to take high loan loss provisions in 2014, even though the provision in Q4 was the lowest in 8 quarters.
Santander still is an interesting investment, but it might be wise to wait before increasing or initiating a position, and I would recommend to write put options. I'm particularly looking at the P8 June 2014 at 0.30 which results in an annualized yield of 9% should the option not be exercised.
Disclosure: I am long SAN. I wrote this article myself, and it expresses my own opinions. I am not receiving compensation for it (other than from Seeking Alpha). I have no business relationship with any company whose stock is mentioned in this article.