The airline industry is no stranger to the headlines. This sector has been in focus quite regularly in recent years as reports of bankruptcies, restructurings, and strikes have become common occurrences. But the last year has seen some some positive developments mixed in with the bad. The flow of red ink has been stemmed as business travelers have returned to the air and international flights have picked up. The Claymore/NYSE Arca Airline ETF (NYSEARCA:FAA) has been one of the best performing equity ETFs since the market bottomed out in March 2009, gaining more than 165% in that period.
Airline equities (and FAA) got another boost on Thursday on news that UAL Corporation (UAUA) and US Airways (LCC) are in merger discussions, a deal that could potentially create one of the world's largest airlines. Both companies have been vocal proponents of consolidation within the airline space as a way to gain efficiencies and boost sagging revenues. "The investor seems to have spoken," said United CEO Glenn Tilton to The Financial Times earlier this year. "The market seems to have suggested that scope and scale in a global business are important."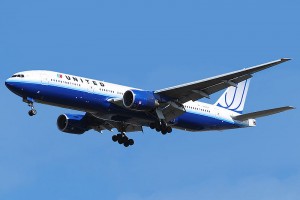 UAL makes up just over 4% of FAA, while US Airways accounts for just 3.4% (Delta (NYSE:DAL), Southwest (NYSE:LUV), and Continental (NYSE:CAL) account for about 45% of assets in aggregate). So while the direct impact of the merger talks on share prices was limited, hopes of a wave of consolidation in the industry gave FAA a boost.
FAA seeks to replicate the performance of the NYSE Arca Global Airline Index, a benchmark that measures the performance of international passenger airline companies. The fund jumped nearly 3% in Thursday trading, and is now up about 18% year-to-date. Most industry analysts agree that airline consolidation is inevitable, noting that the current number of carriers exceeds the amount that is sustainable in the long-term (click to enlarge).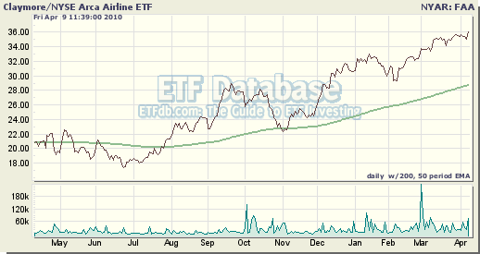 But as AMR Corp. CEO Gerard Arpey noted this week, consolidation won't necessarily smooth out all of the industry's woes:
"I don't think necessarily that consolidation is the answer to all of the economic challenges that the industry faces," Arpey said. "I don't think that is the silver bullet for solving some of the industry's financial challenges."
It's also important to note that in 2001 the Justice Department blocked a UAL-US Airways tie-up, noting that such a deal would have created a monopoly or duopoly in more than 30 nonstop routes. The two companies flirted once again in 2008, when talks ultimately collapsed before a deal was reached.
But there are a lot of reasons why the current environment is more favorable for a deal to get done:
"Credit markets are open again to airlines, which means funding for after-merger integration could be easier to obtain. Carriers are poised to begin reporting profits later this year," writes Susan Carey. "The industry has cut the number of seats in the sky, which is bolstering efforts to raise fares. And airlines are finding new revenue by charging for checked luggage and preferred seats."
Mergers In Europe
The potential UAL/US Airways combination isn't the only merger news in the airline industry. British Airways (OTC:BAIRY) and Iberia SA (OTC:IBRLF) recently signed a long-awaited deal, creating Europe's third largest airline. Both airlines are losing money, but hope that economies of scale from the deal will be a stepping stone on the path back to profitability. They anticipate cost savings of more than $500 million annually by year five.
Not everyone is optimistic that the European merger is a wise decision. "The merger of BA and Iberia is like two drunks trying to prop each other up," said a spokesman for Irish discount carrier Ryanair Holdings (NASDAQ:RYAAY). Some consumer groups are worried that consolidation will lead to higher fares throughout the industry.
FAA closed Thursday at a new all-time high (the ETF was launched in January 2009), and investors are hoping that mergers will continue to send the fund higher.
Disclosure: No positions at time of writing.
Disclaimer: ETF Database is not an investment advisor, and any content published by ETF Database does not constitute individual investment advice. The opinions offered herein are not personalized recommendations to buy, sell or hold securities. From time to time, issuers of exchange-traded products mentioned herein may place paid advertisements with ETF Database. All content on ETF Database is produced independently of any advertising relationships. Read the full disclaimer here.