With its focus on developing genetically engineered, or GE, seeds, Monsanto Company (NYSE:MON) is planning to monetize the opportunities in the agricultural chemical industry. Monsanto is one of the leading producers of GE seeds, and markets these under the "Roundup" brand. Monsanto, with this agricultural biological platform, is mainly focusing on enhancing the yield of its core crops that include corn, soybean, wheat, cotton, canola, and fruits and vegetables.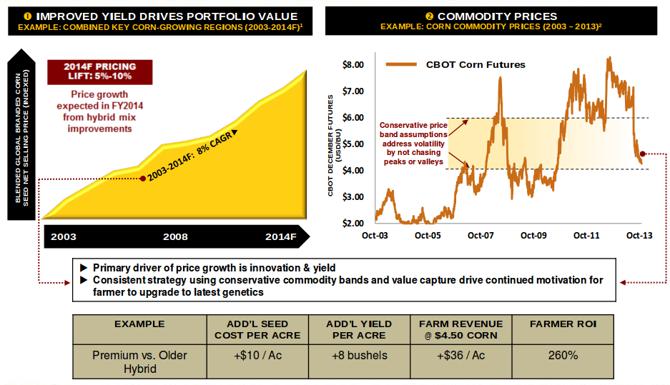 Click to enlarge
By increasing the use of genetically modified, or GM, seeds, farmers have vast opportunities to enhance their farm yield and their farm income. Shifting to GM seeds from ordinary hybrid seeds would cost an additional $10 an acre, but this will increase the farm's productivity by more than 8 bushels per acre. At a corn price of around $4.5 per bushel, farmers would generate a return on investment of 260%, or an additional $36 per acre.
Monsanto's research and development to improve seed quality
The agricultural industry is mainly driven by the global food demand, which is rising with the growing world population. This will lead to an increase in the demand for fertilizers, hybrid crops, and vegetables seeds. Secondly, the scarcity of arable land will also result in demand for these agricultural products. Monsanto invested more than $1.5 billion in the last fiscal year to research new hybrid agricultural products for farmers. In the past, the company has introduced biotech traits, elite germplasm, breeding, and new varieties of hybrid seeds with its research and development, or R&D, which has supported its financials. R&D helped the company improve its corn seeds, which allowed Monsanto to expand its footprint in both Brazil and Argentina.
More opportunities for Monsanto in Brazilian corn fields
Monsanto is upgrading its corn product mix in Brazil from single stacks to double stacks, "VT PRO2," which is expected to be priced 70% to 80% higher than the single-trait YieldGard Corn Borer, which was priced at $15 per acre. Monsanto charges around $26 per acre for its VT PRO2. Further, Monsanto's market share in Brazilian hybrid planted corn acres increased from 43% in 2010 to 47% in 2013.

Click to enlarge
Monsanto will deepen its footprint in Brazil by enhancing its "DEKALB" branded portfolio this year. It will offer around 50% of the double-stack corn in Brazil, which will enable the company to raise its earning margins. The VT PRO2 provides maximum protection against corn earworms and other insects, which will help farmers increase yield opportunity. I believe the farmers will cultivate more double-stack corn seeds to increase their farm earnings, and in turn, this will help the company boost its bottom-line. In Brazil, the farmers have reduced the planting of single-stack corns planting farms from 11 million in 2012 to an expected 7 million, while the double-stack corn acres increased from one million acres to five million in 2013, and I expect this trend will continue this year too.
Higher growth in Soybean crops in South America
Along with corn trait upgrade and expansion, Monsanto is also launching "Intacta RR2 PRO," the first‐ever insect-protected trait in soybeans. With the trait upgrade and the launch of Intacta RR2 PRO soybeans, farmers in South America will cultivate these seeds, which are expected to reach three million acres in this summer. The Intacta RR2 PRO soybean is more resistant to weeds compared to ordinary hybrid seeds, which enable farmer hedge their crop yield.

Click to enlarge
Monsanto has a huge growth opportunity with Intacta RR2 PRO, as the large scale and progressive Brazilian farmers are aggressive in adopting new technology to increase their farm earnings. Monsanto will generate a new 100 million acre opportunity with the Intacta RR2 PRO. This new product will help the company enhance its market share in South America, which is expected to support its future earnings.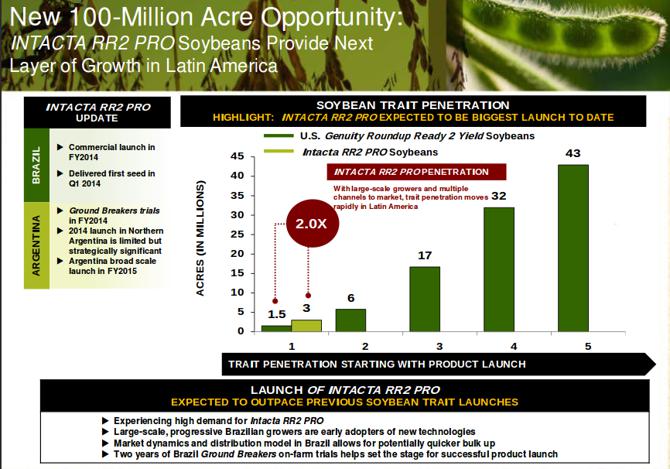 Click to enlarge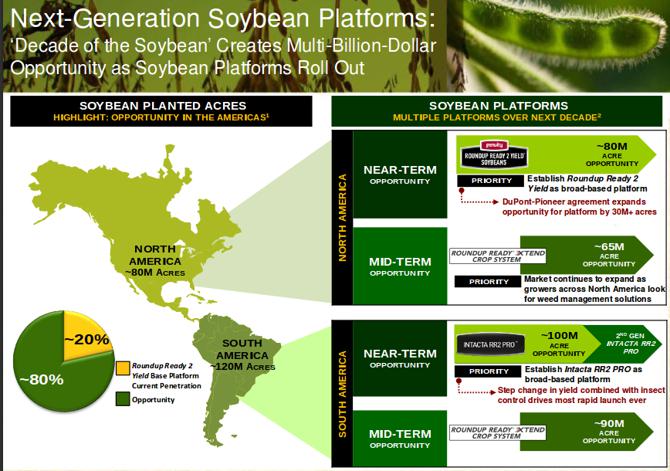 Click to enlarge
Further, the second and third generations of Intacta products are in the pipeline. These upgrades of next generation products will help Monsanto increase biotech adoption in the region.
Strong product pipeline
Monsanto has 29 projects advancing in the 2014 pipeline update, and five of the products have headed to the commercial marketplace, which includes Intacta RR2 PRO soybeans, FieldScripts variable rate seeding in corn, and Root-Knot Nematode Resistance within the cotton breeding pipeline. There are three products in its Ground Breakers on-farm testing program this year, which include "RR2 Xtend", Vistive Gold soybeans, and Bollgard II XtendFlex cotton.
With its strong growth opportunity in South America especially in Brazil and Argentina, Monsanto is expected to have significant upside potential. Its strong pipeline, which consist of 70 pipeline products, will support the company's future grow prospects. With the timely launching of new products, Monsanto will enhance its growth story, which will help the company maintain investors' confidence in the long run.
Conclusion
Monsanto's strong product pipeline and launch new agricultural products is expected to boost its future earnings. In its last quarter, Monsanto declared the dividend of $0.43 per share which will be payable on January 31, 2014, a year-over-year increase of around 14.67%. I expect the company's efforts to enhance shareholders' value and its product advances will maintain the company's growth fundamentals, and it could witness an upsurge in the stock prices in the coming quarters.
Disclosure: I have no positions in any stocks mentioned, and no plans to initiate any positions within the next 72 hours. I wrote this article myself, and it expresses my own opinions. I am not receiving compensation for it (other than from Seeking Alpha). I have no business relationship with any company whose stock is mentioned in this article.