(Editors' Note: This article covers a stock trading at less than $1 per share and/or with less than a $100 million market cap. Please be aware of the risks associated with these stocks.)
I wrote my first article on LiveDeal, Inc (NASDAQ:LIVE) on January 28th in the afternoon. My thesis remains the same but have since discovered a few other interesting things that should add credence to my original short thesis. These include a discussion about the stock split, as well as some conversations I had with restaurant managers that are listed on LiveDeal.
Are Shorts Getting Nervous Before The Stock Split?
I found this press release interesting. Titled "LiveDeal, Inc.'s Announced Forward Stock Split Leaves Short Positions Nervous." I was shocked when I read it.
LiveDeal (NASDAQ: LIVE) recently announced it will be initiating a 3-for-1 forward stock split in early February, but ahead of the split, investors with short positions will be looking to cover before their position also splits into one 3 times larger than currently held. Late in Tuesday's session, we may have seen the first shot at trying to create doubt in the minds of long investors at LiveDeal. Shares of the company's stock began to pull back after an article written by someone disclosing he does, in fact, have a short position in the stock, appeared on the financial website Seeking Alpha.
3-1 Stock Split
The language in this press release is incredibly unprofessional. Suggesting that investors will do something is wrong. They have no idea whether or nor investors will take an action regarding their short positions into the stock split. Secondly, they suggested that the short position would be three times larger post split. WRONG. It was also clearly phrased ambiguously. It seems that the writer was trying to scare shorts into thinking that their positions would get three times larger. This is not true. Here is how a 3-1 stock split works in general.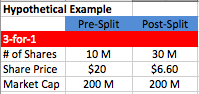 Source: personal analysis
Here is what it would look like if the LIVE 3-1 stock split happened tomorrow.

Source: Personal analysis and company filings.
Let's say you shorted 100 shares yesterday at $18/ share. Your short position would be $1,800. If the 3-1 split went into effect the next day you would be short 300 shares with a new cost basis of $6/ share. Your short position would still be $1,800. Same sized position. Of course the writer of the press release should know this, and likely does. The writer is trying to either get shorts to capitulate, or more likely, to give longs hope that the stock will pop in the short term. The press release goes onto say;
LiveDeal was due a pull back, and there are likely many investors on the sidelines who are cheering for a much lower split price than the $20-25 range it was trading at prior to Tuesday. Any pull back before the split means the stock will have a more attractive entry price after the split, thus ensuring more investors can afford the lower price.
"Price is what you pay, value is what you get."- Warren Buffett
Investors should remember this quote from Warren Buffett when they hear statements like that. The price is changing but you are getting the exact same amount of value for it.
I am short this stock and I for one am looking forward to the stock split. It should increase liquidity and perhaps increase the amount of shares available to short. Right now, while there are some shares available to short, they come and go and the borrow cost is fairly expensive.
Will A Short Squeeze Be Coming?
In another article "Wealthmakers.com" published a report on LiveDeal suggesting that a short squeeze would drive the price to $48/ share.
The report highlights the short term bullish pattern that has emerged, the SqueezeTrigger Price and the projected short squeeze price target of $47.14 per share.
The short interest in LiveDeal is relatively high at 10% of the float shorted. You could make the argument that there are naked shorts in this name and that could trigger a short squeeze, but I'm sticking to the data that NASDAQ makes publicly available.
What's the deal, LiveDeal?
In an effort to learn whether or not the service was being used I decided to call several of the restaurants that had deals on the LiveDeal website. The first few I called seemed puzzled about LiveDeal. So I decided to call the restaurants that were on the first five under each county. Here were my results along with the exact quote from the people I was speaking to. The results are grouped by county. The question I asked was "Do you use LiveDeal.com?"
San Diego County
1. Cuscatan Salvadoran Cusine-
"I don't think so"
2. Godfather's Pizza-
"Oh yeah we use that one."
3. Que Pasa Mexican Grill-
"Let me check with my manager, yes we use it."
4. Round Table Pizza-
"We have coupons and deals on our website, but only there."
5. Giovanni's Restaurant-
"Never heard of it, we use 411 and Grubhub"
Los Angeles County
1. Coconut Bay Bar & Grill-
"No, I don't think we use it."
2. Fuji West-
"No."
3. Toro Sushi Bar Lounge-
Toro Sushi Bar & Lounge is closed on Tuesday, therefore I don't think the deal on LiveDeal was getting much use.
4. Whatever Tea Lounge-
"We only use LivingSocial and the Amazon Deal program."
5. El Puerto Escondido-
"LiveDeal? I don't know that name."
San Francisco County
1. Paragon Restaurant and Bar-
"I don't know, (checks) yes we recently partnered with them."
2. Bissap and Little Baobab-
I could not reach them because the voice mail was full, nobody answered the phone.
3. Casava Bakery and Cafe-
"I don't think so, let me check. No we do not."
4. Chaat Cafe-
"We use 24 and delivery.com"
5. Ghiradelli Chocolate Company-
"That is our special but we don't use livedeal.com"
Of the thirteen restaurants I contacted only three confirmed that they used LiveDeal. These are surprising results given the description of liveeal.com.
LiveDeal.com is a unique, real-time "deal engine" connecting merchants with consumers. We believe that the Company has developed the first-of-its-kind web/mobile platform providing restaurants with full control and flexibility to instantly publish customized offers whenever they wish to attract customers. Highlights of the new LiveDeal.com include:
| | | |
| --- | --- | --- |
| | - | a user-friendly interface enabling restaurants to create limited-time offers and publish them immediately, or on a preset schedule that is fully customizable; |
| | - | state-of-the-art scheduling technology giving restaurants the freedom to choose the days, times and duration of the offers, enabling them to create offers that entice consumers to visit their establishment during their slower periods; |
| | - | advanced publishing options allowing restaurants to manage traffic by limiting the number of available vouchers to consumers; |
| | - | superior geo-location technology allowing multi-location restaurants to segment offers by location, attracting customers to slower locations while eliminating potential over-crowding at busier sites; and |
| | - | a user-friendly mobile and desktop web interface allowing consumers to easily browse, download, and instantly redeem "live" offers found on LiveDeal.com based on their location. |
Restaurants can sign up to use the LiveDeal platform at our website (livedeal.com).
Of the people that I spoke to it seemed that most hadn't heard of LiveDeal. Several managers asked me what promotion LiveDeal was running for them, and acknowledged that they were running the same promotions. So the restaurants are running the promotions, they just don't know they are being run on LiveDeal. I have no idea how these restaurants promotions are getting up on LiveDeal, but I doubt LiveDeal is generating much revenue from them if the restaurants don't even know they are on LiveDeal.
Who Else Has Kabani & Co. Audited
In my last article I highlighted some issues I found regarding LiveDeal's auditor Kabani & Co.
According to the most recent 10-K LiveDeal is audited by "Kabani and Company." Unfortunately Kabani & Co. has been cited by the PCAOB for 10 deficiencies in audits performed in 2011. Some of the deficiencies that stood out to me were
(3) the failure to perform sufficient procedures to evaluate transactions with related parties
(7) the failure to perform sufficient procedures to test revenue
(10) the failure, in four audits, to perform sufficient procedures to test amounts reported in statements of cash flows.
While these deficiencies were cited several years ago, it is still a red flag to potential investors. I'm not suggesting that Kabani & Co. is incompetent as they did say that LiveDeal was a "going concern," which should be yet another red flag.
Thanks to a tip from a reader "Unemon1" who told me that Kabani & Co. had audited L&L Energy (NASDAQ:LLEN). In case you are unfamiliar with LLEN, GeoInvesting called this a fraud in an in depth expose and the stock has been halted since mid-November. Kabani & Co. was the auditor on this name as well. Even RedChip, a glorified PR firm had this to say about Kabani & Co.
"There are two auditing firms that have been singled out as being less than diligent in their auditing of Chinese companies: Kabani & Company, Inc. and Frazer Frost, LLP."
Summary
The fact that so few of the restaurants listed on LiveDeal knew about it concerns me. I also find the press releases regarding shorts covering to be unprofessional and indicative of an effort to manipulate the stock price higher. My long term price target is $2.25/ share as discussed in my previous article.
I have contacted the company asking about why only 3 of 13 restaurants had heard of it or said they used it. I have also filed a whistle blower form with the Securities and Exchange Commission regarding potential stock manipulation.
Disclosure: I am short LIVE. I wrote this article myself, and it expresses my own opinions. I am not receiving compensation for it (other than from Seeking Alpha). I have no business relationship with any company whose stock is mentioned in this article.