General Electric's Stock Outlook For 2014
General Electric (NYSE:GE) has driven on a rocky road over the past decade, and investors have often wondered whether the company would manage to right itself onto a track of focused investments in its core businesses.
The recession added other stresses to the overall picture, but the company has aligned itself more carefully with the fundamental forces that are likely to shape global growth in the near future.
International Monetary Fund Outlook for 2014
One of the most significant impacts on the outlook for global growth was the recent International Monetary Fund report of January 21, 2014. The IMF upgraded the world growth forecast to 3.7 percent for the upcoming year, including increases for the United Kingdom, Spain and Japan. Although the outlook was upbeat, the IMF warned about halting programs loose monetary policies too early, to avoid deflation and sustain continued growth.
GE Vice Chairman Rice Sees Solid Global Growth
After a period of recession in which global markets suffered along with regional economies from a series of investment pullbacks and austerity measures, GE's Vice Chairman John G. Rice echoes the sentiments of recent IMF reports that expects 2014 to see significant growth in global markets both in advanced nations and emerging nations.
Much of the disruption from the mortgage crisis in the United States and budget wrangling in Europe has take its toll and a more positive and growth-oriented atmosphere is taking hold in a number of quarters. The need to expand infrastructure to accommodate current and future business activities will have a priority in most nations, and this drive will impact revenues in GE's core businesses.
GE Will Be Good Investment For Shareholders in 2014
Jeffrey Immelt has been at the helm of General Electric since 2001. Having done the exacting work of reassessing past decisions and realigning the company to make the most of its strengths in a changing global environment, Chief Executive Jeff Immelt now has the company strongly positioned to take advantage of opportunities in the recovering global marketplace.
The company's position in China will provide a number of growth areas, including demand for jet engines, gas turbines and locomotives. Although the emerging nations are likely to see somewhat reduced growth over the next year, continued strong demand for infrastructure will allow GE shareholders to profit.
We believe that General Electric is now positioned in many attractive markets around the globe that will experience growth in 2014. The refocus since the global financial crisis to make GE Capital stronger also makes this investment safer.
The company currently pays a 3.5% dividend, which we believe will be increased over the next twelve months, based on consistent, historical increases over the past five years as shown in the table below.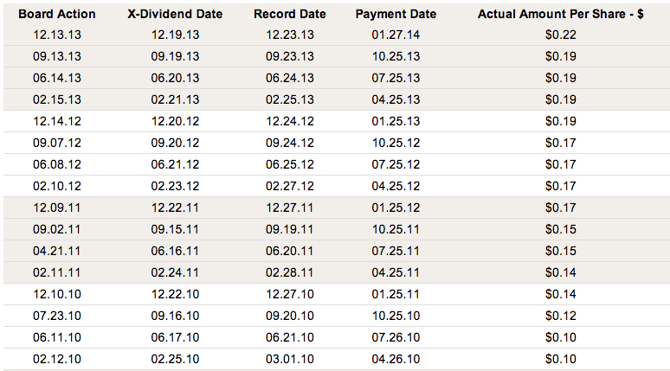 (Source: www.ge.com/investor-relations/stock-info...)
We rate the stock a buy for growth and income oriented investors and expect the stock to outperform the S&P index in 2014.
Disclosure: I have no positions in any stocks mentioned, and no plans to initiate any positions within the next 72 hours. I wrote this article myself, and it expresses my own opinions. I am not receiving compensation for it (other than from Seeking Alpha). I have no business relationship with any company whose stock is mentioned in this article.