Today, January 29, 2014 the Fed continued its tapering with another $10B cut to its bond-buying program (now $65B per month). An economist would normally think this would put upward pressure on US Treasury Bond yields, since it would increase the supply of US Treasuries (fewer would be being bought by the Fed). The increase in near-term future supply of MBS would also be expected to put upward pressure on US Treasury bond yields and on MBS yields. However, this did not happen on January 29, 2014. In fact the opposite happened. The yield of the 10-year US Treasury fell from its close on January 28, 2014 of 2.746% to a close of 2.675% at the close on January 29, 2013 (or -7.1 bps in one day). This added to the recent downtrend. This seems completely illogical for a tapering scenario. However, this seeming non sequitur should benefit Agency mortgage REITs like American Capital Agency Corp. (NASDAQ:AGNC).
The problems in the emerging markets are the likely explanation. Turkey, Argentina, Ukraine, and Thailand have been having serious domestic political and economic issues for some time. Some believe that these issues were tolerated as long as the Fed and other central banks were infusing the world economy with cheap money. With the leader of the pack, the US Fed, now tapering its easy money policy, investors are taking a harder look at countries with unsound monetary policy, especially those with political turmoil. In expectation of further US Fed tapering on January 29, 2014,the Central Bank of the Republic of Turkey raised its marginal funding rate from 7.75% to 12 % the night before the Fed announcement. The Turkish lira rose 1% against the US Dollar in response; but it had fallen about 14% against the USD in the previous two months. Since May 2013, investors have net sold -$3.9B of bonds denominated in Turkish lira. It is hard for a country to operate with a currency that is this unstable.
In Thailand the economy has been slowing. In 2010 it surged ahead by 7.8%. Credit Suisse has cut Thailand's GDP growth estimates for FY2014 to 3%. On top of that there have been calls of government corruption. Demonstrators are trying to topple the government of Prime Minister Yingluck Shinawatra. Elections are scheduled for February 2, 2014; but there is no certainty that the results of the elections will be regarded as valid by any party. Consequently there is no certainty about economic policy in a country which will likely have a weak government at best and a weakening economy.
In Argentina inflation is rampant. The Argentine peso has fallen from about 0.29 USD in 2009 to 0.12 USD in 2014. In the last four years alone it has lost 50% of its value. Recently the inflation of the Argentine peso has begun to accelerate (see chart below).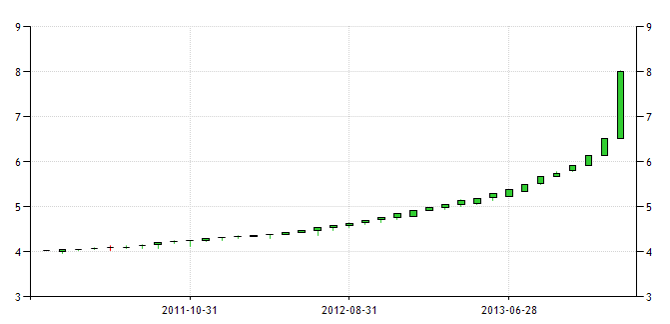 Click to enlarge
You can now get 8 Argentine Pesos for a USD. Some feel Argentina should double its already 22% interest rate to ease the demand for USDs. JP Morgan (NYSE:JPM) estimates that the Argentine peso will be worth about 45% less at the end of 2014 than it was at the end of 2013. With economic growth slowing in Argentina, this is an unsustainable path. It is very worrisome to investors; and they are reacting accordingly.
I could go on, but you should be getting the idea. On top of the above mentioned economies the Chinese Manufacturing PMI for January 2014 of 49.5 indicated contraction; and many are now worried about Chinese banking stability. China could have huge amount of bad loans it will have to write off. The US data has shown recent weakness too. US Durable Goods Orders for December 2013 missed badly at -4.3%.
All of the above is tending to create a flight to quality, which apparently still means a flight to US Treasuries. After all if you are an Argentine, would you rather keep your money in Argentine pesos, which might lose 45% of their value relative to the USD in 2014 according to JPM? Or would you rather keep your money in US Treasuries, which would provide you with at least a small amount of interest without losing any value relative to the world's reserve currency, the USD?
A further problem is that the devaluation of emerging market currencies means that energy and food, which many of them are net importers of, will cost much more in the devalued currencies. This in turn will tend to slow the emerging market economies further. A death spiral is not out of the question.
No one knows for sure how all of this will play out. Many had been expecting high inflation in the US in the near term. However, that does not seem to be happening now. Rather there are many worldwide dire debt situations, which seem to be preventing rampant US inflation. The EU is still troubled. Public debt in Greece has almost doubled from 115.2% of GDP in 2007 to a projected 200% of GDP in 2014. Portugal's has moved from 75% of GDP in 2007 to an estimated 134.6% in 2014. Spain's has moved from 42% to an estimated 105% in 2014. Italy's is expected to be 131.4% of GDP in 2014. The European debt crisis is far from over.
The Basel III rules (some are going into effect in 2014) may make EU and US banks safer? However, they along with the continuing US and EU problems are making loans to emerging markets dry up. The situations in Turkey, Argentina, Thailand, and the Ukraine are making banks even less eager to lend to emerging markets countries. The consequent lack of major currency liquidity is fueling a good part of the emerging market inflation. It is unclear to me what the solution for all of this will be. However, there is a good chance that the situation will worsen in 2014. Many are starting to look for the worldwide double-dip recession so often talked about in previous years.
Perhaps it is a little early to say, "the sky is falling." However, the fact that some are considering saying such a thing tells one that good yielding Agency mortgage REIT stocks should do respectably compared to many other investments in 2014. The Agency RMBS are guaranteed by the US government. They pay good interest rates, especially when leveraged. Plus they tend to appreciate in value during times of "flights to quality" such as now.
The chart of the 10-year US Treasury Note yield shows the recent "flight to quality".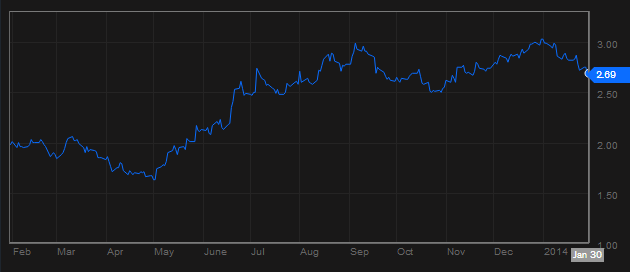 The 10-year US Treasury Note yield hit a near-term high of 3.03% on December 31, 2013 (the end of Q4 2013). This was up 42 bps from the 2.61% yield on September 30, 2013 (the end of Q3 2013). That means most Agency REITs recorded a loss (depending on the level of hedging) in Q4 2013. However, since the December 31, 2013 nea- term high of 3.03%, the yield has fallen to 2.69% as of this writing on January 30, 2014 (-34 bps). This should mean that Agency mortgage REITs have already regained a large portion (80%) of the book value losses they incurred in Q4. The price chart of the 30-year FNMA 3.5% MBS below gives a good idea of how much of the book value losses have actually been recouped.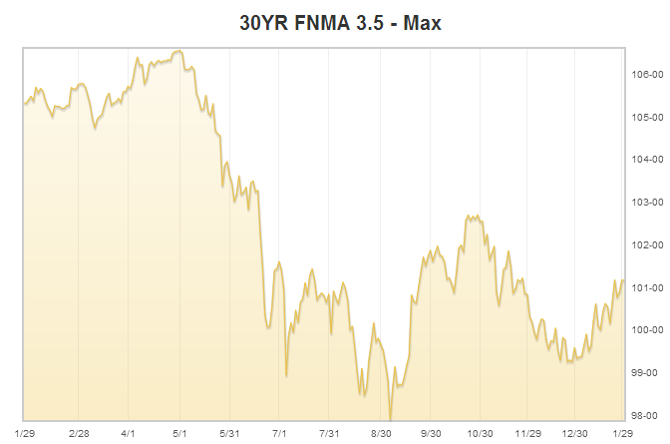 Click to enlarge
AGNC had 7.2x leverage at the end of Q3 2013. It was approximately 84% hedged. It had a book value of $25.27 per share. The AGNC portfolio is about 43% 30-year fixed, 52% 15-year of less fixed, 2% 20-year fixed, and 3% other. 78% of RMBS are Fannie Mae. I will use the 30-year FNMA 3.5% MBS and the 15-year FNMA 3.5% MBS as typical of the portfolio (there is actually a distribution around those MBS).
As a ballpark figure the 30-year FNMA 3.5% MBS lost approximately 2% of its book value in Q4 2013. This might amount to a -14.4% loss at 7.2x leverage without hedges. With hedges it should only amount to approximately a -2.3% loss (assuming 100% hedge effectiveness). For the 15-year FNMA 3.5% MBS the losses were even lower. That MBS lost only about 1% of its value in Q4 2013. This amounts to approximately a -7.2% loss at 7.2x leverage. With hedges, it should be only a -1.15% loss (assuming 100% hedge effectiveness). On average this amounts to an approximate -1.7% loss of book value for AGNC in Q4 2013 (or -$0.43/share). When you consider that AGNC declared a $0.65/share dividend for Q4 2013, you realize that AGNC was still profitable in Q4 2013. It had an overall economic return of approximately $0.22/share. This is approximately a 4.2% annualized dividend.
When you further realize that almost all of the Q4 2013 book value losses have since been recouped in Q1 2014 (see MBS chart), the economic return probably moves up to near a 10% annualized dividend for Q4 2013 (with the book value gains of Q1 2014 offsetting the losses of Q4 2013). The $0.65/share dividend declared for Q4 2013 is $2.60 annualized. This is a 12.53% yield without any losses.
With a closing stock price on January 29, 2014 of $20.75 per share, AGNC was trading at an almost 18% discount to the September 30, 2013 book value. If indeed it proves to have lost very little book value (if one includes the gains in January 2014), then it is indeed a great bargain at its current price. AGNC has already been beaten down. If the rest of the market falls, it is likely to fall much less. It should also benefit from a "flight to quality" with further increases in book value if the EU and emerging market problems worsen. The dividend could go down further, but AGNC should still provide a good dividend only return; and book value gains on a "flight to quality" would provide an even higher economic return.
If there is no further flight to quality, AGNC should still do decently. Mortgage rates and US Treasury yields are not expected to skyrocket in 2014. AGNC was 84% hedged as of September 30, 2013. It should provide decent returns with a very small risk of significant stock price decreases due to book value. In fact it may even see stock price gains due to investors returning to high dividend paying stocks during a period of economic hardship. Plus it will still have the guarantee of the US government for its assets. AGNC is a buy.
The two-year chart of AGNC provides some technical direction for a trade.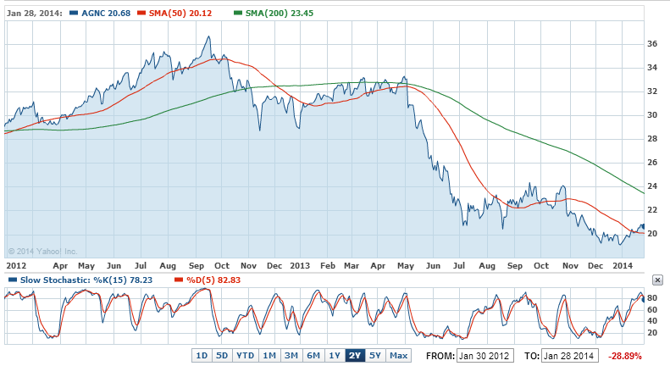 Click to enlarge
The slow stochastic sub chart shows that AGNC is overbought in the near term. The main chart shows that AGNC appears to have bottomed after an extended downtrend. It seems likely to start an uptrend; or it may move sideways for a while. If it does this, it will still be paying a good dividend. CAPS rates it four stars (a buy). Investors may want to consider this blue chip mortgage REIT. It is a high dividend yielder, a bargain, and a safe haven stock for their portfolios. No stock is perfect; but in a very troubled market, a beaten down blue chip mortgage REIT may be a great investment.
Disclosure: I have no positions in any stocks mentioned, but may initiate a long position in AGNC over the next 72 hours. I wrote this article myself, and it expresses my own opinions. I am not receiving compensation for it (other than from Seeking Alpha). I have no business relationship with any company whose stock is mentioned in this article.